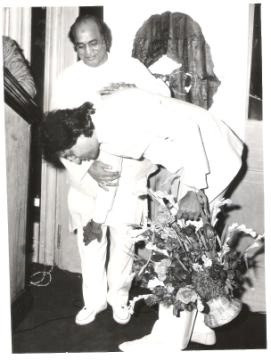 The voice that hooked, hypnotized and charmed is no more. On June 13, Pakistani ghazal legend Mehdi Hasan, breathed his last after a long spell of illness in a Karachi hospital. It was over a decade since the legend had actually sung. Like with all such titans, his fans hoped for miracles till the end. Perhaps, they will take solace in the treasury of timeless ghazals that he has left behind.
>
Next month, on July 18, Hasan would have touched 85, and for over half that period, he strode the music world like an unbeatable colossus, despite his long struggle to make it in the music world and the last traumatic years where despite his ill-health he openly enjoyed watching younger singers, including India's Talat Aziz (his chosen Indian disciple) and Hariharan sing his songs.
Mehdi Hasan was born in India in the Rajasthan village of Luna, into a lineage of musicians that went back 15 generations. His father Ustad Azeem Khan and uncle Ustad Ismail Khan were Dhrupad singers and his teachers. Hasan presented his first live concert in dhrupad as well as khayaal in Punjab at the age of 8. After Partition, the family migrated to Pakistan.
It was in this phase that Hasan faced great hardships. He had to work in a bicycle shop and later become an automobile mechanic. Luckily for the world of ghazals in particular, his passion for and practice of music never diminished.
Hasan got a chance to sing thumri on Radio Pakistan in 1952, where his uncle Ismail Khan was established as a music director, but it took a long while for him to be recognized. The same happened with his playback career in films till the 1964 film Farangi saw him sing 'Gulon Mein Rang Bhare' and embark on a super-successful playback career for over two decades. Hasan's passion for Urdu poetry, however, had finally made him opt for ghazals as his chosen field and even in his film songs, the maestro concentrated more on ghazals. In fact in the '70s, a film score meant nothing without Hasan being in the rostrum of singers!
It was little wonder then that Mehdi came to be honoured not only in Pakistan but also in India - where he was conferred the (K.L.) Saigal award in Jalandhar in 1979 - and Nepal. Hasan also sang nazm, naat and thumri and - what is not known to most - even Bhojpuri geet and Persian ghazal in Afghanistan!
Some of his most successful albums included 'Kehna Usey', 'Nazarana', 'Ghazals For Ever', 'Golden Collection Of Mehdi Hasan' and 'Tarz' (with Shobha Gurtu) and recordings of live concerts including in India.
And the legion of ghazals he immortalized included - to mention very few - 'Aaye Kuchh Abr Kuchh Sharaab Aaye', 'Ab Ke Hum Bichhde', Bhuli Bisri Chand Ummeedein', 'Dil-E-Nadan Tujhe Hua Kya Hai', 'Hum Mein Koi Gham Nahin', 'Patta Patta Boota Boota', 'Rafta Rafta Woh Meri', 'Ranjish Hi Sahi', 'Sataa Sataa Ke', 'Tu Meri Zindagi Hai', 'Yun Zindagi Ki Raah Mein' and 'Zindagi Mein To Sabhi'.
He recorded his first of only two songs in Hindi films, 'Aas Ka Jhootha Bandhan Toota' in the 1975 film Mrig Trishna. The song was written and composed by the late Shambhu Sen, himself from a distinguished Rajasthani musical lineage.
"He was a superstar in his field, such was his stature," recalls singer-composer and ghazal ace Talat Aziz, who had a guru-shishya relationship with Hasan. "Our association dates back to 1977 when I was trying to make a career in ghazals and met him in Toronto. He suggested that I should not perform till I polished my art much more. A year later, when he visited India, he actually got in touch with me and asked me if I had not liked his frank advice. Maine tumhein apna samajhke kahaa tha, he said, and I told him that he had every right to say what he did."
It was at Hasan's insistence that a ganda baadhna ceremony (a ritual of acceptance of a guru where a thread is tied on the wrist of the shishya) function was held in Mumbai. "I later accompanied him for tours lasting weeks and he would hone me during and between the shows. He made it clear that he was my guru only in ghazals while my musical guru remained Ustad Faiyyaz Ahmed Khan (the maternal grandfather of Sajid-Wajid)." Aziz also spent an evening at his home on a visit to Pakistan.
And so the only other song Hasan recorded for a Hindi film was for Talat Aziz's home production (and acting debut), Dhun, directed by Mahesh Bhatt. The song is today considered a classic, 'Main Atma Tu Parmatma', and was a duet with Aziz under the baton of Laxmikant-Pyarelal, then the Numero Uno composers, with lyrics by the legendary Anand Bakshi.
"It was I who suggested to Laxmi(kant)-ji that we take Khansaab (a generic title for Muslim maestros) for this song as he was in India and very close to me," says Aziz. "Laxmiji was thrilled but scared of working with Khansaab, and Bhatt-saab thought it was a brilliant idea, and this remained the only song that both of us recorded together. Otherwise, we performed together many times, mostly abroad."
Aziz has a special recollection of how he presented this song recently at an overseas concert. "My track was removed from it and his voice and the music kept. And I performed live along with the track and spoke about him. The audience loved it!"
Aziz feels that Hasan, being a classically trained artiste, "condensed and married Indian classical music to the ghazal. He redefined the art made famous by Begum Akhtar and Talat Mahmood and gave it his rare quality of adaaipan (artistry)."
And the disciple feels nostalgic yet in a strange way privileged that he was among the last to hear Hasan sing - in a private Mumbai gathering at his friend's house in October 2000. "Khansaab had flown to Kerala for treatment and at my request; he had come down to Mumbai on the way back to attend a concert that marked the launch of Zee TV's Urdu channel. Though on a wheelchair, his spirit was as strong as ever. He heard me render his songs and later we moved to my friend's house that was jam-packed with fans. When I again began to sing his songs, during 'Dil-E-Nadaan Tujhe Hua Kya Hai', he actually demanded a microphone and joined me for more than an hour, insisting that I continue with him because he tended to forget the verse. We finally had to stop him from singing more as he had high blood pressure. The next day, I was summoned to his hotel as he had a severe headache. My own physician suggested a change in treatment once he returned home. But days later, I came to know that he had suffered a stroke."
Says Aziz, "That was his swan song performance, but who was to know that this magnificent voice would never sing again? When I heard of his death, the loss was personal, irreparable. But I was committed to my shoot for a reality dance show and I had to shoot the next day!"
We are sure Khansaab would have approved of his student's professionalism.