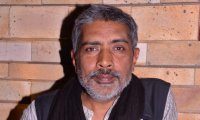 Very few filmmakers have time and again succeeded in making hard-hitting realistic films on social issues. Prakash Jha is one of them. Be it Mrityudand (based on gender discrimination), Gangaajal (based on the controversial blinding incident at Bhagalpur), Apaharan (based on the kidnapping situation in Bihar) or Raajneeti (based on the political scenario in the hinterland of India), each of Jha's films have depicted stark reality in a gripping and entertaining way. His latest Aarakshan too talks about the reservation issue which is plaguing the country and the future of our young students at large. In this exclusive interview with Bollywood Hungama's Nikhil Ramsubramaniam, Prakash Jha talks about his latest labour of love- Aarakshan and much more. Read on...


Aarakshan, as the title suggests means reservation, so is the film talking about only reservation in schools, colleges etc. or even place of work?

The film primarily deals with the issue of reservation at educational institutions but it does touch upon the topic of reservation at jobs or even reservation when it comes to promotion etc.


When did the idea of Aarakshan first germinate?

See...this is a social issue which has been plaguing the society for a while. Since our childhood we have been reading about India being a democratic country with equal rights for all and yet we continue to be a caste based society, the whole psyche is caste based. During independence, the Constitution gave 22.5% reservation to SC/ ST and then after a few years again for the other backward classes (OBC) resulting in a totality of 49.5% reservation for all the backward classes. In the past 30 years we have lived with the reservation and now it's a Constitutional truth. Through this film I want to depict, what is the pain that children today are going through? This is one country where education is treated as a huge asset and today that very education has become so commercial. Even today caste reservation continues to exist in our society so it's a paradoxical situation. I felt that this issue needs to be re-looked into and understood properly so that we are able to create a society that offers equal opportunity to all eventually. My writer Anjum Rajabali and I started working on the screenplay and kept trying to assimilate every aspect of education that has taken place in the past 30 years.


Aarakshan of course features Amitabh Bachchan in a pivotal role. You have always spoken about wanting to work with Mr. Bachchan. What took so long for the two of you to come together?

I always wanted to work with Amitabh Bachchan but if you see the films which I did from Mrityudand to Gangaajal to Apaharan to Raajneeti, there wasn't any character suitable for someone of Mr. Bachchan's calibre and stature. 7 years ago when I came across this story which dealt with the issue of reservation and opportunities in education, I knew that the Principal's role is tailor-made for Mr. Amitabh Bachchan. In fact I had decided then and there that if he does agree to do the role, I will go ahead with the film else if he doesn't, I will not make the film at all. I was fortunate that the moment I narrated the story to him, he immediately said YES.


Mr. Bachchan has played a stern Headmaster / Principal of an educational institution before in Mohabbatein, how different is it this time around?

Well obviously he plays a Principal / Head master in both the films. So the values and the personality traits that you would associate with a Headmaster/ Principal are but obviously common. However in Mohabbatein, there was a personal incident which hardened his character. Here he is laced with everything which is not personal but is social and is happening around him. His persona begins to suffer when people begin to attack him, humiliate him, throw him on the street but then he doesn't retaliate as a person but retaliates as a teacher. This is the first full-blooded social issue based film that he has ever done.


Wasn't Ajay the first choice for the character which is now portrayed by Saif? What exactly happened?

Definitely I had spoken to Ajay about this film after I finished Raajneeti but Ajay had committed himself to 2-3 films for which he was shooting back to back and hence couldn't adjust his dates with the rest of the cast. I would have had to wait or change the schedule which was not possible as I was ready to take the film on floors. Meanwhile Saif and I had been talking about doing a film for a long time and luckily for me, his dates were available. I thought it would be a great casting because he doesn't look like a Dalit from any angle. It is not the question of Ajay or Saif being the first choice... Ajay is a very capable actor and had he done the character, he would have given it a completely different dimension but so has Saif. Saif has worked really hard to get into the skin of the character and if you have seen the promos, you will agree that he does look convincing. Everybody who has seen him in the film is shocked to see Saif (who is educated in England and has a pedigree of a Nawab) play a Dalit so convincingly.


Certain sections of the Dalit community weren't happy with Saif who comes from a royal princely family portraying a Dalit. What do you have to say to that?

(Laughs) What can I say to that? Fortunately there is no casteism in our film industry, we don't look at the caste of the actor, we look at the actor but I am sure that they will be very happy when they see Saif perform in the film. I politely told them that you are trying to discriminate against an actor; you are doing exactly what you have been suffering all these years which is discrimination by the society. So it's not right to pass any such comments.


After Raajneeti, Manoj Bajpayee yet again plays a negative role in Aarakshan. Could you tell us a bit about his character in the film?

Manoj was not really negative in Raajneeti; he was playing a politician and was scheming and conniving. In Aarakshan, his character can be termed as negative and dark. He plays a brilliant teacher who treats education as a business. He will go to any lengths to see that his business doesn't suffer. He doesn't have any ideologies or morals. It's a very interesting character and Manoj has done a great job.


What about the young turks Prateik and Deepika Padukone. How has it been working with them?

Everybody has been very focussed and I am thankful to God for giving me such dedicated bunch of actors. Deepika is like breeze, she will shock everybody with her performance. Prateik is uninhibited and a complete natural in front of the camera.


The National Commission for Scheduled Castes had asked you to screen the film for them but you refused saying that you are only obliged to show the film to a Censor Board for Film Certification (CBFC). Now that the film has been cleared with a U/A certificate you surely must be a happy man.

The Censor Board has given the film a U/A certificate without a single cut or deletion. When you see the film in context of the situation, you will realise that it is balanced; it's thought provoking but doesn't provoke anything else.


You guys have also come up with some innovative promotions centring around students at various education institutions. Tell us something about it

Yes...last week, we had a full-fledged debate on whether reservation has benefitted the society or not with the students from St Xavier's College in Kolkata. It was a fabulous experience with Mr. Bachchan, Manoj and I taking part in the debate. Since the film concerns the future of the students, we thought its best to engage them in the debate and find out their point of view. We are also doing similar such activities in Bengaluru and at Welingkar college in Mumbai.


There was a 2 year gap between Gangaajal and Apaharan and 5 year gap between Apaharan and Raajneeti. In that respect this film comes a year after Raajneeti, probably your quickest project till date...

Yes that's because the subject was ready quite a while ago and the ground-work and prep had been done so it wasn't difficult for me and my team to start work on this project soon after Raajneeti.


Finally what's next as a producer / director after Aarakshan?

There is a subject ready which deals with the whole issue of rapid development in our country but I still need to flesh out the details which I would only post release of Aarakshan.
BOLLYWOOD NEWS
Catch us for latest Bollywood News, New Bollywood Movies update, Box office collection, New Movies Release , Bollywood News Hindi, Entertainment News, Bollywood News Today & upcoming movies 2020 and stay updated with latest hindi movies only on Bollywood Hungama.