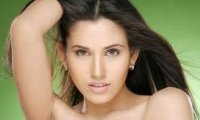 An ex-Miss India International (2006), established model, face of couple of dozen commercials and now a leading lady - Sonalli Sehgall has been enjoying a smooth and steady ride in the world of glamour. A Punjabi who hails from Kolkata, has travelled the world and now considers Mumbai as her home, Sonalli is expectedly confident as she gets into a chat with Joginder Tuteja about playing one of the leading ladies in Pyaar ka Punchnama. Over to the lady who is currently enjoying her 'Chak Glassi' stint while burning the dance floors.
Sonalli, you get to play one of the lead protagonists in a comedy for your debut effort - A promising start indeed, isn't it?
I actually think it is quite exciting. I am a very cautious person otherwise and I gave Pyaar Ka Punchnama a good thought before I was sure I wanted to do it.
And what really is the reason behind you being so cautious? After all for an outsider like you who doesn't quite belong to the industry or any filmy family, wasn't the very fact that you were getting to play a lead heroine in an established banner good enough for a start?
See, I had got offers before also but then I had a certain vision in my mind around my debut effort. Honestly speaking, when I realised that the film had three couples, my immediate reaction was - 'I don't want to do this'. I wasn't even keen to go for the audition. But then the folks who approached me explained how this was a very refreshing film with no clichés whatsoever. The moment I met my director (Luv Ranjan), my whole outlook towards the film and the role changed. I knew this was going to be a good start after all.
What really were these 'refreshing' and 'no cliches' factors that changed your mind?
The very fact that Pyaar Ka Punchnama isn't a run of the mill story about a boy and girl who meet, fall in love and then live together forever. This was one of the major reasons I was so happy about because the relationship shown between me and Raayo (the male protagonist) in the film is very real. There is nothing artificial about it. After understanding the film in detail, I was sure about stepping in at the least. As I started shooting for it, I started becoming more and more confident with every passing day. I knew that I was moving in the right direction.

How about the movement of your career in general? After all you have been a model on the ramp as well as TV commercials. One can well believe that doing a movie was an obvious next step for you?
On the contrary I wasn't really trying very hard to reach to a certain point. I was ultra busy with what I was doing. There were shows, TV commercials, ramp etc. etc. In fact I had an agency which used to coordinate meetings between the directors and myself. However the first concrete discussion was with the team of Pyaar Ka Punchnama and the rest as they say is history. I am glad that I did the film. If I wouldn't have done it, I would have carried regret.
I also tend to believe that since you have been a city girl yourself all your life and have been exposed to cosmopolitan culture, it must have been easy to relate to the character that you play in Pyaar Ka Punchnama, right?
Well, I would say yes and no. Yes, because Riya (the character I play in the film) is very close to how I behave in real life as well. Due to that it was easy for me to imbibe certain characteristics. You would have noticed the scenes in the film where I go like 'It's my space'. Well that's me speaking in real life because that's what I am. As for the 'no' part, I would say that there are certain points in Riya's life which I couldn't quite understand. You know, it all sounded a little unreasonable because perhaps I would never do something like that.
How did you come out of this predicament?
This is where Luv sir told me that Ria was more confused in her life than anyone else. She could be a little egoistic if she is put into a spot and beyond a point she may start getting a little averse if a relationship is not working out. She won't fret about it for long.
Still, it appears that the film has been designed from a man's point of view.
(Laughs) Yes, I know that this is a boy's film after all but then I am not worried as long as the film turns out well. I would say that the kind of relationship that you would see on screen is something that you have never seen before. You always see men as cheaters in films but that is not quite the case here with Pyaar Ka Punchnama. Having said that let me also add that while I am pretty confident that the character I play in the film has her own justifications to state, there would be a lot of men in the auditorium who would hate her. I am prepared for that (smiles).
BOLLYWOOD NEWS
Catch us for latest Bollywood News, New Bollywood Movies update, Box office collection, New Movies Release , Bollywood News Hindi, Entertainment News, Bollywood News Today & upcoming movies 2020 and stay updated with latest hindi movies only on Bollywood Hungama.