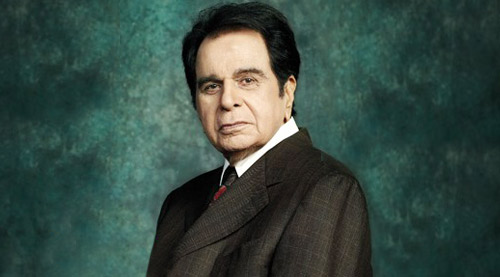 On December 11 India's greatest actor turned 93. The Khans' residence was flooded with calls and visitors. Dilip Kumar and even the bungalow on Pali Hill are still redolent of
the nation's heartfelt affections for the man who virtually invented naturalistic acting in mainstream Hindi films.


Below are excerpts from an interview conducted some years ago...


How do you look back on your life?

I don't indulge in too much introspection. The entire atmosphere around us had turned morbid. Philosophy and maxims are of no use any more. It's better not to open the window and let the pollution
in. Nowadays I only open my window to look at the trees, birds and little children playing in the park. Otherwise there is only sadness all around. I lost a friend Nani Palkhiwala.


Was he very close to you?

His passing was a blow to me. All of us used to respect him when we were in college and he was an upcoming lawyer. I remember this celebrated case he had fought on behalf of landlords. We were
young and impressionable. And we would go to the court and listen to him argue his case every day. All of us were awestruck by his oratory. When the honorable Judge reminded him that substance was
always more important than style, Nani Palkhiwala had quickly retorted, "That's the irony, Your Honor. In this particular case the government is giving more importance to style than substance." I
never forgot that incident in the courtroom. Later on when I had the opportunity to meet Nani Palkhiwala I reminded him of that court hearing and how much he inspired people like us. It started a
beautiful friendship between us. He was always kind gentle and concerned. He always said, "Yusuf, you must plunge into the judicial arena." I told him I had neither the gumption nor the family
support to be a lawyer.


Why did you say that?

Because I was the sole bread earner in a family of six sisters and brothers. I told nani Palkhiwala that I can't lead a life that calls for tremendous self-sacrifice and financial uncertainties.
Today he has gone! It's a symbolical death. I feel a whole ethos has come to an end. It saddens me deeply. But I don't want to linger on that sorrow. I have no idea who the Master of the show is.
But I fail to understand His scheme of things and the temperament of these troubled times. I don't know what He wants from us. Today there's a complete corrosion of values. As time passes we feel
the leaders of this great nation are throwing away precious time. They're debasing what we once were by engineering ugliness into a country that was once healthy and inspiring. One of the things
that we practiced as a youngster was to give respect to someone like Nani Palkhiwala who fought for justice and freedom. Woh log achche the.


Are you talking about the politics of the nation?

Everything, all spheres of our life have undergone a moral downscaling. You know, I 've always called myself a humble manual labourer with no real grip over creativity. But the secret of a
fulfilling life is to grab a hold of work that gives you satisfaction. You must always do your best no matter what the nature of your work. There must always be a sense of inspiration. .


And who inspired you?

My father, for one. Because he was a self-made man. He came from the North-West frontier and settled in Kolkata and Mumbai and led a life of dignity. He was very annoyed when I got into films. But
then he heard other people whom he respected relishing the idea. Once Maulana Azad whom everyone revered, heard my father commenting caustically on one of his sons drifting into films, and what to
do? Maulana Saab intervened on my behalf and said there's no telling what the future holds for anyone. He also told my father to be proud of his son's achievements and implored him to be patient
with my aspirations.


How did a young man from a family of fruit sellers become the most brilliant actor of the country?

No, there might be many better actors than me. I'll tell you, I had no training and I wouldn't have dared to venture into films were it not for my family's financial conditions. The Second World
War was extremely hard on the horticulture business. My father would grow apricots, grapes, pomegranates, apples and peaches. He would get those fruits tinned. He would proudly show me the size of
the fruits and say, "This is what I want you to grow, Yusuf. Because you're my most intelligent son." He wanted me to be educated so I could enhance the family business. A friend of my father Fateh
Mohammah Khan had been honoured by the Queen. My father wanted to show the Britishers that he could grow fruits as good as his friend without being a toddy.


You weren't interested in the family business?

I was always very business minded. I loved the family business. But it was a very tough life. The entire process from plucking to dispatch was very cumbersome. Bahut mushqil tha. I had to get
another job with a decent salary. That's where acting came in handy.
BOLLYWOOD NEWS
Catch us for latest Bollywood News, New Bollywood Movies update, Box office collection, New Movies Release , Bollywood News Hindi, Entertainment News, Bollywood News Today & upcoming movies 2020 and stay updated with latest hindi movies only on Bollywood Hungama.