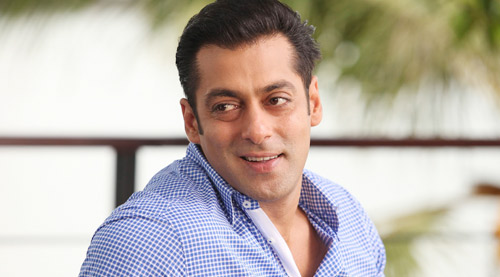 So it's finally happened. To borrow lines from Amitabh Bachchan's Don song Jisska mujhe ttha intezaar jisske liye dil ttha beqaarrar woh ghadi aa gayi....Salman Khan's achche din have finally arrived (right when the Sonia and Rahul Gandhi's burey din began in the National Herald case) what with the Bombay High Court ruling that Salman was acquitted of all charges in the hit-and-run case.

It's been 13 years of agonizing wait for Salman and his family for the ordeal to end.

True to character Salman showed no emotion when the honourable Judge announced the acquittal.

Says a jubilant buddy of the superstar, "That's Salman for you. He won't give anyone the benefit of seeing him vulnerable, not even the honourable Judge, though he otherwise cries like a baby at the drop of a hat. In fact after the verdict when the family rallied around him Salman broke down and wept copiously."

Curiously his friends were not willing at least immediately, to come forward to express their happiness. One of Salman's closest buddies Sajid Nadiadwala is beleaguered by an IT raid. From the sets of his new film Sultan which Salman was shooting when the court verdict was announced (he took a break from the shooting to attend the verdict) there was silence.

"Has he really been acquitted? We went to understand the case before reacting," said a Sultan team member. "But I can tell you this much. We (his close friends) never doubted that he would be acquitted. Bhai is a really good guy. The good deeds that we read about are only the tip of iceberg. There is so much more that Bhai does silently which no one knows about."

To be noted in the above encomium is the guarded non-committal subtext regarding the superstar's guilt/non-guilt.

Most of the people close to Salman agree with those who do not worship the superstar blindly in the view that the original case of pavement sleepers allegedly being mowed down has been washed away by the "good deeds" of the star.

So are the good deeds an atonement for possible guilt?

"Kuch bhi kaho, Salman ne Ganga naaha liya. Guilt, non-guilt ...kya farq padta hai? Everyone will tell you how happy they are that Salman is free. He can finally get married," says a female actor whom Salman, it is rumoured, doesn't favour as friend or co-star. Salman, you see, has very strong likes and dislikes, which he doesn't bother to hide.

Indeed Salman in those rare moments when he would allow his inner turmoil over the case to surface in front of close friends would wonder how he can have normal life with the sword of the court cases hanging over his head.

Says a close friend of the actor, "He once told me, 'How can I get married, have kids when I could be in jail tomorrow? What will my wife tell our kids? That their father is in jail?'

Salman's unwedded wife and unborn kids must be rejoicing somewhere in the universe. Being Human tee shirts will double their sales. Hours after the verdict a restaurant in Mumbai named after Salman, is serving food to all at the cost that the customers decide.

The cause of justice has been served....Or, so we'd like to believe.
BOLLYWOOD NEWS
Catch us for latest Bollywood News, New Bollywood Movies update, Box office collection, New Movies Release , Bollywood News Hindi, Entertainment News, Bollywood News Today & upcoming movies 2020 and stay updated with latest hindi movies only on Bollywood Hungama.