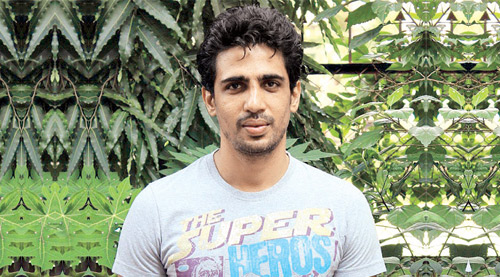 This week sees the release of a film that is almost ahead of its times. The film's called Hunterrr. Contrary to popular belief, the film's not a sex comedy but a coming of age film. The film stars an array of stars in the form of Radhika Apte, Sai Tamhankar, Veera Saxena and Anand Tiwari amongst others. But, topping the list of the star cast is none other than the very talented Gulshan Devaiah, who plays the role of a sex-starved man named Mandar Ponkshe , whose life oscillates between just two terms 'lust' and 'bust'.


Satish Sundaresan of Bollywood Hungama caught up with this phenomenal man who, very sportingly did this interview and answered all the questions in a true sportsmanship style!


Gulshan, to start with, if we were to swap our positions, what will be your first question to Gulshan Devaiah?

(Laughs) I will straight away ask this person named 'Gulshan Devaiah' if the character of Mandar Ponkshe in Hunterrr is autobiographical!


Thanks Gulshan for giving me the headstart. Now, please tell us if the character of Mandar Ponkshe in Hunterrr is autobiographical?

(Laughs again) Maybe a little bit... There is one similarity between Mandar Ponkshe and Gulshan Devaiah in real life, and that is, both are 'fattu' people. In simple words, they are the ones who lack courage. I have grown up fantasizing (women) and the time I hit puberty, I realized that I have developed a certain attraction towards women and wake up with wet bedsheets in the morning without even knowing why!


How does it feel to be the man of the 'moment' and the man of the 'movement'?

It feels really great to be the man of the 'moment' and the man of the 'movement' and that too in absolute privacy, when nobody is watching you! Let me also reveal here that, Mandar Ponkshe performs best when nobody is watching him.


When the film was offered to you, what was the first thing you checked out: the reason behind the title or your co-stars?

The film was not called Hunterr then. It was called 'Vaasu', because of all the 'vasugiri' that's in the film. By now, I, anyways know my co-stars.


Did you instantly say yes to the film or you took time for the same?

I read the script and instantly said yes to the film. But, I did have my time constraints, for which Hashvardhan Kulkarni (the director) waited.


Tell us something about your character 'Mandar Ponkshe'?

Mandar Ponkshe is as middle class as a middle class man can be. He is sort of a contemporary Amol Palekar. He is not heroic, but is, at the same time, very ordinary and simple. He travels by local train and is very unassuming. Having said that let me tell you that, he is a very discreet 'vaasu', who doesn't brag about his 'vaasugiri' before his friends. He is also an opportunist at the same time.





Do you have any real life 'vaasus'?

Trust me; I have met a lot of people who are 'vaasus' in real life. And even in Bollywood, there are many of them, who are total 'vaasus'. I won't name them though!


What is it about a woman that attracts you the most?

I am not going to say her eyes and intelligence, because, I feel, that is utter bullshit! The first glance of a woman which holds your attention is her physical attraction. I appreciate physical beauty of a woman. If a woman has flawless skin, great legs or nice 'behind', then, it immediately gets your attention. Added to that, if the woman is intelligent, it's a bonus (laughs).


Do you believe in 'method acting'?

Of course, as an actor, I do believe in the process of method acting. At the same time, I don't want to give out my secrets of method acting, the same way the magician won't give out the secret behind his magic tricks. There is something called as 'imagination' as well!


In the same breath, let me also ask you that whether you underwent any kind of 'method acting' for the role of the sex starved Mandar Ponkshe?

Satish... I know what you are fishing for... lekin who machhli tum nahi pakkad paaogey! (You won't be able to hook that fish!) (Laughs)


Is it a pure co-incidence that, in Bollywood, the ones with the name 'Gulshan' are always meant to be mean and chase skirts?

It's all changed now... I am here to change that notion.


How was it to work with the director Harshavardhan Kulkarni?

He is simply superb. He is a very sensitive guy. He exactly knows what he wants from his actors.


And what about the 3 actresses?

Sai Tamhankar is superhot. I still can't get over the fact that she is so superhot! Radhika Apte, as you all know, is a truly phenomenal actress. And the debutante Veera Saxena is a true discovery of this film. She is earnestly sincere in this film.


Any awkward moments while shooting the film that focuses on sex and sexual fantasies?

The film's director wanted us to rehearse everything, including the intimate scenes. He wanted the feel of the scene, not in the real sense of the word, though. For him, rehearsals of the actors were a must.


What were the locations of the shoot?

The film has been shot in all real locations. It's a totally Mumbai centric film.


With so much of undressing in the film, did the costume designer really have a job to do?

(Pauses for a moment) Let me tell you that there is absolutely no undressing in the film.


OK ... with no undressing in the film, will the film still manage to hit the audience below the belt?

Below the belt toh dard hota hai yaar (below the belt, it really pains)! We are here to give you pleasure and not pains. That's exactly what my character Mandar aka Vaasu is all about.


What role does music play in the film? Bappi Lahiri's music marks the return of the nineties era?

The film starts from the early nineties and transports the audience to today's time and age. The same applies for the film's music as well.


In the film, your character is highly addicted to sex. What are you addicted to in real life?

Sleeping! (No pun intended!)


The film's promos has Radhika (Apte) hinting at 3'o clock. Before the film, did you actually know that '3' o clock' was also a sexual pose or was it something that the film taught you?

It's not a sexual pose, for heaven's sake. It's all about imagining the clock's long hand and short hand in that particular direction. On second thoughts, a sex position like '3'o clock' is also something really worth imagining! (laughs heartily).


What, in your words, is the difference between a 'party pack' and a 'family pack'?

'Party pack' is something where everybody can eat jointly the ice cream, and the 'family pack' is something, which you want to share only with your close ones.


If given a chance, will you continue to be Mandar Ponkshe and write an 'Agony Uncle' column and solve people's sexual problems?

Mandar wants to solve only his problems and derive all the pleasures in the world. He is not here to solve people's problems. He is a very self-centered guy in that way.


In real life, have you ever saved any of your friend's number in your mobile as 'Savita Bhabhi's or 'carpenter', 'plumber', 'cleaner' etc?

I am not going to tell you that! For all you know, I might have done that ... but, why should I tell you! All that I can tell you is that, if I tell my wife that I am going to get the cooker repaired, that means that I am going to get my cooker repaired. Period!


Have you ever gone to a lingerie store for window shopping or accompanied someone for the same?

Many times. I have gone on my own, as well as with my friends. I have a degree in fashion designing. I was very much interested in the construction of bras and panties, because that's one thing that the fashion college had left out from the syllabus. I used to touch and feel the lingerie only to know the technical aspect. There used to be people who thought that I was a pervert, but, to hell with them!


Mandar's life starts and ends with women and everything in between. How will you react if any guy makes a pass at you in real life?

I would be rather flattered, but, I will immediately say, "Thanks, but no thanks".


As a child, did you ever get caught in the 'chhota chhetan' kind of situation, like they have shown in the film's promos?

My dad had caught me! (laughs)


Mandar advices his friends to 'line maarofy' on the second best. What about Gulshan in real life?

In real life, I will never go at all. I will wait for the woman to come and talk to me.


Have your magical hands ever given a massage to anyone?

Many times... including myself (laughs heartily).


Everyone, who has seen the promos are left wondering as to why does Radhika Apte's character ask for your score?

You have to see the film to know what it is all about. Let me tell you that, the said number is way 'too short'!


This is called the 'No Pun Intended, Only Fun intended' section.

Which is your favourite animal?

I love pussy cats!


How many times have you disguised yourself as a cat to enter... someone's house?

Never! I did try 'bow-bow', but, it just did not work. Maybe, I should try doing 'meow-meow' the next time.


Which part of your body do you really thank God for?

My brains.


With your kind of qualifications, if you were to apply for a job, which position would you prefer?

Senior Ladies Tailor!


In any party, are you the first to go or the first to come?

I am the first who never likes to enter... such party!


Lastly, on a serious note, what are your forthcoming films?

Love Affair, Cabaret and a few others.
BOLLYWOOD NEWS
Catch us for latest Bollywood News, New Bollywood Movies update, Box office collection, New Movies Release , Bollywood News Hindi, Entertainment News, Bollywood News Today & upcoming movies 2020 and stay updated with latest hindi movies only on Bollywood Hungama.