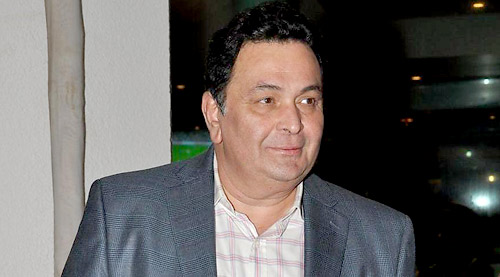 Rishi Kapoor has not been seen in too many films lately. He was a small part of the recently released Sanam Re. But that's about it. The actor who has accepted and lived
up to acting challenges for a good 45 years now is enormously excited about his role as the 90-year old patriarch in Shakun Batra's Kapoor & Sons. In a freewheeling interview with Subhash K
Jha, Rishi holds forth on the joys of getting into his complex get-up.


This is the oldest character you've ever played...

Not too many actors get such an opportunity. I get to play 90 at 63. If you look at my career I started as a child actor in my father's film Mera Naam Joker, made my debut as leading man in
Bobby when I was 20. Now at 63 to have a filmmaker like Karan Johar repose so much faith in me is amazing.


Why shouldn't he have faith in you?

It's one thing to appreciate my acting. But to invest such a huge amount of my money in my old man's makeup requires a lot of guts. Karan Johar hired Greg Cannom, the make-up artiste for Brad Pitt
and Cate Blanchett in The Curious Case Of Benjamin Button. To me the makeup was important. But I believe it's not about what the makeup does. It's about what the actor behind the make-up
does. I hope I've justified the producer's faith in me. The fact that he spent so much on my make-up is a big burden on me.


But why? Karan Johar can afford it

You must understand that Kapoor & Sons is not a big-budget film. It's medium-budgeted film. In such a film to earmark Rs. 2 crores for my make-up is quite something. Man, you need balls for
that! I hope I haven't let him down. On the fifth day of shooting, Greg asked me if I felt old enough. I told him the make-up made me feel like the old man. To this Greg said, 'You'll be surprised
to know this, Rishi. But that's exactly what Cate Blanchet told me during The Curious Case Of Benjamin Button.'


How was it working with the young cast Alia Bhatt, Sidharth Malhotra and Fawad Khan?

I've worked with Alia and Sidharth in Student Of The Year, but not Fawad. While shooting for Kapoor & Sons it would take me an hour and a half to take off my make-up. After that we
all hung out together, partying, drinking, singing, playing poker. It was great fun. We hit the bed the latest by 11 pm because I had to start my make-up at 6 am. So we were all a team although we
were generations removed. Let's not forget the generation in-between played by Rajat Kapoor and Ratna Pathak Shah. He plays my son and she's my daughter-in-law.


You always have good time. You enjoy every role that you do?

Let me correct you. I didn't have fun working for Shakun Batra in Kapoor & Sons. You see I worked for 30-32 days on this film. Not a single day passed when Shakun and I didn't fight.
Why? A creative fight?

It was not a creative fight. It was something else. We fought because I couldn't agree with his method of working on my role.


Please explain?

Shakun wanted to cover every shot of mine from many different angles. But I am old-school spontaneous actor. I couldn't recreate the same expression many times over for every shot. I respect all
schools of acting. But I am not a method actor. With every successive shot I lose my spontaneity. This new way of working where actors give the same shot repeatedly from different angles has gained
acceptance because in the digital era no raw stock is wasted. Because they've the facility of editing a film on a digital platform, they want more software. Thereby actors have turned into robots.
That's not my way of working. I always have an edited pattern in my mind for my performances.


Then how did you come to a compromise with Shakun Batra?

I did not! We were constantly arguing. I told him he had taken the wrong actor. I offered to leave the film at least twice.


What?

Yes, I informed Karan Johar I was leaving. Please understand, this was a very difficult role. For 13 hours I had to wear the makeup and emote in contact lenses, etc. I couldn't do every shot from
many angles. It was easy for the kids Alia, Sidharth, and Fawad as they don't have any one particular style of working. Rajat and Ratna are from stage so they could do the same shot many times and
yet make it look spontaneous. I was the odd one out. My spontaneity couldn't be replicated over and over again. I've worked in 150 films. Ask the directors. They will tell you no two takes of mine
are the same. I like to feel the lines. I emote with my heart. I respect method actors. But I am not one.


So how did this problem get resolved?

It didn't. We just fought every day. I sent a word to Karan Johar that I will leave the film. I believe the same thing happened with my niece Kareena Kapoor when she worked with Shakun Batra in
Ekk Main Aur Ekk Tu. She called Karan Johar from Las Vegas complaining about Shakun's style of working.


Has it ever come to that before?

Yes, once before in Manoj Kumar's Jai Hind. The first scene required me to do a 12-page scene in one shot. And he wanted me to move all across the frame while saying those lines. I asked him
why was I shuffling all over the place. There is a difference between a play and a film. It became a battle between two schools of acting. That evening he called up our mutual friend Prem Chopra.
Things were sorted out. From the next day Mr. Manoj Kumar first asked me how I want to do a shot and then set up the camera.


Was Kapoor & Sons the most difficult film to do?

Every film is a challenge. But yes this one became a little
BOLLYWOOD NEWS
Catch us for latest Bollywood News, New Bollywood Movies update, Box office collection, New Movies Release , Bollywood News Hindi, Entertainment News, Bollywood News Today & upcoming movies 2020 and stay updated with latest hindi movies only on Bollywood Hungama.