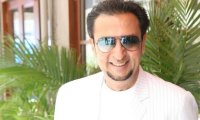 Let's face it. To get 'tagged' in Bollywood with a particular nickname, only shows the impact of that particular character or role! Topmost testimonials of tagging comes in the form of Sanjay 'Munnabhai' Dutt, Arshad 'Circuit' Warsi, Anil 'Jhakaas' Kapoor and others. Likewise, at the very mention of 'Bad Man' one is instantly reminded of no one else but the most stylized villain that Bollywood has ever seen, Gulshan Grover, who has been having an equally successful innings, both in Bollywood and Hollywood. The good news is that this 'Bad Man' is back with his latest offering I Am Kalam, a film that is termed as one of the most sincere attempts on the silver screen. This film also is very close to Gulshan Grover, as it happens to be the first film for which he has been nominated for the prestigious National Awards! Satish Sundaresan of Bollywood Hungama caught up with this man for an exclusive interview. Here are the excerpts:


Gulshan, to start with, what's your character in the film I Am Kalam all about?

I play the role of pleasantly kind dhabewala, who runs a dhaba right opposite a palace on the highway of Rajasthan. He is extremely humane and also happens to be the nicest person of them all. He is very simple and pure at heart, so much so that alongwith other things, his simplicity leads him to fall in love with a French tourist, who visits the dhaba many times!


What made you say yes to this role?

To start with, I was told that the NGO called 'Smile Foundation' were eager to meet me in connection to this film. Initially, I was so very reluctant to meet them. The only memory (read 'connection') that I had of them, was because of some cute stationeries done by their kids. That's all! Besides this, I hadn't really heard anything about them. In my mind, I told myself, 'Lets meet them, and after ten minutes, they will be out!' When I saw them, there were a bunch of people, which included the film's director Madhav Panda alongwith the writer Sanjay and some 10-12 people from Smile Foundation. The first thing that I asked them was, 'Why do you want to make this film?' and they replied that 'We want to align the strength of the message of this cinema to reach a larger audience'. I immediately told them that If that's the case, then, they will be doing a boring job. Nobody will watch this film. That's when the director stepped in saying that he is going to be treating the dark subject of child labour and child education in an entertaining way. And when I asked them 'Why me?' they instantly replied because I have international exposure, the quality and the ability to pull a role like this. Trust me, when they ended the film's narration, I was so very moved by it. It took me back to my college days in Delhi, when I used to change three buses and then walk for
3-4 miles to reach the nearest bus stop to go to my college! At the end of the narration, I was so very moved, that I immediately said yes, without even blinking my eyelid!



What all locations did you guys shoot the film in?

The film was shot entirely near Bikaner. The majority of work has been shot near a palace there.


Was there any kind of homework that you did for the role?

Lots of them! I not only did my homework, but also had gathered references of a certain tea boy of my growing up years. In order to make my character more authenticated, the director wanted me to report to the shoot a few days before (the actual schedule) and spend lots of time with him and at the dhaba, to understand the atmosphere out there. The end result has been so satisfying, that I am not just pleased, but also super thrilled because, this role has got me nominated for the Best Supporting Actor in the prestigious National Awards! If that's not enough, then, renowned director J.P. Dutta, who also happens to be the Chairman of the National Awards' jury, met me a few days back in Toronto. We were right in the midst of the function, when he said that, 'Gulshan, you were very good in I Am Kalam. You were so restrained, real and natural! You looked every inch a Rajasthani!' This compliment meant a lot to me, and will remain something that I will treasure till my last breath!


In the film, the protagonist Chotu works in food stall, which also depicts child labour by default. In real life, what's your take on the sensitive issue of child labour?

I would say that there is a very compassionate way of looking at the issue of child labour. If one works in his father's house, it just cannot be termed as child labour! During my childhood, I used worked in my father's place everyday, before and after my school. I even used to study at my 'workplace'. So, if you look at it from my point of view, I do not see anything wrong in me working! By working, I was just trying to bring more money to the family. That did not mean that I was poor in my academics. I, not just worked, but also scored 93% in my studies, which facilitated me to secure my admission in the prestigious college like 'Shriram College of Commerce', when they do not even issue an admission form to people below 90%! Coming back to the film's protagonist Chotu, there's a little bit of mystery behind his 'working', which will unravel only when you see the film.


How much of 'method acting' does Gulshan Grover believe in?

I am a qualified trained actor from the most reputed acting school. I have had the likes of Anil Kapoor, (the late) Mazhar Khan and others as my batch mates. And then, I was also an acting teacher for almost 8 years in the same acting school, wherein my students were Govinda, Sanjay Dutt, Kumar Gaurav, Tina Munim and others. Method Acting has always been an important aspect of my growing up. But, unfortunately the path I chose was that of creating a brand out of a star didn't require anything of that sort. All that it required was a child-like belief in the character, the same way a child would do when they play the game of cops and robbers!


Over the years, who do you feel has been the perfect 'costume villain' in Bollywood so far?

It has to be Pran saab, undoubtedly! He was so very perfect in terms of his hairstyle, costumes, make up etc, which was relevant in that era. But, as of today, the villains and even the heroes do experiment, but not up to that level, I would say!


Lastly, you are someone who has been equally successful in Hollywood as well as Bollywood. What do you feel is that one point of similarity and difference between both the sides?

The similarity between Bollywood and Hollywood is that both the places have an artistic drive to create! And the main difference is that, while Bollywood lacks a systematic approach, Hollywood believes in putting (read 'declaring') everything on paper! They are miles ahead of Bollywood.
BOLLYWOOD NEWS
Catch us for latest Bollywood News, New Bollywood Movies update, Box office collection, New Movies Release , Bollywood News Hindi, Entertainment News, Bollywood News Today & upcoming movies 2020 and stay updated with latest hindi movies only on Bollywood Hungama.