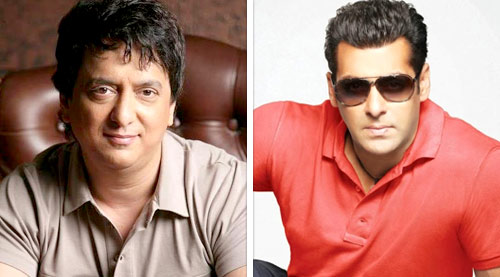 Producer Sajid Nadiadwala who produced three big hits in 2014 has just made his hugely successful directorial debut with

Kick. He tells Subhash K Jha why he has a lot to celebrate.

This Eid was very special for you?
Salman Khan and I had released Judwaa 17 years ago. At that time, the trade didn't pay attention to festive releases. In fact during

Christmas, distributors would refuse to take delivery of films because it was too cold in North India. Now there is a clamour for Christmas releases.

Likewise during Eid the trade was afraid to release films because of Ramzan. Times have changed.

So Salman and you in Eid 2016?
I hope not! I am not keen to direct again unless Salman asks me to. I am grateful to God. To have four successful films in a year. Now I need to get

back to work right after celebrating Eid on Tuesday. I also want to spend some time with my sons before their school starts. I haven't seen them

for six months.

Kick is a roaring success. Did you expect this kind of response to the film?
Salman is Salman. You can't

question his stardom. The trade experts are looking at a box office figure of Rs 250 crores.

Do you think that's a realistic figure?
Salman's last Eid release Ek Tha Tiger had done a business of about 190 crores when they had one holiday. Anything above what Salman

Khan's last Eid release did is good enough for me as a debutant director.

Who says you are a debutant director?
I know. No one is willing to evaluate me as debutant director. That's unfair. Sachin Tendulkar is an exceptional cricketer. But if you put him on the

other side and ask him to bowl or become a wicket keeper and expect him to get the same kind of laurels, that would be unrealistic, no?

Perhaps. But then you've been a closet director for many years?
I wouldn't have turned director if Salman Khan wasn't such a dear friend and if he had not told me to direct Kick. I was like a child who had to

prove himself in his examination, not for the sake of his teacher but his family. Luckily I had a good producer with me.
Yes,
Sajid Nadidwala has never been known to deprive his directors?
I could trust this producer blindly. He is never known to say no to anything to any director. So I had a reliable producer and a superstar to support
my directorial plans. Baaqi toh main koi anari ttha nahin. I've grown up on the sets of the films produced by my family. I didn't have to do
anything new as a director. Farq itna ttha ke mujhe 6 baje uthna padhta ttha (I had to get up at 6 am). I had to be on the sets before
anyone else. As a producer, I could saunter in at lunch-time. I've to say it wouldn't have been possible to direct Kick without a fantastic
team.
Shirish Kunder was supposed to direct Kick?
Yes. It was Salman Khan's idea that I turn director with Kick. He didn't suggest it to me nor ask me. He just told me, 'Do it'. No questions asked.
Once I decided to do it, it was very important for me to live up to mine and Salman's expectations. The producer in me had taken a backseat. The
numbers, collections and profits did matter. But I wasn't thinking about them while directing Kick. I was only focusing on making a film that the
audience would approve of. I was the producer and the director. But I was more bothered about getting it right as the director. The producer
already knew his job.
At what point did you actually begin to feel the pressure of having to deliver something really bigger than the normal Salman-Eid release?

After the first promo. That's when it hit me that Kick was being seen as something more than a Salman-Eid film. I was told Kick had an
international feel to it. I wanted Kick to be judged favourably against action films abroad. And I feel we succeeded in that.
Salman Khan has gone on record to say you are the friend he would turn to if he ever needed money?
It came as a very moving surprise. I've never spoken about my friendship with Salman. Neither has he. I call him Son, he calls me Grandson.
Everything else is unspoken between us. Salman Khan is not the kind to talk about his feelings. For him to say something like this meant a whole
lot to me. It's also a big responsibility for me. I had decided I wouldn't direct a film again. But now if Salman asks me, I'll have no choice. I can
never say no to him. Salman Khan is a giver never a taker. For him to ask for something is a very big thing.
What has direction taught you?
To respect my directors even more. I've always respected my director. Now I'll do so more. The experience has left me physically exhausted. After
27 years in the movie business I had to be up at 5 am till 7 pm, to deal with an international crew for the stunts, to coordinate with various
teams...and still complete the film in just 6 months.
How did you manage it?
I'll tell you something. Salman Khan and I were not sure we could make it by the Eid deadline. But we thought we'd give it a try on condition that
if we couldn't make it on time we would not hesitate in postponing the film. It was an uncertain situation. We just went on doing our work.10
days before release we were shooting a song. 3 days before we released we were still doing the mixing. That's how close we cut it.
While
you were busy directing Kick, Lai Bhaari the Marathi film that you wrote became a super-hit. How did that happen?
My contribution to Lai Bhaari is the plot concept, the beginning, middle and end. It has broken all records in Marathi cinema.
So Lai Bhaari, plus 4 films as a producer all hits in 2014. That makes you the most successful producer of all times, doesn't it?
God, that's scary! My wish is, that I do better work next year. But one can't plan success. It happens, just like failure. Taqdeer laata hai dimaagh
ganwaata hai. I never planned the successes this year. All the seeds that had been planted during the earlier years like Highway and 2
States came to fruition this year. But to me the best experience as a producer was the launching of Tiger Shroff in Heropanti. Launching
a boy and a girl was like giving birth to twins. And at the same time, I was launching myself as a director. Just goes to show when it rains it pours.
Earlier I had launched many directors.
What are your productions in 2015?
There is Phantom directed by Kabir Khan with Katrina Kaif and Saif Ali Khan, then Imtiaz Ali's Tamasha with Ranbir Kapoor and
Deepika Padukone. Then I've Housefull 3 directed by Sajid-Farhad. Finally, there is the second film with Tiger directed by Sabbir Khan.
Are you willing to forgive those directors who have betrayed you?
Where is the time to sit and sulk? There are just 52 Fridays for films to release every year, and so many films. Clashes are bound to happen. The
fights between two filmmakers are like my two sons fighting. They are forgotten in no time. It's like a sister not tying a rakhi on her brother for
one year. They don't stop becoming siblings.
How is your rapport with Farah and Sajid Khan?
Farah Khan was one of the first to wish me for Kick. Her brother Sajid also wished me.
What will you direct next?
There will be no next time for a long time, unless Salman Khan pushes me again. I am too laidback for direction. I've so many productions to look
into every year. People are already planning their releases in 2019. Kahaani nahin bani aur release date announce ho rahi hai. I need to
buck up.
What according to you works at the box office?
If you make what you like seeing it will work. When I read Chetan Bhagat's 2 States, I got that feeling. I feel good about my life and career.
God has been kind.
What special event do you have lined up for next Eid?
Eid is special whether I've a release or not.
BOLLYWOOD NEWS
Catch us for latest Bollywood News, New Bollywood Movies update, Box office collection, New Movies Release , Bollywood News Hindi, Entertainment News, Bollywood News Today & upcoming movies 2020 and stay updated with latest hindi movies only on Bollywood Hungama.