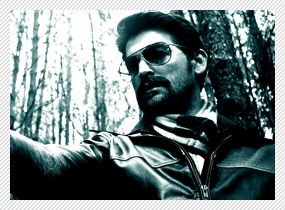 Neil Nitin Mukesh is a true original. He's a natural on camera, adept at being both a 'charmer' and a 'bad-ass brooder'. Off screen, ask anybody who has worked with the fair & handsome actor to comment on him, and the two words that keep popping up are 'genuine' and 'lovely'. His appearance belies the fact that at 31 years of age, he is one of the most mature actors of his generation. Notching up an already impressive list of seven National Award winning directors he has worked with, NNM's (his Blackberry Profile Name) performances have been discerning, meticulous and spirited. I met Neil a few weeks ago at Mehboob Studios. A knock on his vanity van and I enter right on time when he finished his last bite of lunch. But within a few minutes his David co-actor, Vinay Virmani comes in with a surprise. Neil could be forgiven for focusing on the good stuff - a chocolate cake - to bring in his birthday. He smiles. I ponder - It's his 'not fake' smile that's worth ten pages of the dialogues. Sans entourage and with a simple white shirt, a grey waist coat and a golfers cap, it's clear that the actor doesn't pretend to be anything he's not. And despite his status and earning power, he also doesn't shy away from the parts of his life that have caused him heartaches and happiness, namely his struggle to where he has reached today in Bollywood. Now, the actor is pumped and primed to break all cliches with four back to back movies - David, 3G, Shortcut Romeo and Ishqeria. For me, he sure is making his debut this year as a bonafide headliner. Presenting you Neil Nitin Mukesh in a no-holds-barred mood.
Your choice of movies since Johnny Gaddar has been varied and versatile.

To be honest, ever since the start of my career, I've done films that interest me the most. Whenever I choose a film, I ask myself - Do I want to watch a film like this? If the answer is 'Yes', then I want to know my part in it and from there-on it doesn't matter whether it's a 15 minute role or a lead protagonist. The film should make me immerse myself into it. That should be the power of the film. I don't understand the difference between commercial and art house cinema. For me, a film that releases on the big 70mm is a film. Very rarely good films don't work at the box office. But if an actor in me starts to understand the box office, I'll think it's time for me to turn producer (laughs).
I'm privileged to have worked with seven National Award winning directors. I am proud of that fact. I haven't seen many take risks. But for me, it's all about taking risks.
It's good isn't it, that movies like Barfi, Kahaani, something out of the box is finally getting its due recognition. Do you expect the same from David?
I loved the way Basu experimented with Barfi. I mean, it requires a lot of conviction from within to do so and make a film with Ranbir Kapoor and not giving him dialogues. I love the film and can watch it again and again. It kind of reminds me of Cinema Paradiso. Then Kahaani, English Vinglish, Vicky Donor, etc are the films that deserve all the accolades. It satisfies me completely to see such path breaking film. The same applies to David too but we still have to see its box office fate. Bejoy is a visionary filmmaker - he is sharp and too technical with his story telling. We've seen the acclaim Shaitan got. Bejoy likes to push the envelope every time.
Let us into the behind the scenes of - How you got David.
Before I was offered David, there was a big question mark in the industry - Am I a part of David? I knew he had already started filming it. I was a tad confused why my name was being taken in David. I returned from Fiji and Bejoy spoke to me expressing his desire to meet me. We met for half an hour and he said he's shot Vikram and Vinay's portions in Goa. I was ok with that but I asked him why my name was being popped up and he said - This is your film too. I was like - Oh My God! I had to be a part of this film. It took him ten minutes to brief me and I was in. I still don't yet have a script of David in my hand because Bejoy is so sorted with every detail.

How do you as an actor push the envelope?
For me, what I try very hard when it comes to acting is to concentrate, directly or indirectly to get a certain vulnerability to my character. The day I do that and achieve it, whether it's a good or bad guy, I know I've pushed the envelope and also the fact that audience can relate to it. Pushing David was to get the role emotionally correct. The most emotionally challenging film I've done so far is Jail and it took a long time for me to get over that character. I've lived everyday with that role. In David too, I've lived the role for long. On one hand there is a gangster who kills people and on the other is this bitter sweet love story. It's the right balance. But I'd love people to see David and give me their honest feedback.
Didn't the whole incident shock you?
It's funny but Bejoy's parting words to me after he narrated a bit of the film was - There is a glitch. I asked him what it was. He said - The film is in black and white, my portions. I then told him that's the USP of the film and not a downer. I called him a fool too (laughs). I am extremely thankful to God that I got a film like David.
Talk to me about Vikram the David.
Vikram isn't just a big superstar down South. The man is an inspiration as a person and his acting is respected in the same breath. His struggle has been phenomenal. Vikram's is a true success story. He is a brilliant human being and I say that after spending a lot of quality time with him. It's an honour to share the same screen name with him. Very rarely such a movie comes in your life.
...and Vinay the David?
To say David is Vinay's debut film is apt. He kind of reminds me of me in the days I did Johnny Gaddaar. It's easy to get attracted to popular cinema rather than choosing a film like David as your debut film. But decisions like these make you a better and a stronger actor. I like his choice and the approach he took by doing David. He has got this very enduring quality about him. He surprises you.
You've worked with seasoned directors and new ones. How different are the new ones when it comes to their vision?
The difference between established film directors and new ones is the hunger, the passion and the madness to go and throw themselves in the risk taking domain. I've done 4 films last year and those films are releasing this year back to back. All four directors are new. They have a new approach to movies. It's so fresh. I had so many people question me why I am working with three to four new directors. My answer to them was - who will give them a chance to work then? I know my own struggle. I'm sure those few who are reading this interview will know who I am talking about. I have gone and begged for roles in my days as a struggling actor. Sriram Raghavan put faith in me and got me my role in Johnny Gaddaar. Today I think it's only fair for any actor to put faith in new directors. It works both ways.
Not many know you have an impeccable comic timing. Next up - a mad comic caper?
I love to do all kind of genres. I don't know how many people are aware of my comic timings and my mimicry. I would love to be in a movie like Ted. Of course, I'd play the Ted-dy Bear (laughs). Having said that, I love animation. I think we haven't really tapped into it thoroughly. I'd like to do something in that genre.
Watch Promo: David
BOLLYWOOD NEWS
Catch us for latest Bollywood News, New Bollywood Movies update, Box office collection, New Movies Release , Bollywood News Hindi, Entertainment News, Bollywood News Today & upcoming movies 2020 and stay updated with latest hindi movies only on Bollywood Hungama.