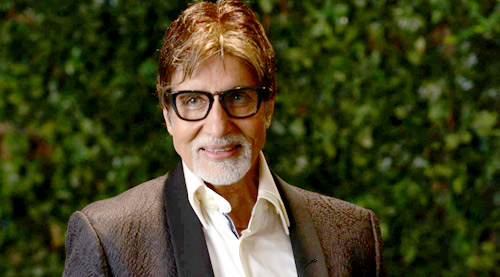 When Amitabh Bachchan gives you time, he does so with his complete attention. This is what I (further) realized during this interview where he went all out to make sure that
every question gets its due, every word in his answers carries weight, not a single thought is out of place and humility, an expected factor from him (and a characteristic of his), is on display
all over again. How does the man do it each time around, again and again, is beyond someone's imagination! However, the very fact that the 72 year old does so in an untiring pace, even if the
interview is drafted at 11 in the night, is commendable by all means.


Presenting Part I of the three part Exclusive Interview:


Of late, is there a conscious attempt by Mr. Amitabh Bachchan to demystify Big B? After all, characters played in Bhoothnath Returns (a friendly ghost), Shamitabh (a failed drunk
actor turned dubbing artist) and Piku (an outspoken grumpy old man) are not what the audience of 80s and 90s would have expected back then.

The dictionary explains 'demystify' as to utterly bewilder, perplex or baffle, confuse, confound, bemuse, obfuscate, non plus, flummox, stump, bamboozle, make obscure and be mysterious. Do you
honestly feel that these are the traits that could ever be equated with me? Your glorious epithets are, in all humility, not my calling, and I have never strategized my career or the choice of
films that I do. I merely rejoice that they come to me, and I am most grateful and thankful for that. The expectations of the audiences of the 80's and the 90's were long before destroyed and
washed away in the gusty torrents of the newer generation. Time changes patterns of acceptability. They changed for me as well, as it did with several others and shall always keep changing in the
years ahead. I am obligated that I get work, and acknowledge the change that has been brought about by each generation since my inception into films in 1969.


So is 'being unconventional' the entry criteria for a script to land itself in front of you?

No… but if it is, it would get appropriate attention!


However for someone like you who has pretty much seen the world of filmmaking in last 45 odd years, how do you politely let a filmmaker know, say within first 20 minutes of narration itself
that it is not working? Or do you still like to invest time in listening right till the end to know if there is a surprise in store?

I listen till the end and then I seek time to read the script, and then subsequently decide whether I would do the film or not. The fact however is that not many opportunities come my way, where I
would exercise such attitude or work ethics. So I take what I get. And that, more often than not, is limited.


So for Piku, was it the surprise element of the sudden demise of Bhaskor towards the pre-climax that also caught your attention?

The surprise element was for the audience. For me it was just another script, with a story where my character dies. That's it. My relationship with Shoojit Sircar does not permit me to question his
thoughts and his vision. When he decides to do something with me, I just do it.


In a way, as Bhaskor, was it like an Anand moment where a man lived his full life and left the world with a smile after he got all that he desired, especially a clean body to the heavens?


You cannot really compare the two films though it is an interesting observation!


Talking about Anand and now Piku, you have a knack of making a film your own despite it being titled on another character's name. I am sure you would be ultra humble in answering
this but really, isn't there a genius element of you being an actor that makes it all seem so easy, simple yet effective?

You cannot possibly expect me to answer this question, without the expected humility and of course the complete disbelief in your assessment of my nature or my limited talent. I am no genius and
neither do I possess the ability or 'knack' as you put it, to make any film my own. Titles are just a title. They give nomenclature. A film is a product of many other feats. The writer, director,
artists, crew and several behind the curtain elements that contribute in the final shape of the product that you witness. No one person can ever be made responsible for the success or failure, for
that matter, of a film. Film making is not an easy task, nor is it simple at any stage. And that goes for all connected with the craft of film making. Me included!
BOLLYWOOD NEWS
Catch us for latest Bollywood News, New Bollywood Movies update, Box office collection, New Movies Release , Bollywood News Hindi, Entertainment News, Bollywood News Today & upcoming movies 2020 and stay updated with latest hindi movies only on Bollywood Hungama.