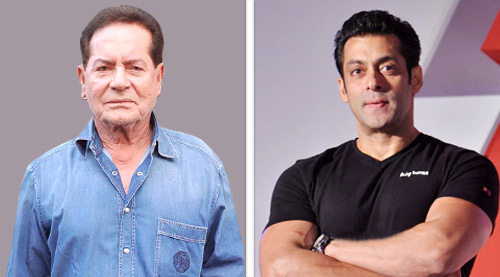 Of late Salman Khan had been seen behaving with uncharacteristic restrain. And it's all because of his father writer-thinker Salim Khan, the only man whom Salman is genuinely
scared of. Salim Saab to this day signs all the cheques on Salman's behalf. Salman carries no money and spends none. It's his dad who decides how Salman's millions are invested.


As kids when Salman and brothers Arbaaz and Sohail would "do dhamaal" it was Salman who would invariably get walloped by his dad. Even when Salman became a star and then a superstar Salim Saab
continued to control Salman's tendency to "lose it", much in the way that Sunil Dutt tried to control his son Sanjay Dutt's wild ways.


Salim Saab, it seems, has been more successful in taming his wild child. Not that he could ever curb Salman's cute arrogance...tauba tauba! What would his fans, fanatics often as Salmaniacs,
think if he were to replace his habitual brashness with a coy clamping-down?


But in the past months we have most decidedly seen the taming of Salman Khan, brought on by the one person on this earth who can tame the bratty Bhaijaan.


His dad Salim Khan.


It was his Dad's idea to ....shall we say to brush-up job on Salman's image. The first step was to shake hands with the Narendra Modi government even if it meant offending a strong and sizeable
section of Salman's fans.


When in January 2014 Salman was seen flying a kite with Prime Minister Narendra Modi at the Makar Sankranti festival a section of movie-going audiences demanded a ban on Salman's film Jai
Ho. There were reports of Muslim organizations in Hyderabad asking Salman's fans to boycott the film because of Salman's show of solidarity for Mr Modi.


In a conversation with me Salman's father rose to his son's defense. "First of all no organization is so big that audiences would listen to them and boycott's Salman's film. If some organizations
were actually influencing audiences against the film because of Salman's visit to Gujarat, then I'd like to tell these organizations that no solution to the world's violence has emerged out of
hatred. So please stop talking the language of animosity. World War 2 lasted for five years causing untold damages across the world. Finally World War 2 was stopped with peace talks. Winston
Churchill has said that when we look back every war has been futile."


About the uproar over Salman's Modi visit, Salim Saab says, "Once someone asked Prophet Mohammed what the greatest form of worship was. And He answered, love. Then the same asked the Prophet what
the greatest charity was. The Prophet said forgiveness. This whole refrain that Narendra Modi did not ask for forgiveness (for the 2002 Gujarat communal riots) is so futile. Maaf karna padta hai
maafi maangi nahin jaati. Jo kuch ho gaya so ho gaya. Ab aage badho (Forgiveness is granted, and not on demand. What happened has happened. Let's move on). No sensible or sensitive human being
would justify what happened in Gujarat (during the riots). But how long can we cling to the past?"


After pondering a bit Salim Saab adds, "Every community of people in the universe is both in the majority and the minority in different parts of the world. I think communal discord is a larger
problem in our country than corruption. The minority community should not get into a confrontation with the majority. No one has ever benefited from such confrontations."


This was clear indication which way Salman's father wanted to swerve his son's judicial destiny. When in July Salman had tweeted against Yakub Memon's capital punishment Salim Saab had acted
swiftly, apologizing on his son's behalf and getting the 'offending' tweet removed immediately.


No doubt the BJP has found itself a new mascot. Don't be surprised if Salman Khan becomes the new brand ambassador for Gujarat tourism. The politics of appeasement works both ways.
BOLLYWOOD NEWS
Catch us for latest Bollywood News, New Bollywood Movies update, Box office collection, New Movies Release , Bollywood News Hindi, Entertainment News, Bollywood News Today & upcoming movies 2020 and stay updated with latest hindi movies only on Bollywood Hungama.