While the female Bollywood brigade sashayed in gowns at one of the most popular style icon awards gala last evening, it was the B-town men who decided to experiment with fashion at Filmfare Glamour and Style Awards 2017. From unconventional to conventional suits, the men walked down the red carpet of this glitzy night in specially styled outfits that fit their macho persona.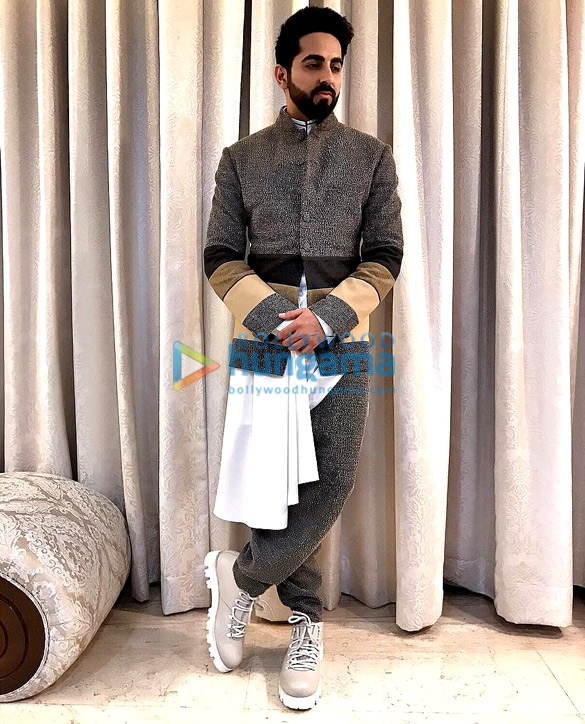 Ayushmann Khurrana
Known for his charm and suave manner, Punjabi munda Ayushmann Khurrana managed to pull off a rather experimental look on the red carpet of this style awards and we must give it to the actor to have pulled it off rather suavely. Dressed up in Shantanu and Nikhil asymmetrical outfit, the actor paired it up with Ermenegildo Zegna shoes for the evening. While earlier it was only Ranveer Singh, who experimented with such variety of men's fashion, it is good to see other actors setting up similar trends.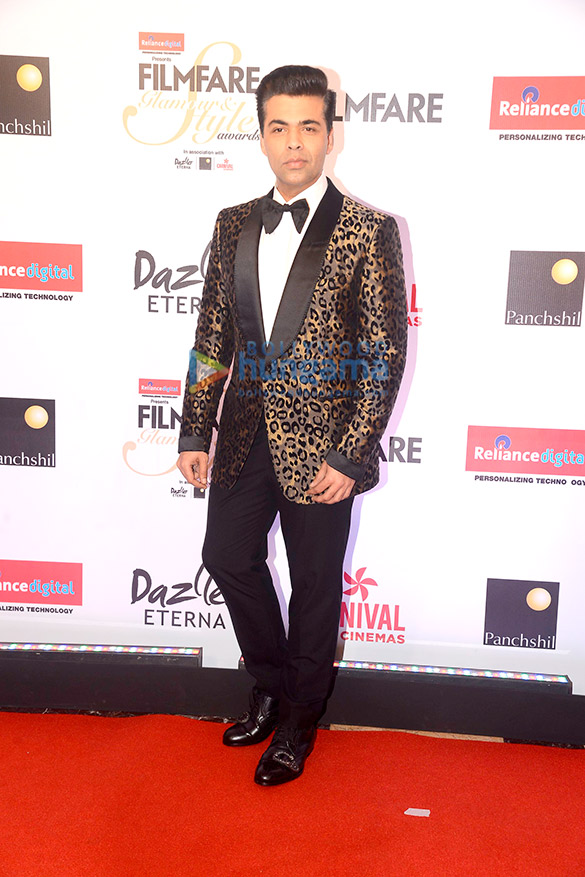 Karan Johar
He is a stylist himself. So we have rarely caught Karan Johar in a fashion faux pas moment. At the same time, the multi-faceted B-town celebrity is also known for his own set of fashion quirks like owning a pair of golden blingy shoes. This time around, we spotted the Dharma head honcho all suited in a Leopard print jacket from Tom Ford and Gucci shoes. Smart look Mr. Johar!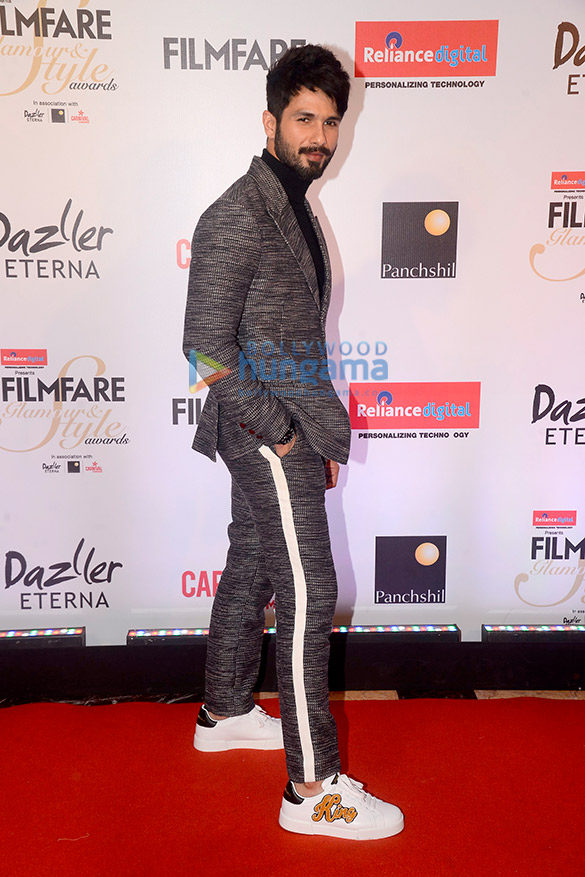 Shahid Kapoor
Amidst a bandwagon of good looking and well-groomed men around, we spotted an equally handsome looking Shahid Kapoor trying to make his way at the red carpet sporting an unconventional suit from the house of Sahil Aneja and a quirky pair of white Dolce & Gabbana sneakers. Quite incidentally it was written King on the pair, a role that Shahid will be playing in the much controversial film Padmavati.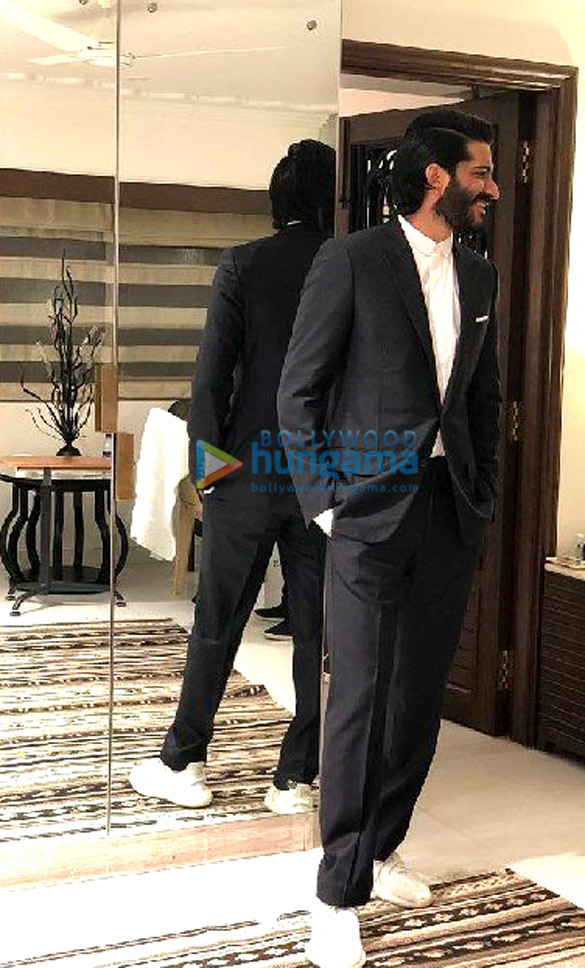 Harshvardhan Kapoor
Mirzya actor Harshvardhan Kapoor kept it rather conventional in a monochrome outfit styled by Abhilasha Devnani. While the suit was from Dior Homme, he sported white sports shoes from Adidas. But nevertheless, the Kapoor lad does look dapper.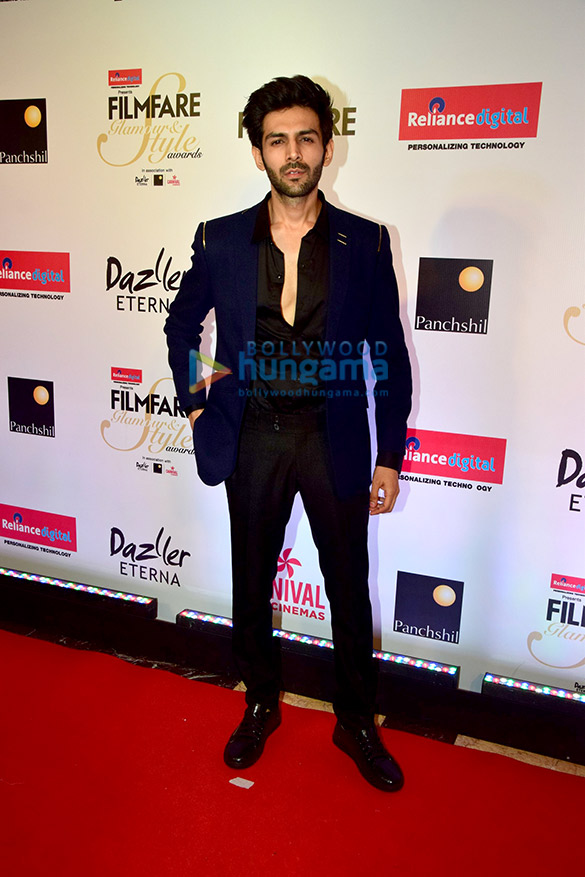 Kartik Aaryan          
One of the youngest actors in B-town, Kartik Aaryan seems to have learnt the ropes of fashion quite easily. While he doesn't hail from a Bollywood family, the actor's effortlessly casual style seems to be grabbing eyeballs and it wasn't any different at the red carpet of the Filmfare Style Awards. We spotted the actor looking as attractive as ever in classic black shirt and trousers from Anuj Madaan couture but adding colour to the look was the navy blue metal shoulder yoke blazer from the house of Karttik D. Kartik paired it up with shiny black 'Midnight Murano' sneakers from Berzeri Shoes.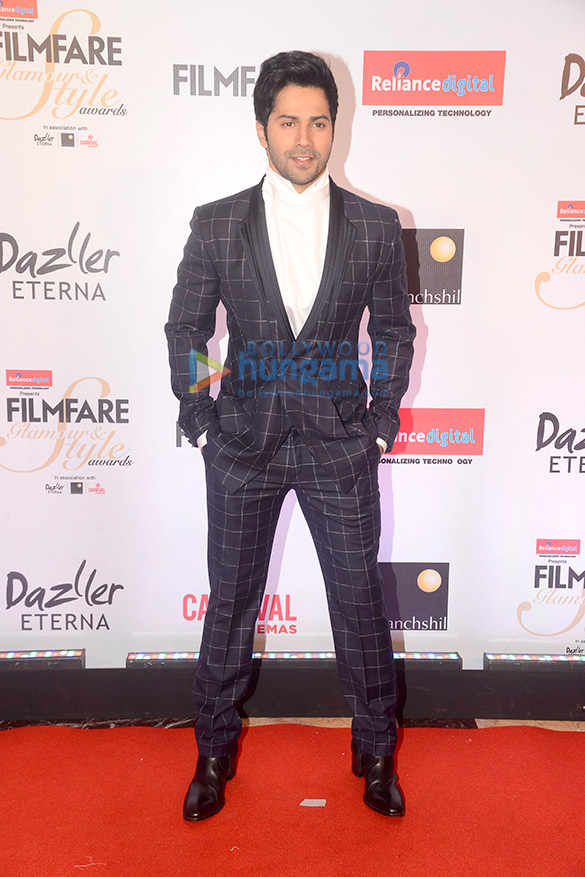 Varun Dhawan
Gen Y star Varun Dhawan, who seems to be on a new high, with the success of Judwaa 2, was one of the few men who made it to the event amongst his group. Shining in Gaurav Gupta well suited avatar, the 30 year old star looked as charming as ever whilst walking the red carpet. The actor apparently also bonded with Prateik Babbar, Hrithik Roshan and others during the ceremony.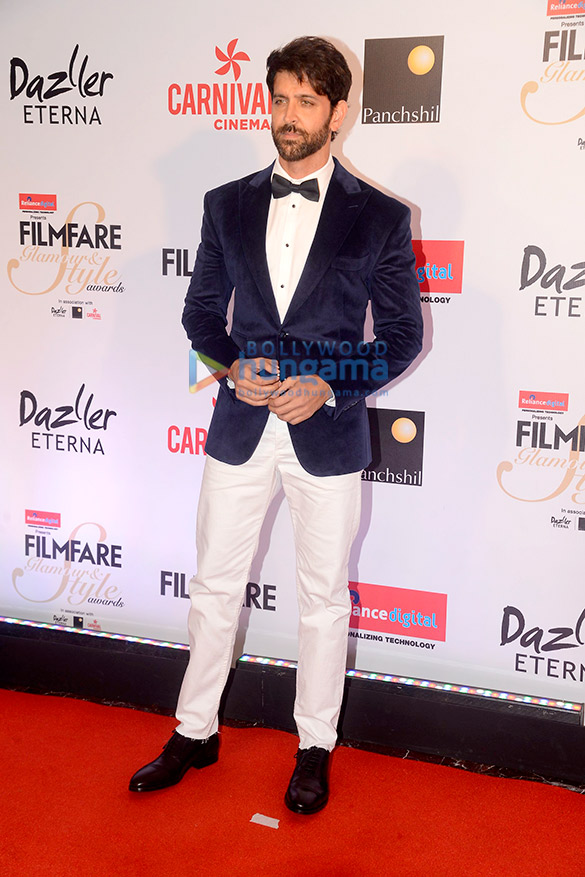 Hrithik Roshan
Superstar Hrithik Roshan has time and again referred to as Greek God. Well, we must say that the actor kept up to his name even whilst attending the Filmfare Style awards recently. Looking as debonair as ever, we spotted Hrithik in a monochrome suit and adding the charm was a small bow that he sported. No wonder he walked away Most Stylish actor award!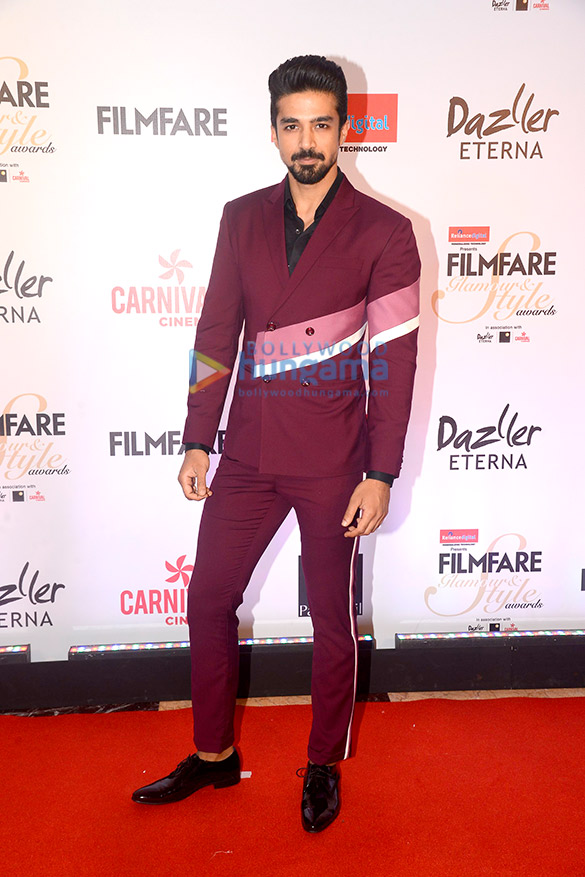 Saqib Saleem
While his sister too was a part of the event, Saqib Saleem opted for a pinkish-maroonish shade of blazer, a rare kind, from the house of Kartik D. Nevertheless, the young actor was smiles and that added to his good looking features.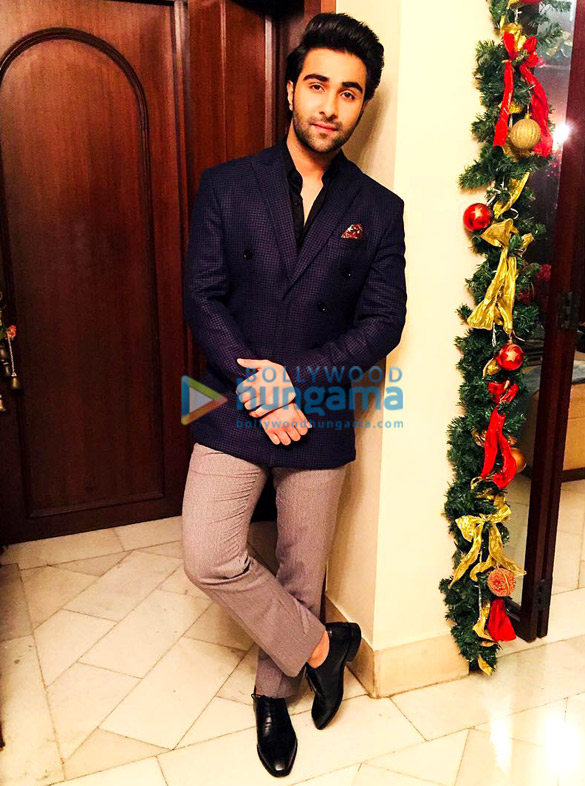 Aadar Jain
Being the grandson of Raj Kapoor [son of his daughter Reema Jain], style is in his blood and Aadar definitely proved us right on that front. Dressing up in trendy formals, the actor was seen in houndstooth blazer from SS Homme Bespoke '17-'18 SStructure collection. While the grey striped trousers also belonged to the house of SS Homme, his black shirt [inside] was from NM Design Studio. Styled by Anisha Jain, Aadar's look was rounded off with Steve Madden shoes for the night.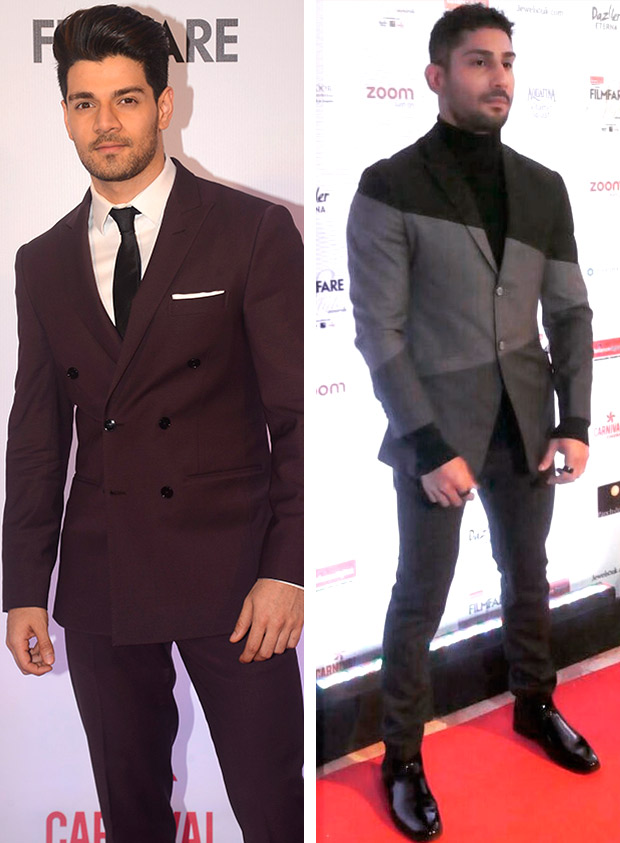 Sooraj Pancholi and Prateik Babbar
While Sooraj Pancholi took to the red carpet in a much conservative maroon suit, we would applaud Prateik Babbar for his experimentation with his black and grey shaded blazer. We must say that the latter takes the points for owning the look better at this red carpet.