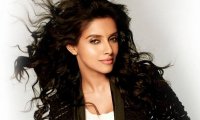 South sensation Asin maybe just 4 films old in Bollywood but she has a track record that many could only dream of. 3 of her 4 films (Ghajini, Ready and Housefull 2) have made it to the elite Rs. 100 crore nett club which in itself is no mean feat. The chirpy actress got a lot of praise for her role in Housefull 2 and is enjoying every bit of her success. Yet she doesn't want to go on a signing spree and believes in Quality over Quantity. In an exclusive chat with Bollywood Hungama's Nikhil Ramsubramaniam, Asin talks about how it feels to have 3 films in the 100 crore club. She also shed light on her next biggie Bol Bachchan which is scheduled for a July release. So all you Asin fans, you don't wanna miss reading this one…
You have quite an enviable track record, just 4 films old in Bollywood out of which 3 have already managed to enter the coveted Rs 100 crore nett club. How does it feel?
To tell you the truth, it feels a little astonishing. I'd love to say I am delighted and happy, which I am, but that is not the only feeling. I moved to Mumbai three years ago, completely alien to 'Bollywood'. I hoped to do well, but never really thought I'd be breaking records like this. When I reflect more on this, I think it is mostly due to luck, and to a certain extent, it is perhaps the kind of projects I have chosen. I want to do films that reach the masses, as that is when the medium reaches its full potential. I also have a soft corner for emotional love stories or comedies, and those films tend to do well. Also we are in a rapid growth phase of Bollywood where collections are reaching new records every year. And of course, I have been fortunate to work with filmmakers who know the business well.
Your last film Housefull 2 did very well at the B.O. how do you look back at the whole Housefull 2 experience?
Well, Housefull 2 was always expected to do well, but I think it even surpassed those already high expectations. What is interesting is even the reviewers were kind to us, with several three to four star reviews, rare for this genre of films. I am very satisfied that the film worked, and brought some glory to everyone in the team.
The film had a huge star cast with 4 actresses. Considering that you've mostly done solo films till date, were you apprehensive about signing the film?
Not only four actresses, the film had a dozen accomplished actors! Yes, it wasn't the conventional casting format, where there is a lead actor and actress. We had to be part of the 'dirty dozen'. However, the film and project needed to have that to make it work. I think as an actor you need to balance your own visibility with the success of the project, the latter being far more important of course. It is like a cricket player in that sense, where if the team is good and it is going to win, you should want to be a part of it. Once in a winning team, if you contribute, your work will be noticed. I think that is what happened in Housefull 2.
Akshay's trademark way of saying 'Ayeeh' became quite popular…you too did a decent job in saying 'Ayeeh'…was that an on the spot improvisation?
Ok, so I don't want to sound competitive about this, but I can do a pretty mean 'Ayeeh' of my own compared to Akshay. He is of course the 'Ayeeh' king, but I have my own set of Asin's 'Ayeeh' fans! (laughs) It was part of the script, but how you say the 'Ayeeh' of course had to be improvised. I'd love to say we did workshops for months to practice our 'Ayeehs' but actually I just kind of picked it up from Sajid Khan on the sets.
Fans seem to have one complaint against you…the fact that you've just done 4 films in 4 years…what do you have to say about that?
Trust me, it is a far better complaint than them saying you are doing too many films! I could do more for sure, but it depends on what comes my way. Frankly, money is not and has never been a big motivator for me. The project has to excite me. I have done twenty-five films (counting the regional ones), so I have to feel something for the project to go on the sets everyday. And that can only happen if I pace my work. However, I take that feedback and will try to increase the pace a little bit. Definitely more than 4 films in the next 4 years!
You've worked with Aamir, Ajay, Salman, Akshay and Abhishek…if you had to pick up one quality that you admire most about each one of them what would it be?
Seriously you are talking about some of the most accomplished actors in Bollywood. Each deserves a separate interview. Not just a passing mention in one question! But if you insist here's a try: Aamir- Meticulous; Salman- Cool; Ajay- Intense; Akshay- Sporty; Abhishek- Fun.
Your next release is Rohit Shetty's Bol Bachchan, tell us something more about it?
Bol Bachchan is a comedy and a human relationships film. It releases in July, and we have pretty much wrapped the entire shoot. Coming from Rohit Shetty, expectations are high, and we are confident we shall deliver on them. I work with Ajay and Abhishek in the film.
What's your character like and whom are you paired opposite?
I can't really reveal much on this one right now but it is a different look. Those who have seen it have liked it a lot.
How much of the shooting has been complete? Where all have you guys shot?
We have wrapped up the shoot for the film. We shot in Jaipur, Wai and Mumbai.
How was it working with Rohit Shetty?
Rohit is very disciplined and likes to keep his team on their toes. He has a good understanding of making contemporary comedies and does great action as well. He puts up this tough exterior but is actually a softie.
The film is said to be a modern day version of Hrishikesh Mukherjee's Golmaal, what do you have to say about that? Are you a fan of the original version?
It is inspired by Golmaal and from what I understand they have officially sourced the rights as well. Golmaal was a cult classic in its time and who isn't a fan of that film? However, Bol Bachchan is a big scale movie high on entertainment quotient, which will be loved by the contemporary generation.
Your last Tamil film Kaavalan was a huge hit, would you be doing more films in Tamil or are you focusing completely on Bollywood?
I would, but it depends on the project. The Tamil film industry is an important part of the Indian film industry and I have had wonderful projects and maintain great relationships there. Let's see what comes my way. I would want to do something different there now. Doing the same old thing would neither excite me nor the audiences. So I am waiting for that kind of script/project.
Lastly, what are some of your forthcoming projects?
It is Bol Bachchan for now which requires my full focus. I want to take some time off to figure out where I want to grow as an actor and as an individual. The 3 in 100-crore-club is wonderful, but I want to keep challenging myself to the next level.
BOLLYWOOD NEWS
Catch us for latest Bollywood News, New Bollywood Movies update, Box office collection, New Movies Release , Bollywood News Hindi, Entertainment News, Bollywood News Today & upcoming movies 2020 and stay updated with latest hindi movies only on Bollywood Hungama.