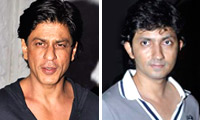 Shirish who once tweeted, "A slap a day keep the corrupt away", might now just want to take back his words.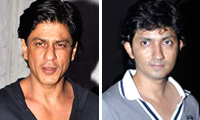 Shirish who once tweeted, "A slap a day keep the corrupt away", might now just want to take back his words.
The SRK-Shirish Kunder face off at Sanjay Dutt's Agneepath Success Bash has become national news. While many versions of their fight are going around, the twitter world is abuzz with jokes on the #SlapGate. Here are some of the funniest tweets.
MTV India: Dear Shirish Kunder, Kha.One Regards, Shah Rukh Khan
Joydas: Shirish Kunder's biggest scare now must be the 29 More Slaps Pending from Khan #TeesMaarKhan
MTV India: The Joker asks: "Why so Shirish?" #SlapGate
thetanmay: "I don't get it. Jaan-E-Mann was years ago. Why now?" - ShirishKunder
bindasstv: After a series of fails, Shirish Kunder finally gets a hit! ;)
TafriBaaz : When was the Last Time SRK trended on Twitter?? Thanks toShirish Kunder, people finally talking about him :D
Bedardi_Raja: SRK slapped Shirish Kunder just once... because he was "Being Human " u see
gauravjain66: @iamsrk shirish kunder must be grateful to you.Now people at least can recognise him otherwise nobody knew him.
bemlaishram: If Shah Rukh Khan did a sin by making RA ONE Shirish Kunder committed a bigger sin by writing Tees Mar Khan. I Love you@iamsrk
jazohaj: Farah Khan hires Salman Khan as bodyguard after SRK slaps her hubby Shirish Kunder:D After @sreesanth36 , Sarad Pawar and Shirsh, who next?
toneeraj Now it remains to be seen how Salman reacts to this fight and SRK's message to him through Shirish.

thetanmay Breaking: Giant Ra.One imprint found on Shirish Kunder's face.
MasalaBai I am surprised Shah Rukh Khan could tell Shirish Kunder apart from his wife Farah Khan in the dark.
GabbbarSingh Shahrukh khan slapped Shirish Kunder on behalf of the Family planning commission.
thetanmay: Today 3 innocent kids woke up and the first thing they thought was "WTF happened to dads face?"
CilemaSnob: After two back to back duds, Shirish Kunder finally has a Hit. Congrats. You have arrived! You know what's sad? No, not getting beaten up by SRK and Dutt. But people still saying that "Farah Khan's husband" got beaten up. No? You know what's the best thing about last night's fight. Nobody wud need to design Joker's poster now. Just put Kunder's face ya.
Bollywood Gandu: So many people are happy that @iamsrk slapped @ShirishKunder. It's wrong. We should never condone violence against women.
Yew Eff El: I think it was just a case of misunderstanding. #ShirishKunder must have gone up to #SRK and said, "Tees maar, Khan!" #29SlapsPending
bhavatoshsingh: Waiting for salman khan's reply on shahrukh's #slapgate. Mayb salman mite now consider shahrukh slightly manly
diogeneb: With his swollen face, Shirish Kunder will now come out with 'Being Hanuman' t-shirts
chin80: Shirish Kunder was bored of the tag "Farah Khan's husband". So he allowed SRK to slap him. New tag: "The guy who was slapped by SRK"
9XMHaqSe: Farah Khan 's Joker gets slapped by @iamsrk . Silly says >> The Real Tees Maar Khan please stand up please stand up;) #bollywood
Varun_G_10: Shouldn't SRK trend as well! After all he made the effort to slap Shirish Kunder i.e., Farah Khan's wife oops i means husband ;)
GulabiAakhien: I've always felt that Farah Khan was the man in their relationship. Kal yeh baat prove ho gayi. Husband slapped, wife registers case.

Stylee_Icon: even on twitter Shirish Kunder is trending as Farah Khan's __ u can fill in d blanks..poor guy... Noone knows him :(
sanghamitra24: Ok now Farah Khan's is also trending - high time, after all Shirish Kunder is more famous as Farah Khan's husband than anything else!
ComedyCentralIn: Shah Rukh Khan is the Harbhajan Singh of Bollywood. #HowCanHeSlap
thetanmay: "I don't get it. Jaan-E-Mann was years ago. Why now?" - Shirish Kunder
gkhambaKhamba: Sad Shah Rukh only slapped Shirish Kunder once. Usually usko dono haath uthaane ki aadat hai.
gkhambaKhamba: Shirish Kunder got slapped in Mumbai? Bade bade shehron mein aisi choti choti baatein hote rehti hain
upsidedakshindakshin: Farah Khan angry again with SRK. Not becoz SRK slapped Shirish Kunder it's because she could not choreograph the slapping sequence. :P
pranavsapra: SRK played Rock Paper Scissors with Shirish Kunder's face #EkKararaThappad #SlapstickHumor #OneTightSlap #SlapGate #win
thecomicproject: Only thing I learnt from the this news of Shahrukh Khan - Shirish Kunder fight is that one man's name is Baba Dewan
NPatnaik55: Farah Khan to Shirish Sundar: Atleast you should have been hit by a man #slapgate
tewarivivek: #slapgate Judge to Shirish- why did u provoked SRK Shirish- i nver provked I jst askd #srk how 2 trend on twitter & gt tht verified sign
thetanmay: Bandra is empty today. Is everybody in an around bandstand afraid they'll get slapped?

RajneeshKapoor: You can take a guy out of Delhi but you can not take Delhi out of the guy. #SlapGate
thetanmay: Shirish Kunder has been slapped before. It was called Jaan-E-Man.
Chetan_Speaks: @BollywoodGandu Ram Gopal Verma visits Aurus lounge with special team.He now wants to make a movie based on the attack.#slapgate
BollywoodGandu: Da dum dum dishhh! RT@Eccentricandhow: While Salman Khan is "Being Human", SRK is "Being Salman." #slapstickhumor
BollywoodGandu: Bet you didn't envision that hand across your face. RT@ShirishKunder: What cannot be seen with eyes, can be seen with vision.
BollywoodGandu: I just heard you got bitchslapped for this tweet. RT @ShirishKunder: I just heard a 150 Cr firework fizzle.