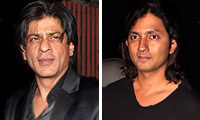 Can you imagine if Shirish Kunder got the chance to tell Shah Rukh Khan, "Thappad se darr nahin lagta saab, pyar se lagta hai." The tables may have actually turned. Shirish may have actually joined the likes of Karan Johar and hopped on to SRK's bum-chums bandwagon. But then, there would have been no slap, no controversy and no jokes. All of a sudden the now infamous slap seems a lot more exciting. What the exact truth is on the SRK-Shirish Kunder slap story, we'll never know. But I'll say this, as much as I'm a declared (and crowned) SRK hater, I think he may have done the right thing by whacking Kunder. Anyone who sports hair like that deserves a tight slap. However, keeping with my reputation of hating on the thug ala SRK, here's a different angle to the situation. Since SRK has become the official slapper of the industry, I can't help but wonder which stars would love to give King Khan a smack…or two.


Gauri Khan

Every wife at some point in time wants to slap their husband. I'm sure Gauri is one of those wives. The poor woman is probably so damn confused! Who wouldn't be? She could barely get her head around figuring out whether her husband was batting for the "other" team and here she is now dealing with rumors of her husband supposedly getting down with Priyanka Chopra. Perhaps a slap will knock some sense into her hubby.


Salman Khan

I'm sure Sallu miyan's hand is itching to smack SRK; even if it's one zor ka jhaapad. The duo cannot even stand to be in the same area as one another after their dosti went sour a few years ago. However, post the Kunder incident, where apparently Farah's husband was heard referring to Salman a few times during the heated argument with SRK, you can be sure he's waiting to get his hands on SRK.


Shahid Kapoor

Apparently, it was SRK who created many a rifts between Shahid Kapoor and his belle Priyanka Chopra. The reason? Cause he most likely wanted Piggy Chopps for himself, duh! Think Shahid wouldn't mind taking a quick blow at the Don? I think so.

Juhi Chawla

She is one of his oldest friends and in recent times, Juhi Chawla, who stood by SRK through his thick and thin days, has been sidelined by the actor. Word has it that she's so pissed off by how he practically ignores him now and thus, has decided to publicly oust him. She for one is probably fuming at the King. A red hot mirchi-filled thaapad looks like it's on its way.


Sourav Ganguly

Dada is hardly one to slap anyone. But he does own many a cricket bat ergo SRK should be worried cause a cricket bat beating is far more painful than a mere slap. The owner of the Kolkatta Knightriders has in the past diminished Sourav Ganguly's presence and revoked his captaincy only to falter. And while Sourav has yet to come out and scream about the incident, Dada and all of Bengal wouldn't mind slapping him.


Shirish Kunder

Yeah, the slapee probably wants to get back at the slapper, no? While Shirish has claimed that he will not be taking this abuse to the cops, he still maintains his airy ways and is digging all the attention he is receiving vis-Ã -vis the slap. In fact, he should be thanking SRK for the popularity; otherwise Shirish was known for making flop films and of course, as Mr. Farah Khan. But yes, revenge will be on the Joker's mind.


Blog can be accessed at http://roshniwritenow.blogspot.in/2012/01/if-srk-got-slapped.html


If you have an interesting Bollywood blog to share, do email us


Disclaimer: The opinions expressed herein or statements made in the above column are solely those of the blogger, and do not necessarily reflect the views of Bollywood Hungama. Bollywood Hungama accepts no legal liability or responsibility for any claims made or opinions expressed herein.