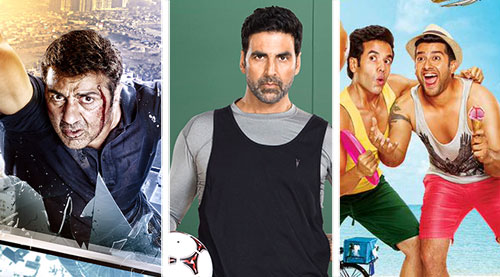 As Ghayal Once Again 'strikes' 25 years after the first film in the franchise, the question arises: What is the ideal gap between a film and its sequel?


So far as a sequel is concerned, the shortest gap we have noted is between the Housefull franchise - of a little less than two years. And it is the opposite record that is held by
Ghayal. Aashiqui 2, released 23 years after the first part, but was a big hit.


Of course, in the purely technical sense, the quickest sequel was My Friend Ganesha 3 which came in the next year to the second part, while the 1996 non-starter Return Of Jewel Thief
came a full 29 years after the hit Jewel Thief with a completely different setup but for two principal actors Ashok Kumar and Dev Anand!


Says Amod Mehra, trade analyst, "You see, the first point that people must understand is that a sequel and a franchise are not the same. In a sequel, the story is taken forward from where it stops.
In a franchise, everything is different but for some common generic point, like in Aashiqui or Hate Story."


Films that are franchises are just made to cash in on the earlier part's success (the Golmaal, Kyaa Kool Hain Hum et al), and some of them benefit because the actors are repeated and cast in
similar roles or characters.


Franchises like Dhoom and Munna Bhai, fall mid-way, perhaps, and can be called sequels to an extent. This is because the same lead characters are put in completely diverse situations,
usually with a cinematic license, like Munnabhai having different life-partners in the two films (Gracy Singh and Vidya Balan)!


True sequels (Dabangg, Hera Pheri, Koi...Mil Gaya-Krrish-Krrish 3) are the crucial ones, when it comes to the question of the time-gap between the parts. Says Mehra, "In such cases, the
original should be still hot for the sequel to interest audiences, though this also applies to franchises. And that is where Ghayal Once Again will only work on merit, because umpteen films
in that template have been made since, and the original is of no interest as a brand to today's audiences. In its time, it fell into a definite genre that was hot then, and a sequel would have
worked till it was attractive. With too much of a gap, the brand has lost its punch."


Vinod Mirani, trade analyst, attributes this late making of the sequel to Sunny Deol's need to cash in on a super-hit movie of his after several flops. "Somewhere, there is an element of
desperation," he feels. "The same commercial considerations and desperation are seen in most such films made nowadays; where the title is repeated with a different suffix (the numbers, Reboot,
Once Again, Returns and so on) just to cash in on an existing hit."


Sunny, however, does not see anything out-of-sync in his new film. "My character is still known, my villain still remembered. The social aspects remain to a good extent, and what we have tackled
here are also contemporary issues relevant to 2016, just as there were issues connected with those times in Ghayal. And in this film, I have not shown my character Ajay Mehra taking that
story forward immediately. 25 years have passed in his life as well!"
To design a youth connect, Sunny has four debutant newcomers in the cast, music makers Shankar-Ehsaan-Loy and lyricist Amitabh Bhattacharya. But whether that translates into audience interest (and
business) remains to be seen, for as Mehra notes, "The under-30 audience has no identification with Ghayal as a film or brand." But if the film works, Sunny has plans to make sequels to more
of his hits!


As for the viability of a sequel, Mehra feels that there is no formula other than the issues he has spotlighted above. Mirani says that two or three years as time-gap is ideal as the older film is
still fresh in memory. But both agree that at the end of the day, it is more about the individual second film's merits, though Mehra repeats that audiences must be also primarily interested
in the new film. "Today, people would still be interested in a Munna Bhai film, but not in Hera Pheri, unless Akshay Kumar is there again. Once again, the brand must still be
hot!" he stresses.


These are thus the other factors that become as important as the basic aspects. Bereft of big names, films work on novelty-the first Kyaa Kool Hain Hum, says Mehra, had "shocked audiences
who could not fathom how censors had cleared it! The other two were just third-grade stuff!" Or conversely, the big business done by Pyaar Ka Punch-Nama 2, thanks to a far superior script
compared to the earlier film, despite the lack of a saleable cast or director.


A top star's absence (Welcome Back versus the Akshay Kumar film Welcome) can also make a cardinal negative or positive difference to the appeal and final outcome, or conversely again,
the planned induction of Hrithik Roshan into the franchise film Aashiqui 3, until now known as a non-star musical brand.


To sum up, then, there is no ideal gap in terms of a timeframe. If Sunny manages to give us a tight, identifiable film, nothing else will matter.
BOLLYWOOD NEWS
Catch us for latest Bollywood News, New Bollywood Movies update, Box office collection, New Movies Release , Bollywood News Hindi, Entertainment News, Bollywood News Today & upcoming movies 2020 and stay updated with latest hindi movies only on Bollywood Hungama.