On the evening of Friday, July 22, an interesting chat took place in Mumbai between producer-actor-director Farhan Akhtar, producer Ritesh Sidhwani and Hollywood's Russo Brothers, that is Joe Russo and Anthony Russo, about movies, magic of movie halls and streaming, and a lot more. Joe and Anthony Russo have been part of one of the biggest films ever in the history of cinema, Avengers: Infinity War (2018) and Avengers: Endgame (2019). Farhan, meanwhile, has been featured in the acclaimed TV series, Ms Marvel (2022), which also belonged to the Marvel Universe, just like the Avengers films. Hence, superhero projects were a centre point of discussion for the quartet.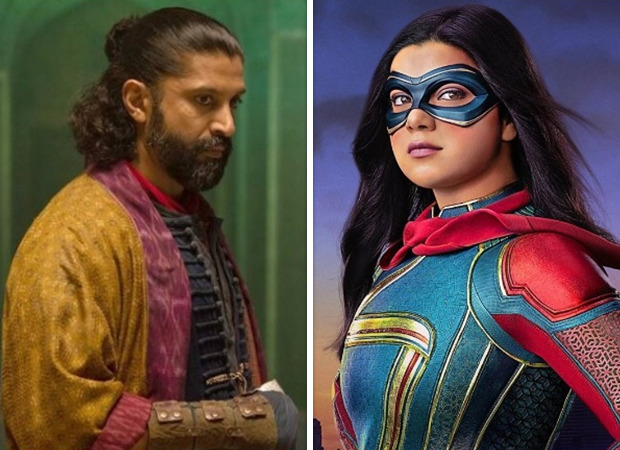 Farhan Akhtar talks about his Ms Marvel experience; says "To imagine Marvel would be making a series with a Pakistani Muslim girl at the centre is very UNIQUE and I was excited to be a part of it"
While Hollywood regularly churns films revolving around superheroes, India in comparison hasn't come out with many films in the superhero space. Shah Rukh Khan's Ra.One (2011), Hrithik Roshan's Krrish (2006), Tiger Shroff's A Flying Jatt (2016), Abhishek Bachchan's Drona (2008), Tovino Thomas' Minnal Murali (2021) etc are the only films that one can recollect.
When Farhan Akhtar was asked why this is so, he replied, "I think budgets play a huge role. You do need big budgets to compete with the kind of movies that are coming from the US because the audiences' taste has now gotten used to it. If it's not up to that mark, you'd feel disappointed or let down. We don't have the strength to spend that kind of money and make the film."
Farhan raised laughs as he said, "On the flipside of it and it's slightly comical, if I may, we have had superheroes all our lives. Our actors would punch one guy and (tens of) people would just fly! Hence, for a long time, we never felt the need for a superhero! Our regular heroes would do what superheroes could! What Superman can do, so can our heroes without being Superman! So, we weren't missing that."
On a slightly serious note, Farhan added, "It'll need some great collaborations with people who can bring that expertise in. What Marvel did for Hollywood, we need someone to do that for us. It's not the lack of ideas, it's the lack of resources."
A journalist from the audience then amused Farhan as she remarked that he has 'tasted the Marvel blood' after doing Ms Marvel! She asked him whether he feels a time would come when there wouldn't be geographical barriers for actors of East and West, Farhan Akhtar stated, "10-15 years ago if you were to ask how many actors were working in the West, we could count it on our fingertips. Irrfan was a great example. Om ji (Om Puri) was also there (who went to the West) before him. We have seen Priyanka Chopra doing exceedingly well. Alia Bhatt is now doing a film too. So, the scenario is changing, and we have to be grateful for the push for diversity that's happening with storytelling in the West. That plays a huge role. It's truly inclusive. And that's what I truly loved about Ms Marvel. To imagine Marvel would be making a series with a Pakistani Muslim girl at the centre is very unique and I was excited to be a part of it. We see a change happening. I am sure that as time progresses, we'll see more cross-pollination between the two moviemaking countries."
Ritesh Sidhwani, at one point, explained the difference in the filmmaking of Hollywood and Indian films, "I've been on sets of some of the foreign films. There was not much difference. Maybe the scale is bigger or the number of people on the crew is more. The only thing we can learn is what we need to prep (more) before we go on to shoot. I've realized that in Hollywood the prep period, even if the film is not a VFX-heavy one, is very different compared to our films. There, most of the films are shot for 50 days, 60 days or maybe 70 days. But their prep happens for a couple of months. Meanwhile, we shoot for 100 to 120 days while our prep is only for 8 to 10 weeks. Otherwise, it's the same, whether it's work of the talent or anything else. Even there, the first AD will tell you, 'We just have 5 minutes. We need to take this shot now'!"
The host, Rishi K, then remarked, in a lighter vein, that Joe Russo and Anthony Russo are probably thinking of making an Indian superhero after hearing these points. Farhan, in his trademark funny style, suggested that Ritesh Sidhwani should be considered for the lead role as "he has been working on his abs"!
Also Read:Farhan Akhtar reacts to joining the MCU through Ms. Marvel – "I stood like a superhero"
BOLLYWOOD NEWS - LIVE UPDATES
Catch us for latest Bollywood News, New Bollywood Movies update, Box office collection, New Movies Release , Bollywood News Hindi, Entertainment News, Bollywood Live News Today & upcoming movies 2022 and stay updated with latest hindi movies only on Bollywood Hungama.