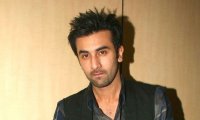 In Part I, we explored how Ranbir was always a star in the making and despite a lukewarm response to Saawariya, the youngest Kapoor on screen went on to make his own fan base by doing films as diverse as Bachna Ae Haseeno and Wake Up Sid. In this second and concluding part, we talk about the kind of high he has achieved ever since then.


Huge high


This was proven with the runaway success of Ajab Prem Ki Ghazab Kahani which stays on to be the biggest solo hit of Ranbir till date. A film that he had started working on even before Wake Up Sid and had taken ages to reach the finishing line, Ajab Prem Ki Ghazab Kahani seemed a little jinxed. In fact many wondered if it would ever see the light of the day and while many were waiting for the Ranbir-Katrina 'jodi' to create magic on the big screen, quite a few weren't very hopeful of the film's fortunes. Moreover, Rajkumar Santoshi hadn't seen a success against his name for ages and it seemed that only a miracle would be able to save it.


However this is when the song promos were unleashed and every perception about the film just changed overnight. Pritam composed not one, not two but half a dozen chartbuster songs for the film which started showing an increase in buzz with every passing week. On its release, the film garnered one of the best opening weeks of all times and also found many favourable reviews coming its way. In a goofy act, both Ranbir and Katrina were adorable and the film went on to work across the length and breadth of the country.


With three straight successes in a row, it was quite obvious that nothing could go wrong for the actor. Well Papa Kapoor may have been wary at this stage because the experienced actor knows a thing or two about law of averages. That's because this was the time when Rocket Singh - Salesman Of The Year arrived.


Surprise and shock


Those who saw Rocket Singh - Salesman Of The Year loved it. And those who didn't had no intentions whatsoever to watch it. Actually correction; it wasn't about people not 'wanting' to watch it; it was about people not even 'knowing' that it had released. After a good run of Ranbir's last few films, it is widely believed that Yash Raj Films, the makers of Rocket Singh.... were over confident and didn't feel that it was really necessary to promote it aggressively. The belief was that the film would find its own audience all by itself. Now this was a move that backfired as the film went on to be a flop at the box office.


Even though losses to the production house were minimal, it was a blot in Ranbir's box office journey that could have been avoided. Leave aside the fact that the film didn't have any music to accentuate its appeal, Rocket Singh.... did boast of an endearing act from Ranbir. In fact many believe till date that this is the best ever act by Ranbir. However as it happens with the biggest of actors who end up delivering their best performance in a box office flop (Shahrukh Khan would agree to that; after all he suffered the same fate with Swades), even Ranbir had no other choice but to just move on.


A big comeback


He had all the reasons to be comfortable about where his career was heading. After all he had Raajneeti in hand, a film that was again taking forever to complete but was seeing an increase in buzz and hype with every month's delay. This was one of the rare instances of a film where audience didn't mind the delay as the curiosity level to watch it only increased with a passage of time.


On its release, the film turned out to be one of the top five grossers of all times. Also, while one would have expected that a bigger superstar like Ajay Devgn would hog the show, especially because he was close to Prakash Jha, it was just the opposite. While Ajay had to take a backseat, it turned out that Ranbir was actually the central protagonist. Even though the promos did convey that this could well be Ranbir's film after all, not many would felt that this indeed would turn out to be a reality.


In a serious role that didn't allow Ranbir to get into any 'naachgaana' and expected him to play someone much older and mature than his real self, Raajneeti till date stays on to be a crowing glory in Ranbir's name. The film's record breaking run that left behind Ajab Prem Ki Ghazab Kahani far behind was more than a good enough reason for Ranbir to finally uncork the champagne.


Later in the year he was also seen in Anjaana Anjaani which took a huge opening and turned into a safe venture in the first weekend itself. Ranbir had to play someone sombre yet again and though reviews were mixed for the film as well as his act, no one was complaining as the film went on to make profits and turn into a decent success. Of course the collections were not even half of Raajneeti and much below Ajab Prem Ki Ghazab Kahaani. However in the times when even the biggest of stars aren't managing over 50% success rate when it comes to their films, Ranbir has managed a good enough run with Saawariya and Rocket Singh - Salesman of the Year being his only two box office disappointments.


A safe future


Despite big hits behind him, Ranbir is again not willing to green light many projects even though there are quite a few out there vying for his attention. In fact the only two films that he signed were during last year in the form of Imtiaz Ali's Rockstar and Anurag Basu's Barfee. Both films are again expected to be different from each other as chalk and cheese but coming from accomplished directors, there is a lot riding on these.


In Rockstar he plays a title role and the film is all expected to be a dramatic musical entertainer. On the other hand Barfee is a much awaited sensitive yet humorous tale with Ranbir playing a deaf and mute character. While Rockstar is expected to be a massive revenue generator at the box office, Barfee should also see a buzz building for itself as it prepares itself for a mid-2012 release.


Meanwhile one does look forward to how Ranbir plans his career in years to come. Rest assured, it would be quality that would matter over quantity. As a Kapoor scion he very well remembers how a lot is riding on him, not just from moolah perspective but also reputation. He can't afford to slip and the way he is currently making his choices, seems like Bollywood already have it's future secure when it comes to the ever increasing demand of young superstars.