Over two decades ago, at the turn of the century, the quiz show Kaun Banega Crorepati hosted by Amitabh Bachchan proved to be a game changer for prime time Indian television. At the same time, shows like Kyunki Saas Bhi Kabhi Bahu Thi, Kahaani Ghar Ghar Ki, Koffee With Karan, The Great Indian Comedy Show, and Sarabhai vs Sarabhai, among others gave a new definition to prime time TV and made it the primary source of entertainment in majority households. And the man responsible for the above-mentioned shows is - Sameer Nair.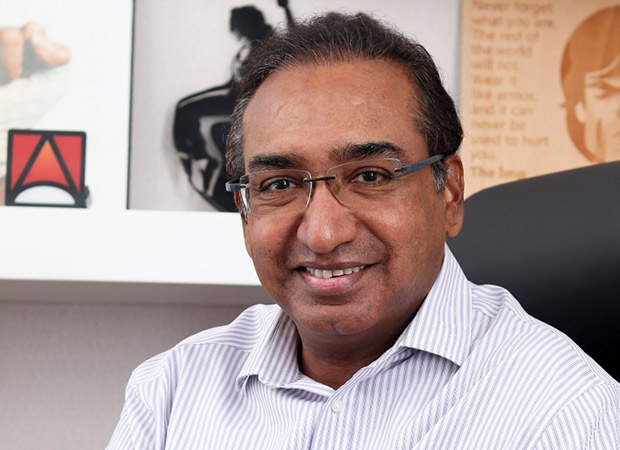 EXCLUSIVE: Sameer Nair, CEO of Applause Entertainment, on digital revolution, declining TV viewership, adaptations, and censorship- "The best part about storytelling is not the story, it's how you tell it"
Sameer, who started his journey with Star Network in 1994 went on to handle several portfolios. Currently, he is the CEO of Applause Entertainment, a production house that is behind successful shows like Scam 1992, Undekhi, Criminal Justice among others. In an exclusive conversation with Bollywood Hungama, Nair reflected upon the success of Scam 1992, adapting international shows for the Indian audiences, declining TV viewership, the digital revolution, censorship, and changing trends.
THE RESOUNDING SUCCESS OF SCAM: 1992 -
All the shows we have done before and after Scam is the same sort of premium drama series on OTT. It's high-quality storytelling. It's called cinematic television if you will, and it takes a cast of very talented actors, directors, and writing and cinematography, and to tell compelling stories. Scam was one of the first shows that I started work on when we started Applause. So Scam has been in the works since 2017. It just happened to be our 20th release or something. But the reality was, it was one of the first shows we started working on. But it is something that came together really well. It took us three years but the writing, the casting, Pratik Gandhi himself, Hansal Mehta, and the music from Achint, all these little things, they all came together really well. I think the story was this whole cautionary tale about rags to riches and you know, a colorful character like Harshad Mehta whom you've heard of but don't know enough about I think many of those things came together well so I mean it's good fortune it's not that we put any more or any less effort in it you know, we do the same for all the shows.
WHY APPLAUSE CHOSE TO ADAPT INTERNATIONAL SHOWS FOR THE INDIAN AUDIENCE:
When you look at our full list of 30-32 odd shows that have been released, it divides up about evenly between adaptations, books, and originals. The original reason why we did adaptations was just to get a speed-to-market in place. We were a new company and we wanted to get things going quickly. When you do adaptations, we're looking at the good, universal stories that we believe can get reimagined in an Indian context. That's why we did Criminal Justice. That's why we did The Office, Your Honor, the upcoming show Rudra. We are also doing the Indian adaptation of Fauda. We believe these stories can be reimagined in an Indian context, and reimagined well, that's why we select them. Then, it's really a function of, staying true to the original idea and plot while making a whole range of little tweaks and changes. There are also different procedures. When you do a show like Your Honor, the legal process in India is different from the process in the US, or in Israel, for that matter. The characters, setting, dialogues, the way people speak, all change. American shows, do not have domestic help, right? It's hard to imagine an Indian scenario without domestic help, just simple things like that, which as an audience, you don't notice. Because it's not to be noticed, it's just a thing. So we take care of all that. But from our scheme of things, it's not an adaptation, it's an Indian show.
IS THE DIGITAL REVOLUTION LEADING TO A DECLINE IN TV VIEWERSHIP:
I don't know whether you can say that you will not have any viewers. But the TV viewership has been declining over the last five to seven years. But that is also a function of technology, and not just content. Because even Hotstar shows you all the TV channels, and a lot of viewers are consuming TV content on the streaming app. So it's not necessarily to say that they stopped watching Star Plus, they just watch Star Plus on Hotstar. The medium has changed and that will continue to change. In that context, as this new medium grows, this will find its own sort of leverage. There will be, of course, the premium, ultra-premium drama that we are currently doing. But I think there will also be a middle ground and then there will be the saas bahus and similar shows. Over a period of time, our consumption method will not become primarily driven by streaming and OTT, though as audiences, we will continue to watch all sorts of things.
I think what streaming has done is that it has revolutionized the way we consume content. And that is not going to go back. Now, whether you choose to consume Rudra or whether you choose to consume Anupama, they're both available on Hotstar. And I think that's the sort of revolutionary thing that's happening now.
CENSORSHIP, BOYCOTTS AND RESISTANCE ON OTT PLATFORMS:
When you say you cannot anticipate what might offend people, the thing is that anything can offend anyone. It depends on what your starting point is. If your starting point is an agenda, and if your starting point is to make a political point, or to create something which is offensive, then mostly it ends up like that. If your starting point is to tell a story, and in equal part reflects society and an equal part holds a mirror to society without any vested interest. Storytelling should not be activism. Storytelling is storytelling. We are in the business of entertainment. In the process of entertainment, if you are to learn something, and if I'm able to tell you something that makes you think, then that's an outcome. It can't be the starting point. I think that's the sort of mistake people make. So as far as we are concerned, we are telling stories, we are interested in telling stories of all kinds- stories that make you uncomfortable, stories that make you laugh or cry. Look at Criminal Justice S2; with so much discussion going on about marital rape, we did a whole series on that topic. It's not to say we are not. But I don't think we step out to do it like an activist position. That's not our intent. We're entertainers who are looking to entertain and enlighten and inform.
CHANGING TRENDS, AND QUALITY CONTENT ON DIGITAL PLATFORMS: 
I think it's a really good thing because it makes content creators work harder. I think what it requires all of us to do now is to continually improve the quality of our own storytelling. Previously, I think maybe the Hindi industry lived in its own bubble and the south industry lived in its own bubble, and people lived in their own little echo chambers. Now, those echo chambers are being destroyed. I think it's a good thing that we are becoming a global village finally. And that we are able to see content, anyone is able to see content from anywhere. I think it's good. I think it's good for the world, probably it will make us a little calmer.
COMPARISONS WITH THE WEST:
We got to be realistic to your own market in the budget that we can afford. So obviously, it pushes everyone to make better quality. That is true. But then the market it is coming out of is also defined by its own economic state. The US is defined by the US market, Korea is defined by the Korean market, it's a question of that. So it's not to say that everything is just money, but it is an important factor. So when will we make a movie as dramatically, with visual effects like Spiderman, I think it'll take us some more time. Because maybe our market can't afford that kind of expenditure. The US has an extremely robust domestic market, it allows them to make a $200 million movie, and then they can go and show it to the whole world and now continue to earn bonuses and royalties on that $200 million dollars. It roughly translates to Rs. 1500 crores. So for us to make a movie that costs Rs. 1500 crores is a different thing.
Nair further also spoke about how Hindi cinema is also making very rooted stories which people find relatable. "You should make stories that are rooted. But what they say about entertainment, is that it's not always one thing. Somebody makes a whole bunch of stories that are rooted and honest and gritty, and then somebody comes and makes a complete whacked-out comedy, you should do that. It can't be such that everything should be rooted. The best part about storytelling is that it's not the story, it's how you tell it. I can tell you a completely crazy story that is not rooted at all. But if I can make you laugh and hold your attention, I'm still winning," Nair concluded.
ALSO READ: EXCLUSIVE: "In many ways, Ajay Devgn was our only choice"- Sameer Nair, CEO Applause Entertainment, on working with the superstar in Rudra- The Edge of Darkness
BOLLYWOOD NEWS - LIVE UPDATES
Catch us for latest Bollywood News, New Bollywood Movies update, Box office collection, New Movies Release , Bollywood News Hindi, Entertainment News, Bollywood Live News Today & Upcoming Movies 2023 and stay updated with latest hindi movies only on Bollywood Hungama.