Elvis is all set to take the theatres by storm! The upcoming Warner Bros. film, starring Austin Bulter in titular role of Elvis Presley and Olivia DeJonge essaying the role of Priscilla Presley, is helmed by the ace filmmaker Baz Luhrmann. Elvis will span the star's life and career and explore the difficult relationship between Presley and his tyrannical manager Colonel Tom Parker, played by Tom Hanks. The studio described the film as one that will "delve into their complex dynamic spanning over 20 years, from Presley's rise to fame to his unprecedented stardom, against the backdrop of the evolving cultural landscape and the loss of innocence in America." The upcoming biopic will be released in theaters on June 24. Ahead of the release, the lead actress Olivia DeJonge dived into her character and what it meant to play the role of Priscilla who meant so much to Elvis.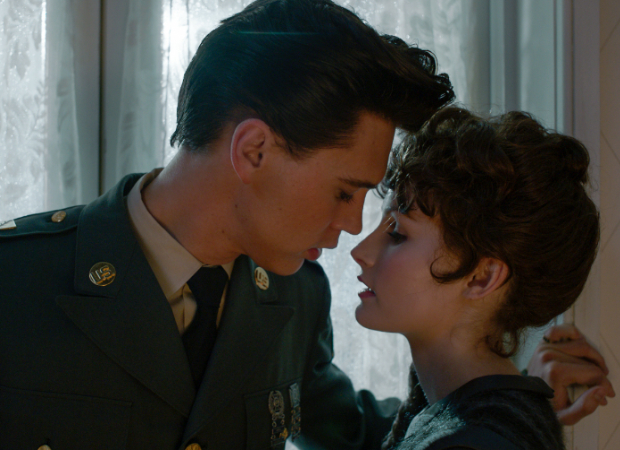 EXCLUSIVE: Olivia DeJonge on playing Priscilla Presley and working with Austin Butler in Baz Lurhmann's Elvis -"It's such a big risk-taking on a role like this and I respect the vigor"
So, Olivia, how did the role of Priscilla come to you?
Like any other young actress, I just got an email about it, really. And with part of the script, and the idea was to put it on tape and send it off, and we did that. And a couple months later I was sitting at dinner with my agents and we were talking about the project and wondering who got it. And then they got a text message saying that it was me and it was crazy. It was a lot at once, but it was very exciting.
When you read the full script—and obviously Elvis Presley's story and Elvis and Priscilla's story could be told in any number of ways—what did you think of Baz Luhrmann's approach using this character of the Colonel as the narrator, as the way into the story?
I thought it was great. That was one of the first things I said to Baz, is that I think using the Colonel as a vehicle to tell this story is a real spin on what you think a movie about Elvis is going to be about. And I think it's something that people wouldn't expect, but I think it's great. I think this movie particularly thrives with somebody like Tom [Hanks] taking us by the hand and taking us through the life of Elvis. I think it's the best way to tell this story.
We know how important Priscilla was to Elvis throughout this part of his life. What is her journey from your perspective—from newlywed to the woman who finally puts herself first? That couldn't have been easy to do at that time.
Absolutely not. I think that we meet her and she's this bright young woman and she gets thrown into the beautiful chaos that is his life. And they fall in love with each other. And I think that marriage... I myself have not experienced marriage, but from what I've heard, it's hard, let alone when you're married to the most famous man in the world... Yeah. I think that it's hard and I think she's tested as a young woman and as a mother, and I think her capacity to give was expanded way beyond what she thought possible. And I think that it only makes sense that after their experience together and his infidelities and the drama, that she did step forward and say, "Enough is enough and I need to look after myself and put myself first."
A very brave thing to do. Can you tell me about working with Austin Butler? He has nothing but the most beautiful things to say about working with you and I imagine it was mutual?
Yeah, we had a really nice time together bringing these characters to life. He's a really committed actor with a big capacity to fully immerse himself in another person and I really admire that in him. And he's a really hard worker and I was very inspired by the way he tackled the subject matter and the way that he tackled taking on somebody like this. And also, it's such a big risk-taking on a role like this and I respect the vigor with which he attacked that. And we had a really fun time.
I would assume that as an actor, you have a particular process that works for you to approach a character, but when you're playing somebody who was a real person, who is still a real person, does that change your approach to the work at all?
Yes. I think when you take on somebody who's real, it always feels like they're sitting on your shoulder or always there watching you do each scene, do each take, which obviously they're not. It's really daunting and overwhelming, I think, especially at the beginning. But Baz and CM [Catherine Martin] have really curated a beautiful environment where you feel free to explore and express, and there's no real room for failure.
You mentioned Catherine Martin—CM. In addition to being a producer, she's a costume designer and a production designer and she's one of the best in the world. How did getting into those costumes, as well as the wigs and the makeup, help you find the character?
Honestly, the hair and the makeup is half the character almost! (LAUGHS) So much of her and what she's known for was the hair and it was the makeup. And it was so important obviously to get that right, and to really feel like I was in it when I was in it. Does that make sense?
Yes. And the clothes are great.
Oh my goodness, the clothes. The attention to detail, the fit. All the costumes were made by Prada to perfectly fit my body. My experience with CM and my experience on this movie was really great.
Did you want to take them all home?
Yes, I did. Was I able to? Absolutely not.
There's no one like Baz. Talk a little bit about working with that level of genius.
Baz certainly is this beautiful, mad genius with this crazy amount of inspiration and curiosity and commitment. I really enjoyed my time with him and I really loved sitting in that space with a man who is unapologetically himself and always asking questions and always very open. I took a lot of inspiration from that.
I read that Priscilla loved the film. How did that feel?
I know. When I was told about that, I felt a huge sigh of relief, as I'm sure everybody on the film did. Everybody just went, "Woo, okay!" I'm so happy that she's happy. Everybody worked so hard, so the fact that she's given it two thumbs up is really great.
I have to ask you, an Australian, what it felt like to be shooting on the Gold Coast, and then to step onto these sets that recreate iconic environments such as Las Vegas, Graceland?
Hats off to CM and that whole crew. They really immersed us in the 1950s, the 1960s, and the 1970s, all in a period of six months and all on the Gold Coast of Australia, which is crazy. It was definitely an immersive experience. I remember being on those sets and just really remembering to take it in and really remembering to breathe in where I was, because it was so incredible, the feat that they had all pulled off.
Did you have a favorite environment or set?
Graceland. I loved Graceland. Yeah.
What are you hoping that audiences, especially your fellow Aussies, are going to feel about this film?
I think everybody loves Baz. Especially in Australia—we all rally around our own. And the fact that he made the movie there, I think is really special. This is a movie that's supposed to be experienced in a cinema; everybody's been waiting to watch this film and I hope that all Australians go and see this film just for that unique, singular experience… sitting down and watching this movie for the first time after we've all been apart from our families and friends. And I hope that they feel inspired by this music and feel happy.
You were actually in the "audience" in certain scenes because Priscilla was there to watch Elvis at many performances in his career: Vegas, for instance. How did you like watching the incredible shows as they were being created or recreated for the film?
Yeah, the art imitating life imitating art was beautiful. I felt watching Austin kill it and blow it out of the water like he did was truly a really special, unique experience. On set, as audience members, we all got to experience it together in the room and it was electric.
This is a film you recommend people see on a big screen?
It is the film to see on a big screen, the ultimate film to see on a big screen, hands down. You can't fully get the immersive experience on a laptop, especially because the musical element is so important and because Baz and the whole team at Bazmark really do music how it should be done. You've got to hear it on those speakers!
BOLLYWOOD NEWS - LIVE UPDATES
Catch us for latest Bollywood News, New Bollywood Movies update, Box office collection, New Movies Release , Bollywood News Hindi, Entertainment News, Bollywood Live News Today & Upcoming Movies 2023 and stay updated with latest hindi movies only on Bollywood Hungama.