The VFX is not just a luxury anymore in our films. It's a basic necessity and is present in all films. And in today's times, the VFX shots in Bollywood films are at par with global standards. Several studios are doing great work in this field and one of the prominent ones is Famulus Media & Entertainment. Suchit Mukherjee, the founder partner and CEO of Famulus, is a top creative leader in the world of VFX and CGI. Among his many achievements, he has managed mega projects across the world with Bioware (USA), Square Enix (Japan), DICE (Belgium), Meraas (UAE) and Movie Park (Germany). He has also worked on the films like Final Fantasy XV (2016) abroad and in films like PK (2014), Airlift (2016), Baby (2015), Wazir (2016), ABCD – 2 (2015) etc.
EXCLUSIVE: Deconstructing the VFX of John Abraham's Attack, Akshay Kumar's Mission Mangal and Neeraj Pandey's Special Ops
Suchit Mukherjee's recent works include the Akshay Kumar-starrer Mission Mangal (2019), Neeraj Pandey's web series Special Ops (2020) and John Abraham's ambitious venture, Attack (2022), which was released recently. In an exclusive interview with Bollywood Hungama, Suchit Mukherjee speaks about his journey and working on the aforementioned films and web series.
What kind of feedback did you get for your work on the John Abraham-starrer Attack? The VFX was quite stunning…
As you yourself said, the visuals are amazing. People have called me from the industry and places abroad like Dubai, LA, etc. They have told me that the film looks great. Of course, a lot of preparations go with it. It's a super cop kind of a movie and not something that has been attempted in this field before. The entire Parliament, John Abraham's makeover, the blasts, the climax – everything is built into the scene. We created CG assets along with the normal VFX. Around 45 to 48 minutes of VFX was there in the movie. At a lot of places, we have used green screens and at some places, we have built very minimal, partial sets which are just for the interaction. If you talk about the Parliament, there was nothing in terms of sets. It was just one wall!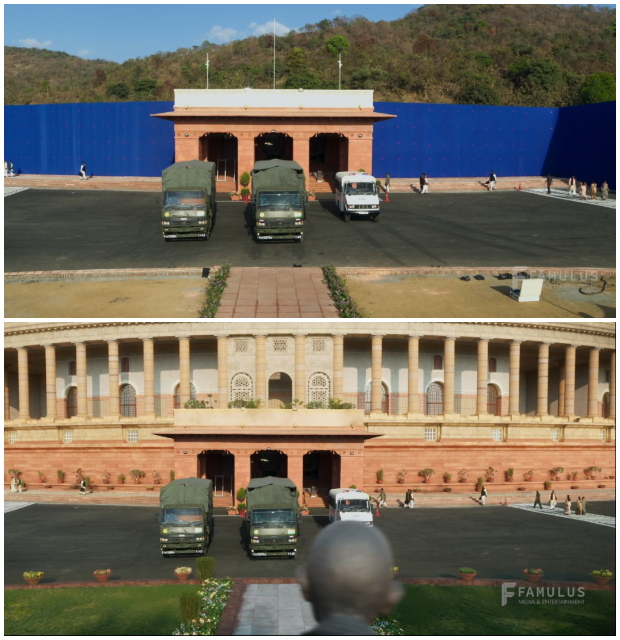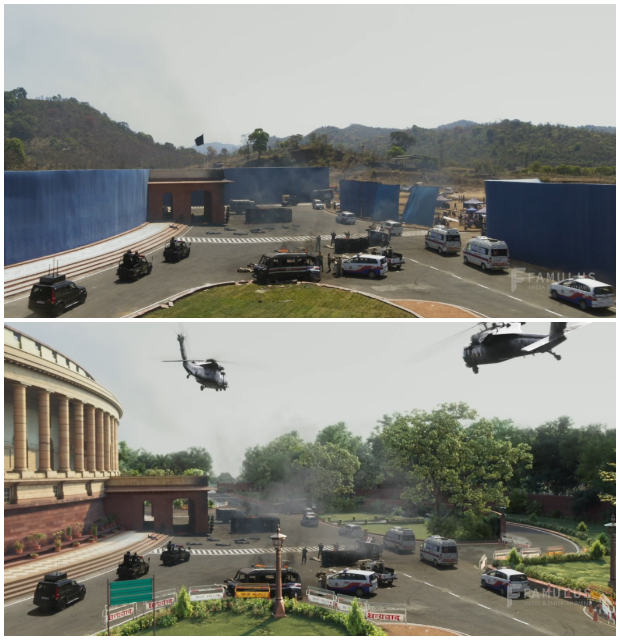 How many VFX shots were there in Attack?
It is somewhere around 3000-3500 shots, which is quite a lot. You can't cheat while depicting the Parliament or even for that matter, in the bike chase sequence in the climax. So, I'd say it's a great job done on the VFX by the team. Red Chillies. VFX has also done well. However, our share of work was huge.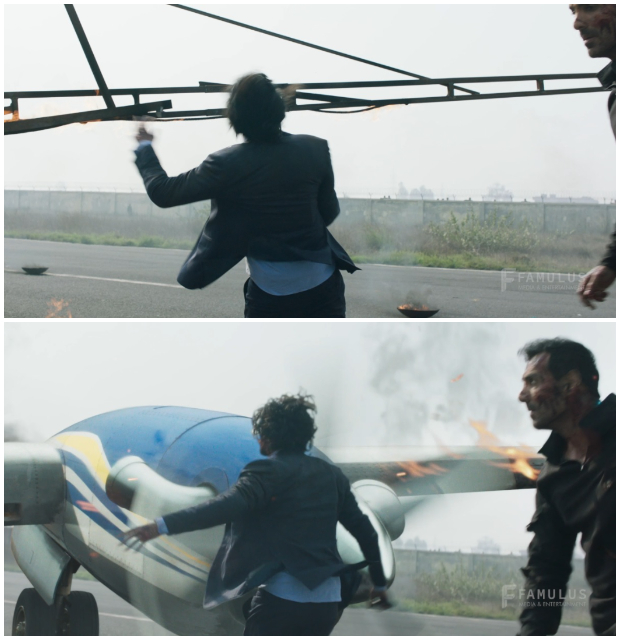 How much time did it take to develop the VFX shots in Attack?
It was the time of peak Covid. The film was stalled for a bit due to the lockdown caused by the second wave. In the normal scenario, it would have taken 7 to 8 months. However, due to the gap, it took 13 to 14 months. We had our other projects and moreover, the shoot of the film was also pending. But there was excellent camaraderie between us and the makers, especially John Abraham. John has been fantastic throughout. We had countless meetings with him, director Lakshya Raj Anand and producer Jayantilal Gada to solve COVID-related issues, budget etc. Delivering this film was a milestone because I don't think such kind of a film has been done yet.
Famulus Media also worked on Neeraj Pandey's web series, Special Ops, which also dealt with an attack on the Parliament. Was the same raw file or prototype used in both the ventures?
No. The Parliament was built for Special Ops. Neeraj Pandey and Shital Bhatia gave us the freedom to experiment and prove our expertise on something which was new at that time because you can't shoot in a Parliament. You'll never get any permission to shoot there. So, the Parliament was built. As for Attack, the Parliament is in a much larger scope. We had to model and shoot more with one interaction point, which is a wall, and then create the visuals. So, the work in Attack has been far more than what we have done in Special Ops. However, it did help because we started our journey at least with a Parliament asset from there.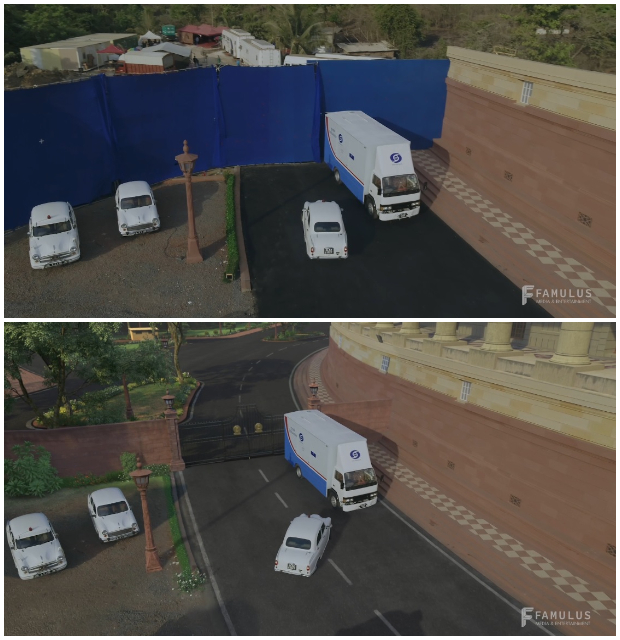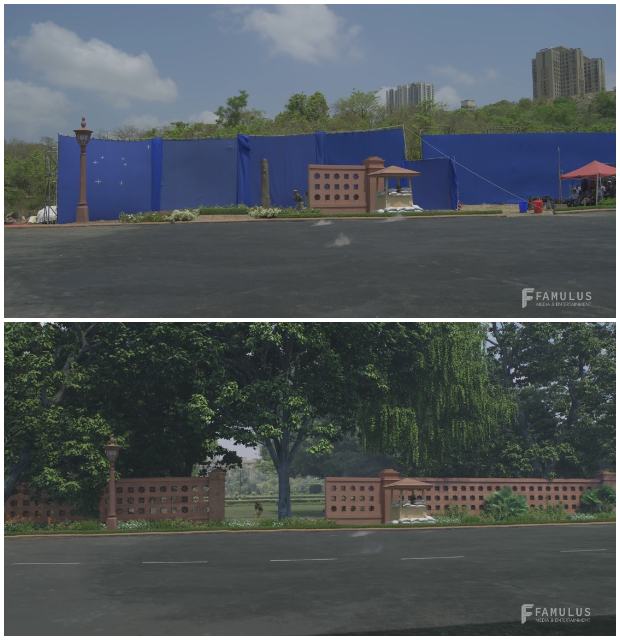 How did you manage to design the Parliament? 
It's all through references. In other projects, you can scan cities and people. For Parliament, you can't do that. You can take some pictures from the drone, that too from a huge distance. All we had were Google Earth and other such images.
How was it working on Mission Mangal?
Before answering the question, I need to go back further and inform you about our roots. We started our journey 17-18 years ago. We were working on many projects, including an animation film when I was based in London. I shifted my base to Dubai where I worked for eight years with the best of people with the right vision in companies like Mirage. We were the first ones to envision the two theme parks in Dubai. We were not merely the service providers. We came up with the designs at that time and we sold them to Mirage. Then we came up with HubZero, the first-ever console gaming theme park. Then we worked on Bollywood Park, where we created rides on famous Bollywood movies like Ra.One, Lagaan etc.
We came to Mumbai and shot with Shah Rukh Khan, Salman Khan, Hrithik Roshan etc. These were all 8K high-end CGI oriented shows. We were also doing work for Japanese companies like Square Enix, which created the popular game 'Final Fantasy'. We did 25 minutes of work in the Final Fantasy theatrical film in 2016. Nobody in India had done a photoreal 3D animation of that standard till that point in time.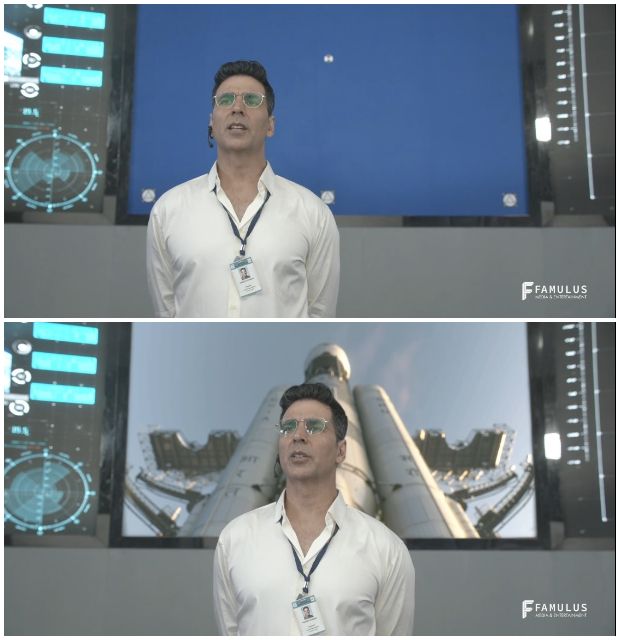 We also worked on the 'Resident Evil' game from Capcom. These were huge turning points in our lives. We later set up our studio here and we worked on films like PK (2014), Airlift (2016) etc. When Mission Mangal happened, producer R Balki, director Jagan Shakti and late Anil Naidu saw what we have done for these foreign companies in terms of CGI.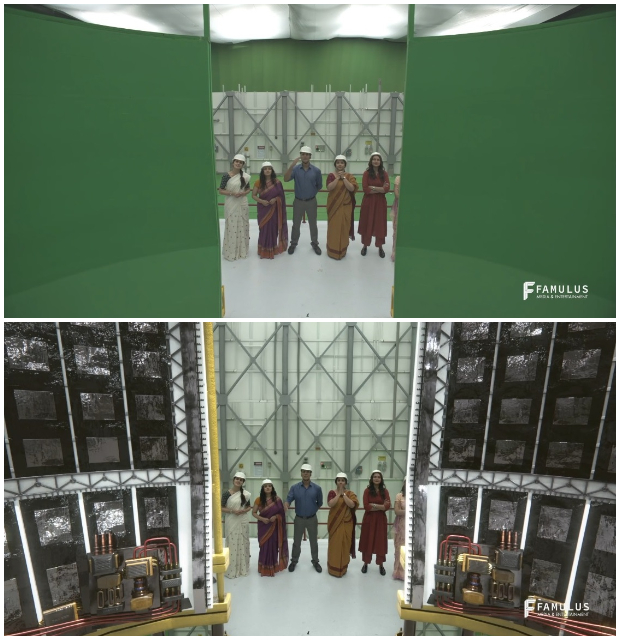 Mission Mangal wasn't an out-and-out CGI movie. However, creating those rockets, showing take-offs etc was not done ever in India. If it was done, it was not that photorealistic. We wanted to create something on the lines of Hollywood films like Apollo 13 (1995). Balki had extreme confidence and conviction to trust us after seeing the work we did for the theme park and with the Japanese companies. The believability of the visuals and the response that we got for Mission Mangal from even abroad paved the way for us and helped us in getting many more movies.
Even Shah Rukh Khan's Zero (2018) had a portion in the climax which shows a spaceship taking off. Considering that you and your team were working on Mission Mangal at the same time when Zero released, did you take some notes or speak to the Red Chillies team?
It's a very good question. Well, I did not consult. Before our re-entry into Bollywood with Mission Mangal, we were doing shows abroad. My only point of reference was First Man (2018), Apollo 13, etc; basically, all the Hollywood films that were only about space missions and taking off to the moon. Also, we sourced several real-life footages from NASA and SpaceX. Our mission was to match these real-life visuals, no matter what it takes. So, starting from creating the assets, the rockets, the take-off, the fire, the effects etc, all that was challenging. We didn't give up until we matched those real-life references. We knew that if we'd manage to do that, our movie will probably look better. Thankfully, we got so much traction and even now, we are only getting the 'good movies' from the industry. The movies which require a good amount of CGI work come to us without even asking. That's a great platform that Mission Mangal has set, followed by other films.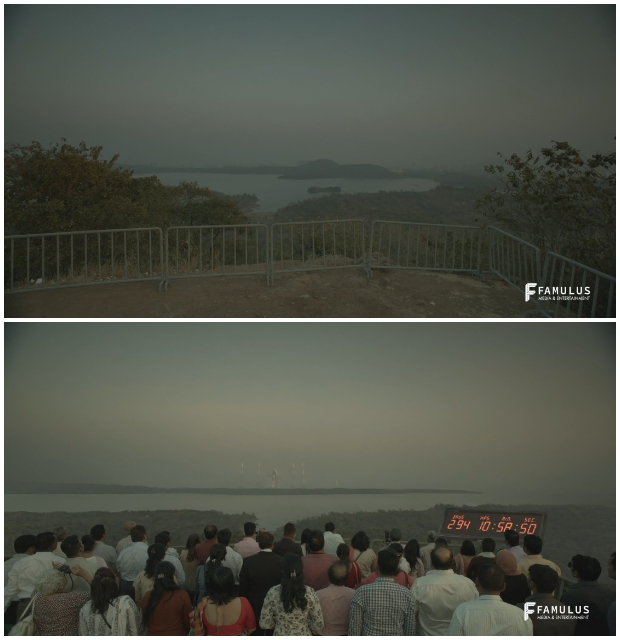 I believe someone from your team is always there on the sets, right?
There's always a VFX supervisor on the sets. Sometimes, there's also a CGI supervisor. At times, I am also present if I need to supervise or solve a problem. Nevertheless, someone will be there throughout the shoot, to advise the director on what to do with the CGI shots, where to put the green screen, where to put the markers, where it can be avoided, where costs can be saved, what angles in terms of CGI shoots can be used etc. For example, the rocket taking off sequence in Mission Mangal is an out-and-out CGI shot. Even in terms of the VFX shot, if we need to do clean ups and place something else in the background, all of those are completely guided by the VFX supervisor or the CGI supervisor present on the sets.
Which has been the most difficult shot till date?
It'll be unfair to choose only one. We are working with some of the best directors in the country like R Balki, Jagan Shakti, Neeraj Pandey etc. We are working with Shankar sir. We have done movies for Hollywood. So I'd not like to pick and choose just one. I'd say some rocket shots of Mission Mangal, the Parliament in Special Ops, the Parliament and other action scenes in Attack etc were challenging. The idea was to make it look believable so that people don't realize that this is created on a computer. That's why we are a specialized studio. We don't do 25 films a year. We can do 7-8 films a year. We need to maintain exclusivity and you can't do that if you go massy. The focus has always been on quality and not quantity.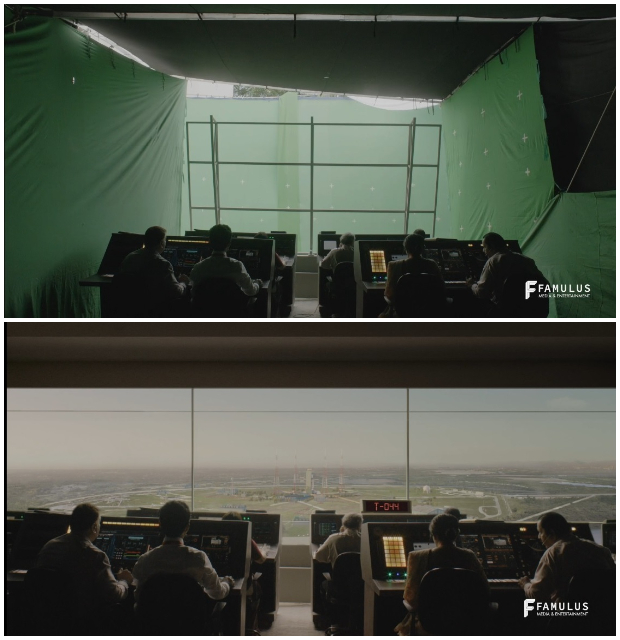 It's also a myth that using VFX increases a film's budget.
True. Right now, it's about where we can use virtual production correctly. It's not that you can do a full film with virtual production. However, one can use smart techniques like Lidar scanning, wherein you scan cities. You can scan, say New York, but you can twist and asset build in a way that you make a Gotham City out of it, like in The Batman. So how you're going to use your technology in a way that you can get work done in say 5 days instead of the usual 20 days and make it look much better is the key. It's just smart technology being used not just to minimize the work but also to do the work smartly, and thereby save costs. Thanks to Covid, people have now realized that VFX is not the end of filmmaking. It's a primary part of filmmaking. Our industry is also coming to terms with it which is really heartening to see.
Can you share details of your next film, Ganapath? The Tiger Shroff-starrer, I believe, is set in the future…
The experience was very nice. I can't reveal much. We are creating scenes which are extremely forward-looking. We have huge expectations from this film. I think it's going to be a fantastic movie. We have used all the latest technology. We are also excited about working on a song for Shankar's film. I again can't reveal much but I can say that it's the best part of the film. It'll be something that the world has not seen yet. We are also working on a Hollywood movie and one more project from the South. We also have one venture with Friday Filmworks coming up.
Where do you see the CGI industry in India in the next 10 years? Do you believe it'll become an even more integral part of filmmaking?
I am very hopeful about it. We do filmmaking with the support of technology and the right amount of investment. In the next 5 years, I hope we are at least able to consider post-production or CGI VFX work for at least 40% of the film. That's how it's going to be. Most of the films that are making money at the box office are CGI and VFX-heavy. If the CGI doesn't constitute 40-45% of the movie, then we'll not invest the right amount of money, time and knowledge. And I am sure it'll happen as we have now realized the role that this industry plays in filmmaking.
Are you working on Attack 2?
Not yet. Let's see when it starts. I am sure we'll be a part of it. There are a lot of high-end films which we have currently thanks to the bigger films that have done well and brought the audiences back to the theatres. A lot of young directors and artists come to us and tell us 'Can we create a small shot so that I can convince my producer that this can be achieved?'. So, you see, they are thinking ahead of making movies which have not been made in the past. With the OTT coming home, now the audiences want to go to the theatres for another level of experience. And if you want another level of experience, that work comes to our table! We are coming towards a point wherein we can see a lot of great stuff coming from India, instead of just looking at the Spider-Man movie coming from the West. I think we are getting there.
BOLLYWOOD NEWS - LIVE UPDATES
Catch us for latest Bollywood News, New Bollywood Movies update, Box office collection, New Movies Release , Bollywood News Hindi, Entertainment News, Bollywood Live News Today & upcoming movies 2022 and stay updated with latest hindi movies only on Bollywood Hungama.