As I stare out of the plane window on the flight back from London at the vast prism of clouds conjoined together, the mind's eye gets transported to the rubber speed boat that zipped through choppy waters towards a big yacht in the middle of the sea close to Southampton, West of England. As I was hoisted (literally) on to the yacht, I merged with the mammoth crew of Vashu Bhagnani's Welcome To Karachi that had been shooting for the past 40 days in various places in England.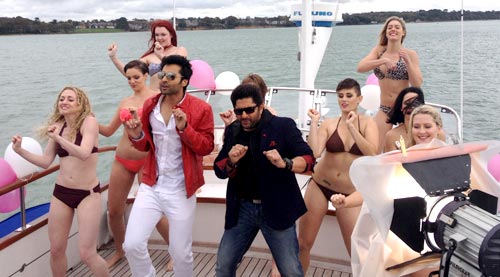 Arshad Warsi and Jackky Bhagnani danced to catchy beats of '
Boat Song
' composed by Rochak Kohli. They were stationed on top of another yacht surrounded by beautiful skimpily clad English girls swaying along with them while cinematographer Mark captured their moves from the bigger yacht where I was present. This is meant to be the opening credits song where Arshad and Jackky, two good for nothing characters, are introduced. The next day I accompanied Arshad, Jackky and director Ashish R Mohan on the smaller yacht. It was freezing cold and everyone praised the dancers for sportingly shooting in two piece bikinis. The moment a shot was canned, the dancers covered themselves in thick coats. Men will be men, they waited for the next shot to begin so that the coats go off and they could ogle at leisure.
England celebrates 'Welcome To Karachi' in style
Ashish disclosed that it was Vashu Bhagnani's idea to shoot the Pakistan portions in England. It seemed improbable but when Bhagnani mailed the pictures of various locations, Ashish was convinced. Karachi Airport was created in Birmingham, the scenes showing Taliban influence in North-West Pakistan have been shot in the picturesque hills of Wales, substantial chunk of the film was shot in Bradford which boasts of a huge Pakistani population (a big part of the area including shops and other establishments are said to be exactly the way it is in Pakistan), same with Southampton that has a considerable Pakistani population and hence getting junior artistes isn't a problem. The crew comprised of several Pakistanis and everyone gelled together warmly.
The film unit came across as a passionate united forum that has withstood challenges of staying away from families for a substantial time period and braving the damp-cold weather. Everyone merrily wished each other, 'Happy Diwali' and carried on with the work, knowing that it is important that they wrap up the work in a given time period so that they don't have to bear severe inclement weather that's waiting to make inroads. There are some superstars in the Production team who work tirelessly to ensure that logistical issues like hotel rooms, food, travel etc are always taken care of. Everything is systematic. The water bottle crates are open for all at all times, never ending supply of tea-coffee flows unabated (there was ginger too for the ones who fancy Adrak chai), efforts were made to ensure that the crew gets Indian food at all times since the bland English food wouldn't have been palatable for all. No wonder, despite working for so many days, there was an infectious air of freshness all around.
Producer Vashu Bhagnani led from the front. I find it fascinating that the man never gets affected by any challenging situation. There's always a ready smile and an effort to ensure that everyone is taken well care of. The team caused a big blast near a Boeing 747 (hired at an approximate cost of Rs 2 crore) where a jeep flew in the air and could have landed on the Plane causing severe loss of lives and property. Nothing untoward happened as all the precautions were taken but the English officials were upset. A scene outside the Consulate involving heavy firing is said to be another highlight and Bhagnani is surprised how they managed to pull it off without upsetting anyone.
Welcome to Karachi had been planned with Arshad Warsi and Irrfan Khan. With Irrfan opting out at the last minute, it was a catch 22 situation for Bhagnani and director Ashish R Mohan. Both of them are immensely grateful to Arshad Warsi for standing by them and supporting them during that difficult phase. Arshad is all praise for Jackky Bhagnani who is now reprising the character that Irrfan was earlier supposed to play. Warsi is so confident of the film that he already has plans for the sequel and would even like to contribute in its scripting. I saw Jackky enacting a scene with Arshad when they are stranded on the Karachi beach (recreated in Southampton). It was heartening to see a young actor insisting on more mud being pasted on his clothes-and-hair to make his appearance look even more convincing. Post Youngistaan he's surely an actor to watch out for and Welcome To Karachi might establish him in the big league.
It is a pleasure to watch Ashish Mohan at work. He reminds you of the same zest, humour and sincerity as his mentor Rohit Shetty. There's this child-like-quality to always make an attempt to improve upon a scene. Like Rohit, Ashish too is often seen holding a big film camera on his shoulders and shooting a close-up of actors. His relationship with the entire team came across as extremely friendly. He had no qualms in returning to the hotel in the same Bus as the other Unit members. His constant fun loving bantering was entertaining and made the mood on the sets, light hearted.
Actor Vrajesh Hirji is one of the writers of the film and knowing his comic streak, that's good news for Welcome To Karachi which is a said to be a comic entertaining film. Ashish's wife Komal is the costume designer of the film. She has styled for many big films and advertisements (including Akshay Kumar's latest Honda Ad). On the sets of Welcome to Karachi, Komal was a calming influence. Extremely amiable, she's the pillar of support for Ashish in whatever he does.
It is dark now as I look out of the Plane window. England is far behind. Or is it Karachi, that's far behind! Attempts are on to get permission for shooting some key sequences in Karachi, Pakistan in the first week of November. If that happens, Welcome To Karachi will become the first Indian film to be shot in Pakistan ever. I think about the clouded sky once again, hoping to see a clear blue sky one fine morning, a sky that has no boundaries or restrictions.
BOLLYWOOD NEWS - LIVE UPDATES
Catch us for latest Bollywood News, New Bollywood Movies update, Box office collection, New Movies Release , Bollywood News Hindi, Entertainment News, Bollywood Live News Today & upcoming movies 2022 and stay updated with latest hindi movies only on Bollywood Hungama.