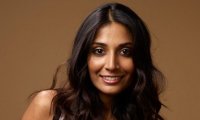 Monica Dogra comes across as one of those women who I usually bumped into London's Tube station while I used to travel to work. She is confident, street smart, versatile, quite mature and yet sensitive… I missed self-confident and a bit funny. And believe me; such a mix is usually rare to find. But Dogra is much more than all this. A singer and composer by profession, Monica has yet another feather in her cap - actor. People who've seen her performance in Dhobi Ghat at the London Film Festival went out of control. All in a good way though. With her dark hair, exotic looks and a touch of unconventionality, Monica has nailed it. And even though she is still excited to let everyone know about her front cover on the Time Out Mumbai, because of which she got the role in Dhobi Ghat, she doesn't have a clue how her mobile will be buzzing in days to come after her debut film releases. Dhobi Ghat doesn't just bring Monica Dogra into limelight; it's also the biggest challenge of her new young career - so challenging that she is already being spoken about for the next year's nominations at the awards ceremony. UK's Harrow Observer columnist and Bollywood Hungama's London correspondent talks to the modest Monica on her debut feature which will soon change her fortune for the better. We let Dogra take care of the rest.


"Mumbai is my home now"


Mumbai is a concrete jungle and the way Kiran has shown it in Dhobi Ghat is mesmerising. One of the most wonderful things about Mumbai city is that it's a combination of so many different things. Next to the sea you have these skyscrapers; you have nature meeting the urban concrete jungle. You have trees growing out on the sidewalks, you have 'dhobi's washing in ghats, and then you have washing machines in homes. Mumbai is all about survival and human emotion in abundance. Mumbai swings drastically both ways and that's why I moved to Mumbai from New York and today I am proud to call it my home.


"I am a very private person"


Monica Dogra is a very private person. But because I am a performer and I have performed all over the world as a singer, I have a lot of juxtaposition inside me. On one half, I can perform in front of five thousand people and bare my soul until all my secrets are let out.


"My own family wanted me to be like Katrina Kaif"


I am a singer and a composer. My own family wanted me to be like Katrina Kaif. And all this was difficult for me to tell them that I am not in this field to only make mad money. It became difficult at one point to make my parents understand what I always wanted to do. I've been asked to be a VJ, I've been asked to model and I've been asked to do many things which I said 'no' to at the result of making less money and becoming famous. I knew that the day I could live with myself and be proud about the work that I was doing, that'll be my reward.


"Destiny and hard work has landed me in my first film with Aamir Khan"


Out of millions of people from the world over, I was chosen to play Shai by Kiran Rao. Why was I chosen? Because I was on the cover of Time Out Mumbai with my band and why was I on Time Out? Because just like every other person who aspires to get famous quickly, I've always been very clear in what I believe in and an intelligent publication like the Time Out Mumbai decided to put me on their cover. That was destiny and the same destiny out in the film with the most respected actor of India, Aamir Khan.


"Stand for something, no matter what"


If there is one message I'd send out to all the little girls and boys out there, it'd be - stand for something you believe in because it will take you exactly where you want to go. It is going to be hard, really hard but you never give up.


"My song from my album is going to be featured in one of the scenes of Dhobi Ghat"


Aamir Khan and Kiran Rao are including one of my tracks from my album in Dhobi Ghat and I am really excited about that. I am a bit unconventional but that's what people have started to like in cinemas now-a-days.


"There is a lack of variety and choice in Bollywood films"


Indian cinema is all about music. Music has been a strong factor in the success of Bollywood films. That's great. Music is the only thing in Indian cinema that has versatility. There are lots of other things that need to be looked in Hindi films. There is a lack of variety and choice in Bollywood films and a general assumption that audiences will only buy and only support the standard recipe of boy meets girl, boy sings songs for girl, girl does an item song, etc. It's nice to see people like Anurag Kashyap, Zoya Akhtar and Kiran Rao experimenting in cinema. I'd love to work with Abhay Deol too.


"Prateik Babbar is the next big thing to happen in Bollywood"


Prateik is only just getting started. He has a long journey ahead of him and to debut in a full length role in Dhobi Ghat as Munna is a dream come true for any actor. Munna touches the heart of every caste, race and every culture. The audience in Toronto loved him. Any human being will feel for the character of Munna from anywhere in the world. Prateik deserves it. Prateik is a very sweet guy and a very good friend. We are always in touch. He comes to my shows quite often and that's how we meet up sometimes. He and I were together 24/7 for six months shooting for Dhobi Ghat. We got to know each other quite well.


"Aamir Khan isn't super egoistic. He is super smart"


When there is a huge Bollywood star working with you, you'd tend to believe that he is materialistic or super egoistic. Aamir Khan came across a super smart and very down to earth. He is attracted to alternative culture. I am very similar to him that way. Working with him was quite natural. He reassured me in the most unforgettable way. He sent me a text message after we finished shooting the film that I saved. The message congratulated me on a very fine performance in Dhobi Ghat and that nobody could've played Shai the way I did and the way she felt as a character. Coming that from Aamir Khan is the most enchanting experience.


"Prateik is very good with handling knives"


Prateik is very good at handling knives. While we were on Mohammed Ali Road during Ramzan, we had three hours to kill and knowing Prateik, he called the street vendor to give him the knife. He then pokes the knife between his fingers really fast. That was one of our first encounters on the sets of the film. That was Prateik Babbar - a simple guy with weird tendencies.


"Kiran is the driving force behind Dhobi Ghat and not Aamir Khan"


Kiran is one of the smartest women you'll ever meet. She is so sharp and knows exactly what she wants. Kiran is the driving force behind Dhobi Ghat. It's not Aamir Khan or not anybody else. Every character was written by Kiran and the entire film is her voice, her story. I felt really comfortable working with her. I am excited to know what Kiran does next after people have started to know her style of film making.
BOLLYWOOD NEWS
Catch us for latest Bollywood News, New Bollywood Movies update, Box office collection, New Movies Release , Bollywood News Hindi, Entertainment News, Bollywood News Today & upcoming movies 2020 and stay updated with latest hindi movies only on Bollywood Hungama.