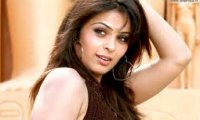 Anjana Sukhani was destined to do big things. Start with her debut movie Salaam-E-Ishq, then Golmaal Returns and now with Ram Gopal Varma's Department, she completes her hat-trick... a commercial drama, a mad comic caper and a shocking thriller, this lass loves mixing up different genres. Sukhani comments, "I wish as an actor I could make a choice of my favourite genres. I've done a drama in the form of Salaam-E-Ishq, a mad comic caper in the form of Golmaal Returns and a movie with a message called Allah Ke Bandey to name a few. With Department, I move on to a thriller drama. Comedy and romance go completely with the personality I have." She adds, "I'd love to do a fully fledged heroine character in a film. But so far I am quite content with the kind of movies that were offered to me and the ones I am doing. And right from the beginning I had decided that even though my career wouldn't go the way I wanted it to go, I will never compromise on the quality of work I am doing. Department is a huge film for me."


Starring opposite a common friend in Department came as a pleasant surprise to Anjana. "I know Rana Daggubati even before I started shooting with him for Department. We have common friends in Hyderabad and we used to go out together back then. When I met Ramu Sir for my role, I never knew that Rana was a part of Department. But I was pleasantly surprised when I came to know that I was cast opposite him", says the leggy actress.


Yes, she is tall and she has legs that you wish you could buy. But here's the catch, she can kick too and shake a leg or two. As for Rana, well, Sukhani tried to play a prank on him on the sets during their song 'Kammo'. "It's not that Rana doesn't know how to dance. The fact is that he doesn't like it (laughs). I remember during the shoot of 'Kammo', I told my choreographer Shabina Khan to give him some tough steps and we will shoot it and put the video up on youtube. It was a well planned prank we wanted to pull but it somehow didn't work", Anjana recalls.


Ok, wait a minute, but who is Kammo? "Kammo is me (laughs). Mr Bachchan and Sanjay Dutt sing, 'Tere Ishq Mein Pad Gaya Re Kammo, Lene Ke Dene' that means they are teasing Rana's character on getting married to this girl played by me. It's a bully song and his case is shut completely (laughs)", she says.
Watch Promo: Department