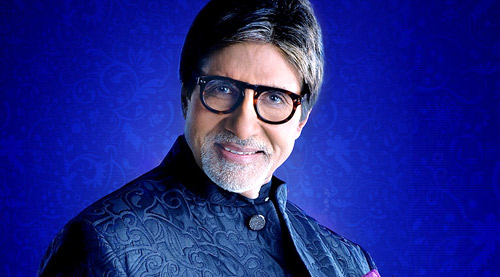 "Balki has a fetish about toilets and bathrooms," said Mr Amitabh Bachchan in a Bollywood Hungama exclusive video interview with Faridoon Shahryar as he spoke about the song picturisation of 'Piddly' from Shamitabh which has been shot in a washroom. "Cinema in olden times was grand, illusionary, full of fantasy, enigmatic, that is slowly fading away in the minds of the new generation which is younger and more progressive," Mr Bachchan said about the success of Concept based films in the recent times. He also speaks about Rekha ji's cameo in Shamitabh. Also, Mr Bachchan shares his thoughts on working opposite the much younger actresses.

How was the experience of working in Shamitabh?
Shamitabh is a plot and a subject that hasn't been experimented with before. I'm very happy to have worked on it and now anxious to see how the audience is going to take to it. We had a ball working on it.

More and more people are keen on Concept based films. Queen, Vicky Donor and even Pa are examples of that. Shamitabh seems like a novel concept too. Do you think people are more keen on watching Concept based films instead of formulaic films?
Audiences have changed their tastes. People have become more aware of what the Cinema is all about. They are more conscious, knowledgeable about Cinema, thanks to the introduction of television, internet. They are exposed to so many aspects of cinema. Cinema in olden times was grand, illusionary, full of fantasy, enigmatic, that is slowly fading away in the minds of the new generation which is younger and more progressive. That's why it explains that films like Kahaani, Queen, Vicky Donor, they've been accepted and done rather well. A lot of credit to the audiences that they've guided us into making these kinds of films!

In the song 'Piddly', you are seen in a washroom. Is it the most quirky situation that you've ever had for a song picturisation?
Certainly! It is very different. Trust Balki to put me there as he has in every film of his. He has a fetish about toilets and bathrooms. In Cheeni Kum there was as scene between me and Paresh Rawal talking about the girl I'm going to marry while we are in the washroom. It is an odd place to be saying something like that or having a conversation. But it is not too far away from reality. There have been many occasions when you're relieving yourself in the washroom and somebody will come and say, 'Sir can I have your autograph'. I mean how the heck do you avoid that. These absurdities do take place sometimes. In my introduction in Paa I was in the washroom. Here in Shamitabh we have an entire song. It is not there for any kind of sensation. These are some of the situations that probably happen to all of us but maybe nobody has the confidence or guts to actually put in the cinema. There are many aspects of ourselves that we don't want to exhibit in Cinema. I think it was beautifully placed in Shamitabh. You get a different feel, yet it is not too different from the story line.


Rekha ji is part of Shamitabh. One of the huge factors for the movie will be to see Amitabh Bachchan and Rekha together in a movie. I believe you are not sharing any scene. But still your screen pairing with her in the 70s and 80s was legendary.
We are not in the same scene. She is separate. She is playing herself. Her portion comes with Dhanush and we are not together in that.

Rajinikanth, Kamal Haasan and Amitabh Bachchan sharing the stage during the music launch of Shamitabh was momentous occasion. Your thoughts?
All thanks to Balki. Akshara is Kamal's daughter. It is her first film. It would be very natural for the father to be present on such an occasion. Dhanush is Rajini's son-in-law. Then of course three of acknowledging somebody that we've all worked with. Someone who has been responsible for music in their lives! Kamal and Rajini have done 100 films with Illaiyaraja. I have worked in three films with him. Because they've been working in 100 films with him, Illaiyaraja hasn't been able to come to Mumbai to work with me (laughs). It is wonderful to publicly sit together. Privately we've had many moments together. I really must thank them for agreeing to be with us.

Your fans are celebrating the forty years of Deewar. How do you look back at this landmark film?
Deewar released on January 24 forty years ago. I am really amazed that even after 40 years there are people who still want to talk about it. It was the most perfect script written. People have some kind of remembrance for it even when they weren't born when it released. Salim - Javed are the two people responsible for its creation. Very fortunate to have got the script!

You've said recently that you'd like to work opposite Priyanka, Parineeti, Katrina?
Yes all of them, but I'm too old for them.

Bipasha has said recently that she finds you sexy.
But that doesn't mean that she shall work with me.

I interviewed Sonam recently and that one wish that she has is that she'd like to work with you.
Please hurry up, Balki, can you make the film. This is great news. (laughs).
BOLLYWOOD NEWS
Catch us for latest Bollywood News, New Bollywood Movies update, Box office collection, New Movies Release , Bollywood News Hindi, Entertainment News, Bollywood News Today & upcoming movies 2020 and stay updated with latest hindi movies only on Bollywood Hungama.