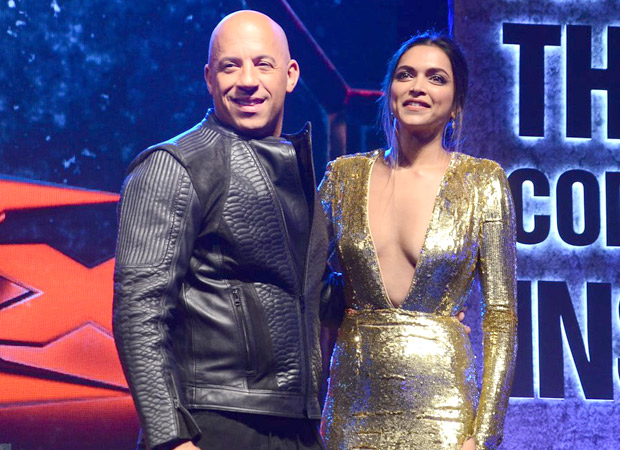 >
While Deepika Padukone is all set to leave her mark with her big break in Hollywood, she has also managed to get her co-star and one of the biggest stars of Hollywood Vin Diesel to India. As India waits for release of xXx: Return of Xander Cage, we a got glimpse of what to expect from the movie.
At a special press conference held in Mumbai, Vin Diesel, Deepika Padukone, and director DJ Caruso talked about how they managed to do the film and why they chose India to have one of the biggest premieres. In a candid conversation, Vin Diesel revealed that Deepika Padukone had done a chemistry test with him before Fast and Furious 7. So, DJ Caruso knew they had incredible chemistry. But, that time due to Ram Leela, she couldn't commit to the film but Vin wanted to make a film with her. So she met up with Caruso in Toronto and it was a two-hour lunch.
Reminiscing about that day, Deepika  Padukone said that when Vin got to know that she was in Toronto, so he eventually booked her a flight to LA and she was surprised with his gesture. The next thing you know that Vin had shared the epic selfie that broke the internet and that's how she knew was chosen for the film. "I was so focused on the audition because I wanted that role. However, when he walked in and we started feeling the chemistry between us, the nervousness went out of the window. During the shooting we bonded over things and now I know he is one of the very special people of my life, I can always call him up and share things, and he will be there for me not just professionally but as a wonderful warm human being. ," Deepika Padukone said while addressing the media.
Vin Diesel couldn't stop gushing about his co-star Deepika and how warm and lovely she was. He called her special person and revealed that her only condition while doing the film was she gets to a do premiere in India where she gets to bring the cast of the film here. And that Vin and Caruso fulfilled it for her. "I was waiting for the opportunity to come here. And she is the queen and angel who is such a blessing in my life. She has such a beautiful soul. To be a part of the magic that is made on-screen is a blessing of my life," said Vin about Deepika.
"Deepika is a queen, angel. Such a blessing Deepika is in my life," he declared elatedly. Our movie is about global harmony. My pairing with Deepika is evidence of multi cultural global harmony," Vin said proudly. "There is no one like Deepika. Though her origin is Indian, she is the queen of the whole world. I saw her in Bajirao Mastani and she was mind-blowing," said Vin, heaping praise on his co-star. "Being in this city (Mumbai) is like a dream come true. I wanted to work with Deepika from a long time. I met her years ago. She requested me she wants to do the premiere in her country. So the fact is that we are here to keep her promise," he added.
On the occasion, Deepika said, "Working with Vin was in my destiny. We have known each other for a few years now and I loved working with him, it was an amazing experience. I would like to thank DJ Caruso and the xXx franchise for reviving it with this film and having a faith on me to offer me the role of Serena." Asked about what made them choose Deepika for the role, Vin said, "We were looking for the combination of beauty grace and physical strength to do all the action sequences. She is capable of doing both with equal ease. Moreover, we share a chemistry that shows on screen. So the is the perfect one."
xXx: Return of Xander Cage is a new installment in the xXx series after the 2002 film xXx and the 2005 entertainer xXx: State of the Union. It also stars Ruby Rose, Samuel L Jackson, Donnie Yen and Tony Jaa and is releasing on January 14, 2017 in India before anywhere else in the world.