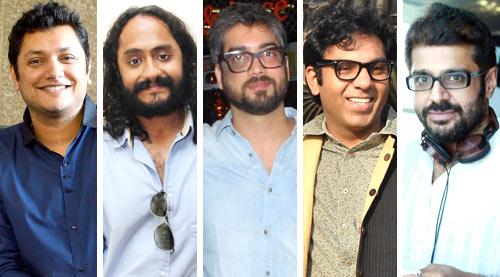 In theory, it is an ideal situation: a record fourteen debutant directors in the first eight Fridays of the year 2015! Here's the complete list, including the smaller and even the faceless films: Sachindra Sharma (Mumbai Can Dance Saala), Sunil Prem Vyas (Take It Easy), Amit Ravindernath Sharma (Tevar), Gurmmeet Singh (Sharafat Gayi Tel Lene), Ritesh Menon (Crazy Cukkad Family), Abhishek Dogra (Dolly Ki Doli), Manoj Sharma (Chal Guru Ho Ja Shuru), Vibhu Puri (Hawaizaada), Karan Darra (Khamoshiyaan), Anup Singh (Qissa), Milan Ajmera (Jai Jawaan Jai Kisaan), Gurmeet Ram Rahim Singh and Jeetu Arora (MSG: The Messenger) and Vikramjit Singh (Roy)!


And they have one standout common point: no one has made a successful film!


As we pass the ninth Friday (February 27), we found one more director in line: Aejaz-Gulab (Ab Tak Chhappan 2). Will he break the jinx on debutant directors in 2015? And if so, why will he succeed ?


Arising from that, who was the last debut director who delivered a success? It was Omung Kumar, who directed Mary Kom, almost six months ago! There have been over ten directorial debuts even in the remaining part of 2014!


So what is stopping all these new films of all kinds from the mainstream actioners (Amit Ravindernath Sharma's Tevar) to faceless B-graders from connecting the all-important audiences?


The answer is simple: the all-important audiences!


The Audience Point of View:


The audiences' wants have not really changed since cinema evolved. From the beginning, and even more so in the last two decades due to higher literacy, global exposure and high ticket rates, audiences want, first and foremost, value for money and variety - simultaneously!


Let us be clear: audiences do not always want the same fare, like stars or hit music or even the much-hyped item numbers. Otherwise, why would films like Bheja Fry, A Wednesday!, or Jaane Tu…Ya Jaane Na emerge as blockbusters, each with a new director, no stars and the first two without songs?


So the only hiccup from the viewer's point of view is that they are getting a bit of the latter but nothing of the former. And what does this vital value for money quotient stand for?


Well, all it means is that the film must have the right content in all stages - pre-release and post-release. Now, what does this seemingly complex and absurd statement mean?


First, the film's vibe must attract the audience, which means not only that the trailers/first look and posters and general feel be alluring, but the music should actually connect, not just because it is being blitzed all over the channels and net. Pre-release, this consolidates their decision to watch or not watch the film on its face-value.


Sadly, more and more, the new filmmakers are ignoring this simple and vital truth big-time, using a misguided but widespread mantra of innovation in marketing rather than a factual presentation to the audience. Merely hammering a film or its songs is not marketing-Aamir Khan's lucidly concise statement is "Marketing is creating the desire to consume."


And it is this desire that brings home the bacon. Especially in these days when the first three days are all important, a desire to consume will bring in a lot of returns indeed, even if the film does not sustain later because of lack of appealing content. And while music alone never makes a film run, let us not forget that Roy did get a decent opening because it had hit songs, not just the presence of Ranbir Kapoor.


Yes, when stars are there, the expectations get raised by many notches, like in case of Roy: the word-of-mouth of people who found the film too slow, too abstruse, too complex for some viewers!


Also, while old wine in an engaging 'new bottle' is a surefire formula for super-success, that subtle newness and proper positioning is all important. There was nothing we had not seen before in Karan Darra's Khamoshiyan as a supernatural tale, nothing exciting happening in Dolly Ki Doli amidst the fun and games, and a random, overconfident quality to Tevar, including its music and leading man.


Tevar was based on the South blockbuster Okkudu, but had a major, fatal change that was its undoing apart from the main flaws listed above: pitted against Manoj Bajpayee was a 'normal' young man, Arjun Kapoor, who we were told, emerges as a hero when cornered. This was absurd and a bit like, to quote an analyst, the 2004 dud Deewaar - Let's Bring Our Heroes Home, in which a relatively tiny Akshaye Khanna rescues someone of the stature of Amitabh Bachchan from a Pakistani jail!! As someone said, "Illogic has its own logic!" which actually means that there are definite limits to the suspension of disbelief.


Yes, a clever, logically built-up script can show a smaller man triumph over a huge villain, like in Badlapur, but then that is the skill of a seasoned director like Sriram Raghavan.


The lack of 'Direction'


And that is where all these new directors fall short: in the script sense. Because they are confused, says veteran trade analyst Amod Mehra. "The most important reason for the failure of the new directors - which is true even of the previous few years in which there were so many - is that they do not know what audiences want. They do not know whether to make films that they will be good at, films that are said to be 'safe' or films similar to the filmmakers under whom they worked as assistants. A case in point was Vibhu Puri in Hawaizaada."


Mehra has a point: Hawaizaada, while claiming to be a biopic on India's aviation pioneer, mixed ornate sets, multiple songs of all origins, and a studied lack of authenticity in the depicted culture and milieu vis-Ã -vis what was needed for the story. The unimaginative posters had already done major damage in killing the desire to consume, ditto the poor music. And so the film did not even take off.


The obsession with 'freshness' was another embargo to success, the most important case being Roy. The film went on to flummox the lay viewer who simply could not differentiate between fact and (within the movie) fiction!


Finally, we had the misguided story concepts. Some small films had stories that were meant for tele-films rather than big-screen features-like Sharafat Gayi Tel Lene in the thriller zone, Dolly Ki Doli that would have made a brilliant comic feature on the small screen, or Crazy Cukkad Family, which was a nice, albeit slightly dark, sitcom material. The latter film, especially, needed a better title, a more saleable casting, a couple of hit songs and better marketing that could have made it a worthy successor to the Basu Chaterjee-Khosla Ka Ghosla genre.


At the core, therefore is Mehra's take: "In this confusion, most directors, not just the new ones, are faltering. The new directors think that they know the art of making good cinema, but they do not. And they need more experience."


Now, that's the true but tricky one: how does one get experience without making films? What experience did all the master directors have when they made standout debuts? Or the recent greats like Farah Khan, Rajkumar Hirani, R. Balki (who faltered too this year), Neeraj Pandey, Mohit Suri et al?


The answer is really quite simple: any aspiring Hindi film director must watch and study hundreds of Hindi films of all eras, including those movies in which masters like Raj Kapoor and Guru Dutt to a Rakesh Roshan and a Sanjay Leela Bhansali have failed.


In this education lies the future of entertainment because our audience has evolved-but will always be Indian at the core.
BOLLYWOOD NEWS
Catch us for latest Bollywood News, New Bollywood Movies update, Box office collection, New Movies Release, Bollywood News Hindi, Entertainment News, Bollywood News Today & upcoming movies 2021 and stay updated with latest hindi movies only on Bollywood Hungama.