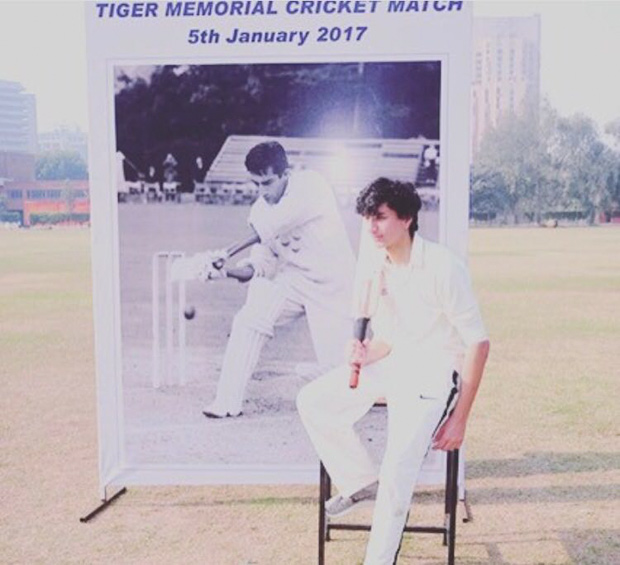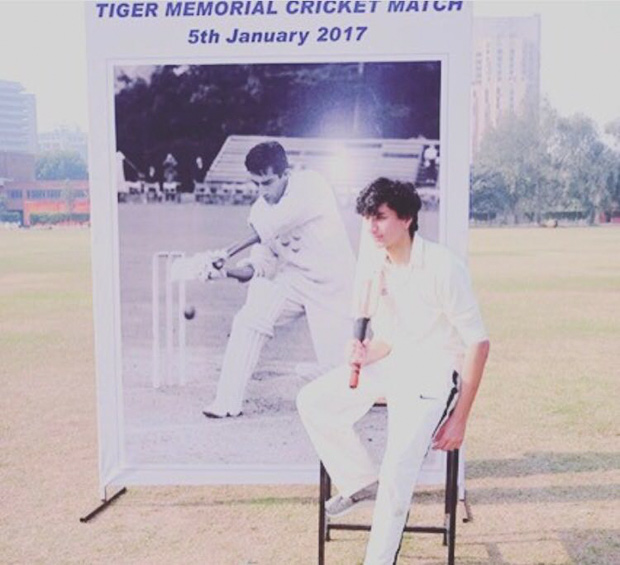 Everyone knows the fact that, Saif Ali Khan's father Mansoor Ali Khan Pataudi aka 'Tiger Pataudi' was one of the well-known cricketers par excellence of his time. He also had to his credit of having been appointed as captain of the Indian team at the young age of 21 years.
At the recently organised 'Tiger Memorial Cricket Match' (which was held in Delhi), Saif Ali Khan's son Ibrahim Ali Khan Pataudi had taken part, something that we had reported about. This time round, we bring to you a really stunning photograph of Ibrahim Ali Khan Pataudi during the said match. It was really a heartfelt photograph to see Saif Ali Khan's son Ibrahim Ali Khan Pataudi against the backdrop of his (late) grandfather Mansoor Ali Khan Pataudi. Because of baby Taimur's delivery, Saif Ali Khan and Kareena Kapoor Khan were unable to make it to the match. On the other hand, Ibrahim Ali Khan Pataudi's aunt Soha Ali Khan and her husband Kunal Khemu had turned up for the match alongwith the ageless Sharmila Tagore (Ibrahim Ali Khan Pataudi's grandmother).
Speaking about the said match that was played between 'Oxbridge XI' and 'Public Schools XI', Soha Ali Khan said that the match was a memorial match that they host every year on Abba's (Mansoor Ali Khan Pataudi) birthday, which happens to be on January 5. She added that they celebrated his birthday with a cricket match, because, he had devoted so much of his life to the sport and also his life reflected the lessons cricket teaches. She also added that, by next year, they were hoping to have enough players to have a 'Pataudi XI' instead of 'Oxbridge XI'.