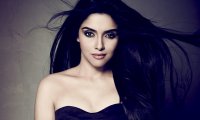 We all know that how important is the holy day of Easter to everybody in this world, especially for the Christian community. For the
uninitiated, this day signifies the resurrection of Lord Jesus Christ on the third day after his crucifixion. This day also marks an end to the forty-day period of
fasting, prayer, and penance called 'Lent'.
Easter also holds utmost importance to the Bollywood actress Asin, who is on an all time high with the success of her just released flick Housefull 2.
Satish Sundaresan of Bollywood Hungama spoke to Asin, to know what Easter means to her and her plans to celebrate the day. Not just that, we also
managed to get the recipe of her favourite Easter dish 'Sticky Toffee Pudding'.
Speaking of the festival, Asin says, "Easter, for me and my family is an absolute feast of the highest order. And on this day, my family and I feast on many
dishes. But what really takes the cake is my ever favourite dish 'Sticky Toffee Pudding', recipe of which I am exclusively sharing with all of you readers of
Bollywood Hungama."
Asin says, "The basic ingredients for the pudding are 150gms chopped dates, 250ml hot water, 1 teaspoon soda bicarbonate, 60gms softened butter, 60gms
sugar, 2 eggs and 150gms flour. And the ingredients for the toffee sauce are 200gms butter, 400gms brown sugar and 250gms vanilla cream. And, here's how to
prepare. Firstly, preheat the oven to 180 degree Celsius. Mix the dates, soda bicarbonate and the water together in a bowl and leave to soak for ten minutes.
Then, in a clean bowl, cream the butter (by hand) and sugar together until it becomes light and fluffy. And as you are stirring the butter mixture, gradually add
the eggs, making sure they are well mixed in. Then, add the flour followed by the date mixture. Then, pour this mixture into a 20sqcm square cake tin and then
place into the oven and bake for 35-40 minutes. To make the sauce, melt the butter in a thick bottomed pan over a medium heat. Then, add the brown sugar,
vanilla cream and stir really well. Simmer for five minutes.
Voila! Your 'Sticky Toffee Pudding' is ready to be served! In order to serve, take a spoonful portion of the pudding onto a plate and pour over the hot toffee
sauce. And…needless to say, enjoy your Easter even as you are enjoying the yummy-licious 'Sticky Toffee Pudding'!
Let me wish each and every reader of Bollywood Hungamaand their lovely families a very Happy Easter."
Bollywood Hungama wishes all of you a very Happy Easter!