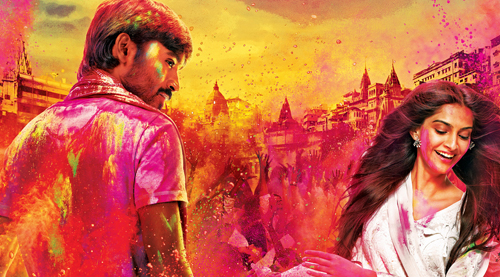 The current conflict between students of the revered Jawaharlal Nehru University and the Establishment brought back memories of Aanand L. Rai's Raanjhanaa two
years ago where Abhay Deol played a students' leader at the JNU while Sonam Kapoor played a student in the same institution.


Through Deol's character Rai had shown the rising level of rebellion and, dare we use the word, intolerance among a certain section of the student community. If you look at the 'JNU' section of
Raanjhanaa, you can easily the see the simmering discontent beneath the surface, the resentment and the anger of a politically aware class of youngsters.


Unfortunately the film could not build on that theme. But to Raanjhanaa goes the singular honour of being the only Hindi film to be shot on the JNU campus.


There have been other important films about student politics, most notable among them being Rakeysh Omprakash Mehra's Rang De Basanti, Tigmanshu Dhulia's Haasil and Mani Ratnam's
Yuva. In Rang De Basanti the theme of students' union versus the administration was so powerfully put forward that in the Delhi University Students' Union Election that came a few
months after the film's release, issues raised in the film were also discussed and debated.


In Mani Ratnam's Yuva, Ajay Devgn played a Kolkata based students' union leader who takes on the goon-like politician who uses students as a vote bank. Abhishek Bachchan played a Bihari
hit-man the loutish Lallan who kills at the behest of the politicians. Abhishek's character harked back quite effortlessly to Sunny Deol's character in Rahul Rawail's Arjun, playing a
jobless youth used as a pawn by a powerful politician (Anupam Kher).


The above films tended to sanitize and even simplify the complex relationship between students, politics and politicians. Perhaps the one film that delved deeper than the surface into the campus
politics was Tigmanshu Dhulia's Haasil. Set in Allahabad University, the film charted the ferocious bloodied battle to the finale between two student leaders played with brilliant erudition
by Ashutosh Rana and Irrfan Khan.


This was Irrfan's first major opportunity to be recognized as an actor of substance. And he took full advantage of the meaty part, milking its potential to show how students are used by politicians
in a game far deadlier than campus politics.


Prakash Jha's Aarakshan too dealt with the theme of students politics. But for a film by a politically conscious director, it did not go far enough into the theme.


One wonders what impact the current crisis at the JNU would have on cinema. Chances are filmmakers would choose to stay away from the theme of students' politics for fear of raising questions which
can only yield uneasy answers.