Global superstars BTS is returning to unfold another story with the new album 'BE (Deluxe Edition)' at midnight November 20, 2020. Their English single 'Dynamite', which topped the Billboard's Hot 100 chart, saw the band bring disco fever around the world, spreading the message of hope with cheerful lyrics and bright melodies. In the lead track of 'BE' that is 'Life Goes On', BTS gives a warm consolation that "life goes on" and speaks on behalf of everyone facing the new normality brought on by COVID-19.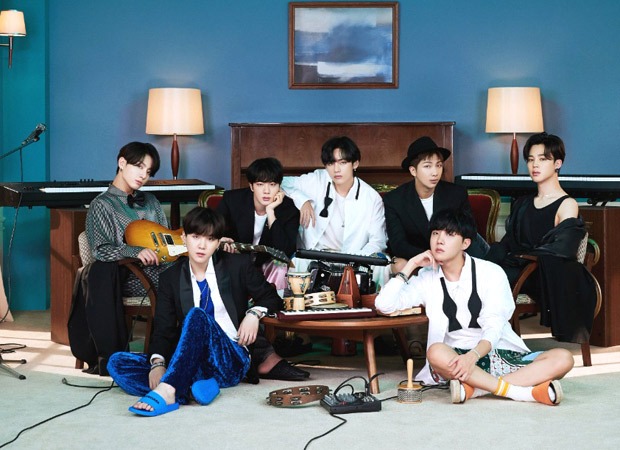 BTS held a Global Press Conference live stream worldwide to talk about their album on Friday morning on November 20, 2020. The members RM, Jin, J-Hope, Jimin, V, and Jungkook were in attendance looking sharp in their suits. Suga was missing as he is recovering from his recent shoulder surgery. "Releasing this album was already planned before the release of 'Dynamite'. With this album-making process, we all showed how we are making the album to the fans through live streams, we sometimes recorded the videos but we also sometimes live-streamed through YouTube," said RM, the leader of the group, on how the album can to be and what was the process like to all seven members to be part of the creative process of his journey. "I'm sure you will feel you made this album together with us. We found happiness in the little things and we had fun."
Jimin, the ace performer, and vocalist served as the group's project manager during the album-making process. "I was the music project manager of this album. Actually, Suga strongly suggested I should take the role. So, I gathered the opinion of the members, organized it well, and delivered it to the staff members." Speaking of the process and the message behind 'Life Goes On', the 25-year-old further said, "When we started working on the album we talked about what topics we should go with and the keyword 'Life Goes On' came up. RM suggested we should show that whatever happens outside, everyone's lives go on and we should show how we keep going even when everything has changed. All the members thought it was a good idea and agreed, so we took the idea of 'Life Goes On' and made the album."
V served as the visual director of the album and brought the creative discussions to life, visually. "I was kind of nervous to take on the role of visual director, but ARMY, our fan,s supported me a lot so I made it thank you. We really wanted to show meaningful content to ARMY It wasn't the easiest process but I tried my best."
RM added how they wanted to impart the message of comfort through this piece of work that they worked on diligently. "Our way of providing healing and consolation that life continues to go on. It is a simple message but it is also a profound truth," he said at the press conference on Friday.
Furthermore, the group spoke about the unit tracks and what fans can look forward to later in the day when the album releases. It was revealed that the second song 'Fly To My Room' is a unit track of SUGA, j-hope, Jimin, and V whereas track seven 'Stay' features RM, Jin, and Jungkook. "I think you will find the song 'Fly To My Room' to be very unique. It's about this situation where we can't travel or go around freely and how the idea of travelling will change in the future. But this song is not a sad song or a melancholy song. It's a fun song," Jimin said.
'Blue & Grey' is a pop ballad with guitar sounds at its forefront. V, who participated in the making of the track, said, "The song may be a bit darker but the guitar sound is very soft. It's an acoustic pop ballad. It's about expressing sadness and depression which is usually expressed as blue and grey, that is the motivation for the lyrics."
'Telepathy'  track is all about funky rhythm and Jin further mentioned how Suga wanted to capture the emotions of not being able to meet the fans amid the pandemic. 'Dis-ease' is old school hip-hop which was worked on J-Hope. "Everyone has a mental disease or illness in one way or another. In the pandemic, when we had a chance to take a break. It was a break tinged with uncertainty and it was uncomfortable," he told the media.
Jungkook further spoke about the seventh track which is 'Stay' a unit song with him, RM and Jin. "The seventh track is 'Stay', which I participated in making. It's a unit song involving me, RM & Jin. This unit has been made for the first time. I think a nice song w/ a new vibe has been made. It's upbeat, yet emotionally overwhelming. And the genre is future house. The song's meaning is that 'though we are far and apart, we'll always stay together. It's an exciting song. Please look forward to it."
With this album, BTS is bringing back 'Skit'. It is a "vivid record of the conversations they had when they first topped the Billboard Hot 100 chart and 'Dynamite'."For this skit, we turned on the mic and we put in our emotions, our reaction when we heard we hit no 1 on the Hot 100 Billboard chart - live and unedited," said RM.
[Trans]

[# Todaysbangtan] #BTS are back with #LifeGoesOn !????
Please wait for our new album MV, and Live Goes On which will be released soon. Wait~ wait!#BTS @BTS_twt #BTS_BE #LifeGoesOn # InternationalPop-KSensation SunshineRainbowTraditionalTransferUSB HubShrimpBTSComeback

— Bangtan_Indiaᴮᴱ-⁷ (인도 아미) ???????? (@bangtan__india) November 20, 2020
Directed by BTS' Jung Kook, the music video of 'Life Goes On' is an encapsulation of their memories. Speaking of making his directorial debut with a music video for the group, the 23-year-old said, "I'm still too embarrassed to be said as 'Director'. I came to take charge of the music video because I like taking videos. I took the role, so I did my best. When I hear 'Life Goes On', I feel realness from it. I thought the emotion I wanted to express is the sadness and the longing that was felt because the tour was canceled due to COVID19 and because we couldn't see ARMYs much. It's amazing that the video that I took and worked hard on is released as a music video. I think it was a great opportunity for me. And I came to have a personal dream of making a splendid music video in the future, building on this opportunity, which is what I liked about the experience."
Furthermore, Jin said the takeaway from this album should be to find joy in the smallest of things. "I hope this can resonate with many people and draw consolation from it. We interpreted these emotions in our unique and fun way. I hope you all love this album. I hope we can find small joys and happiness in our lives."
RM also spoke about Grammys and how they are nervous about it. Two days from now, the nominations of the GRAMMYS will be out and as the industry and fans are expecting, it could be the year BTS might get nominated. "If I say that I'm not nervous at all that would be a lie," RM said, "Every time we have an interview and are asked about the goals, we always mention [Grammys]. We are very nervous and it would be amazing if we are nominated, if it's not, you know."
Talking about evolving as artists and future goals, J-Hope said, "The answer to this question changes all the time. When we first debuted, I wanted to top the music charts but now it becomes more fundamental, I think this position I'm in where I'm standing right now is important to me. I have to know who I am and I want to express myself through performances and music to the fans. I think that's my ultimate goal and who I pursue to be as an artist. I just want to constantly not forget what really matters. And I really want to improve."
With this album, BTS opens themselves up to express their mixed feelings about this situation—fear and anxiety mingled with the determination to overcome all this. The album contains the band's emotions and ruminations they had throughout this year, and the story of "us" continuing the existential journey. That is also the reasoning behind the album's title, BE, that stands for "to be" or "existence" and does not abide by any form.
BOLLYWOOD NEWS
Catch us for latest Bollywood News, New Bollywood Movies update, Box office collection, New Movies Release , Bollywood News Hindi, Entertainment News, Bollywood News Today & upcoming movies 2020 and stay updated with latest hindi movies only on Bollywood Hungama.