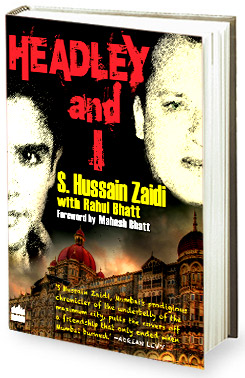 There couldn't have been more topical book as this, especially when Headley has just been sentenced in the U.S. and terrorism continues to be prevalent globally, very recently in India as well. Written by S. Hussain Zaidi, who definitely understands the underbelly of crime and criminals like no one else (his recent book 'Dongri to Dubai' is a testimony of that), 'Headley and I' is told from the point of view of Rahul Bhatt who found himself trapped during months leading to the tragedy of 26/11 and post that.
Book Review: Headley and I
However, the book isn't just about how the turn of events led to the terrorist attack. Instead, it unfolds as two stories running in parallel; one about Rahul Bhatt and his fluctuating relationship with his father Mahesh Bhatt, another about David Headley a.k.a. Daood Gilani and the broken family that he came with. The book is aimed at telling a human story about how Rahul looked at David to be filling in the space left vacant by Bhatt Sr. Though it does succeed in establishing the base well, especially in the first half of the book, as it turns out, the chapters that unfold are mainly focused on the planning that went into 26/11.
The amalgamation works to a certain extent and not entirety as one somehow gets a sense that coming together of both worlds is a 'designed thought' than something that found a 'natural genesis'. In fact if one looks at it objectively, it could well have been a case of two independent tales being told. One, which was about Rahul and his family troubles. Another, which was about what led David to enter the world of 'jihad' and declare war on India. Though one wouldn't really know what was the idea behind bringing these two worlds closer in a single book, the end result thankfully doesn't seem distorted.
This is where Zaidi's prowess behind structuring the entire tale comes into picture as he smartly keeps flip-flopping not just between his two principal protagonists but also past and present, hence keeping a reader engrossed in this real life tale.
So while Rahul narrates the tale around how he had a troubled childhood due to his father's remarriage, the confidence issues that he faced, the transition that he eventually made from someone bulky to being a hunk and the mayhem that awaited him as he explored youth, David has his own stories to tell from the time when he was Daood in Pakistan. Frankly, as standalone stories, one is intrigued to know how there were many parallels that one could actually draw in the way they found themselves alienated, only resulting in extreme decisions being taken.
However, most interesting are the chapters that are centered on the post 26/11 interrogations that follow. Rahul goes into great detail around how he was surprised to find his name in David's conversation, his decision to reach out to the cops, narrating the entire tale around how, when, where and why did he meet David to being nervous, anxious and un-hero like in the countless Q&A sessions that took place with the authorities when even he was being looked at as the suspect.
On the other hand, those portions of the book make one turn around the pages with a feverish pace as notes from David's interrogation are presented as-is in the book. Narrated as a first person account, the chapters establish what led David to take the 'jihadi' route, the missions that he carried out to attack India, his dealings with the terrorist outfits, the training that he received, the numerous visits he made to India without getting caught and then the sense of accomplishment that he had felt after 26/11 attack was carried out. Also, the way he makes fun of the entire security system in India has to be read to be believed.
What particularly amazes is the fact that being a history offender, David is shown to be taking pride in his 'job' and was willing to turn anyone in as long as he was the one who ended up benefiting. Of course it is also revealed that there was a strong emotional connect that had been built between him and Rahul as a relationship akin to being a father-son started developing between the duo.
However, that doesn't take away from the fact that ultimately Rahul was used in the entire chain of events. How really did that happen? Whether he was really doing it all with his eyes wide open? Where was Mahesh Bhatt when this entire mayhem was waiting to explode? And then how things eventually went out of control post the tragedy, is what further finds good space in this 200 odd page book.
Though Rahul's episodes with David may not be equally enthralling since one finds it difficult to digest the kind of connect between the duo, do read the book of you want to gain further insight into the series of incidents that led to the 26/11 attacks.
Price: Rs. 350/=
Rating: ***1/2
BOLLYWOOD NEWS - LIVE UPDATES
Catch us for latest Bollywood News, New Bollywood Movies update, Box office collection, New Movies Release , Bollywood News Hindi, Entertainment News, Bollywood Live News Today & Upcoming Movies 2023 and stay updated with latest hindi movies only on Bollywood Hungama.