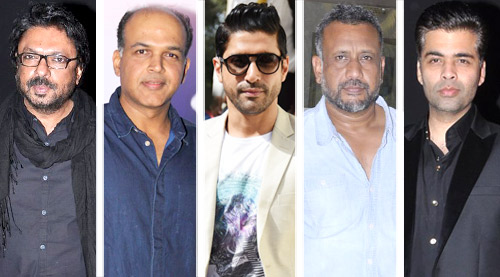 Sanjay Leela Bhansali: "Working with Shah Rukh in Devdas was a completely new experience. I wanted my Devdas to be a simple, volatile, boy -man who's angry and mean and yet has a sad streak that shimmers in his eyes. Shah Rukh as Devdas could convey shades of anger and self-destruction. I feel any human being who can't control his anger ultimately destroys his creative energy. Being a good human being Devdas would rather destroy himself than others who love him. "I can't destroy Paro or Chandramukhi, so I'll destroy myself," is what my Devdas feels. Shah Rukh seemed just right. And I was right. I fell in love with his performance. Shah Rukh understood the character without losing his spontaneity. Obviously the pressures of matching up to K L Saigal Saab and Dilip Saab, who played Devdas earlier, were there. But he never allowed them to bog him down. I don't know what to say about him. He has left me speechless. I had my doubts before working with him. But it's his most endearing and honest performance. The performance came amidst all his personal problems. He was able to project the personal turmoil on screen. If I were to make Devdas again I'd still cast only Shah Rukh. He couldn't match up to Dilip Kumar's Devdas. He didn't try to. Shah Rukh played him so differently. Devdas was a very restless man like Shah Rukh. But Devdas is a man who does very little. The challenge of having Shah Rukh express implosive rage was what got me. If I let Devdas behave like Shah Rukh he'd be a lot more mobile on screen. Unlike the Shah Rukh Khan in Darr, Baazigar, Kuch Kuch Hota Hai and Dilwale Dulhaniya Le Jayenge there's an amazing childlike vulnerability and honesty in Shah Rukh of Devdas."


Ashutosh Gowarikar: "For Swades I needed someone who isn't cynical and yet when he thinks the West is where the action is….contrasting qualities rolled into one. I needed an actor with an unpredictable quality about him. Shah Rukh has it. That Shah Rukh Khan could ride a train, bus or boat as he did in Swades is unheard of. People said, how could I make him do all this. But Shah Rukh is basically from the grassroots. Thanks to his screen image, he could look an outsider in the situations given in my film. I needed that look. Shah Rukh could be the outsider looking into social issues with a sense of dismay and wonderment. And I had hoped his angst would affect the audience. All this wasn't done to be smart of clever as a filmmaker. Shah Rukh and I bonded so well we never realized when the film started. We had done 3 films together as actors. In Swades we had a ball together. Neither of us was trying to impress the other. I had a script reading with him before shooting. He had never done that before in a movie. But because of the preparation no actor looked in awe of Shah Rukh in screen."


Farhan Akhtar: We were friends from before Don. See, both Shah Rukh and I are ardent fans of Don and Mr Bachchan. When we finally started working together it was like his enthusiasm combined with mine. I feel in terms of his real-life personality, Don suits Shah Rukh to the hilt. In real life too there's a certain flamboyance and magnetism about Shah Rukh. He brings these qualities effortlessly to the part. Also, like me, he has great respect and love for the original Don (featuring Amitabh Bachchan). At the same time he gives the character his own spin. In the second Don we took some of the essence of what Shah Rukh did in the first Don. But we've also given him some new things to do. Shah Rukh's energy level is very infectious. He gives very intelligent suggestions. And since I'm always open to suggestions I enjoy Shah Rukh's inputs. We had a whole lot of fun. Though I must tell you it was a lot of hard work. We knew what Mr Bachchan had done to the song 'Khai Ke Paan Banaraswala' in the earlier Don. Shah Rukh and I weren't even thinking about it when we took the plunge. First of all, we're a great fan of the song. It's truly a monster of a song. But what Saroj-ji (Saroj Khan) did with 'Khai Ke Paan…' is incredible. Of course there's an element of deja vu in the choreography. But Saroj-ji took the number somewhere else. In fact all of us paid homage to the earlier Don. It's true that we improved on the technical value immensely. But how far could we go with technique alone? There are many occasions in the film when any other star would have insisted on a double. But Shah Rukh didn't. And that's a blessing. I didn't have to worry about audiences pointing to my hero's face and saying it's someone else. Don 2 has much tougher action scenes than the first Don. And not once did Shah Rukh show any reluctance about doing any of the stunts. He just came and did what he had to without complaining. There are lots of heart-in-the-mouth stunts which Shah Rukh insisted on performing. With Shah Rukh people are always happy to see him."


Anubhav Sinha: "I had approached Shah Rukh with three ideas. He chose to do Ra.One. As far as I know Robot was offered to Shah Rukh after I offered him Ra.One. In fact when I was doing a full narration of Ra.One Shah Rukh smiled and said, 'Guess what? Robot too has a stunt on a train sequence.' In fact as soon as we knew someone else was doing something similar we tried to stay away from what was already been done. Going by the number of prints-900 prints overseas alone-we were safe and home over the first weekend. But I was not looking at the weekend. That's the power of Shah Rukh and the super-hero genre. I was looking at numbers beyond the weekend. Then there would be Ra.One 2. In fact Shah Rukh already has the plot worked out till Part 5. I'd like to write a book about working with Shah Rukh. Do you know, after Ra.One was completed Shah Rukh wouldn't watch it. I kept persuading him to watch it. But he was shrugging it off. As far as he was concerned he had moved on. 'Picture ban gayi na. Now is the time to focus on its marketing,' Shah Rukh told me. He has always been a restless soul. Now he is even more so."


Karan Johar: "More than the energy level he brings into your life it's the kind of support that he gives. You just have to be a director and work with him to know what I mean. There's no one like him. He can put in nineteen hours of work without batting an eyelid. During Kuch Kuch Hota Hai he even adjusted Farida Jalal's dates for me when she couldn't. He was the co-producer of Kaal. I decided to begin the film with a song and thought of several heroines. Anyway after going through a list of item girls I suddenly thought of Shah Rukh Khan as the item boy. I thought, why not? Shah Rukh is the producer and my friend and brother. We've an equation where I can take his presence for granted. I asked him and he readily agreed. Shah Rukh is the best producer and item boy one can find. Everyone knows he cries the world cries with him, when he laughs the whole world laughs with him. The one thing that Shah Rukh hadn't done was flaunt his muscles. ….There has never been an actor like him. Personally for me he's my God, my hero and brother. I don't have to think about how he'll play a character. He does all the thinking on his own. The character comes from my heart and then Shah Rukh takes over. He needs no presentation. His presence is enough. He gives a sub-text, graph and everything that a character needs. He understands what I want from his performance. And he gives that extra bit by himself. I feel I fail Shah Rukh. When will I give him that one film where I'll write a role that would do justice to him? In Kabhi Alvida Na Kehna …he did everything on his own. I wrote a simple character. He gave it the right nuances and complexities. Time and again I'm blown away by Shah Rukh. How can he think of so many things about his character when he has so much on his plate? He did monumental research on his autistic character in My Name Is Khan. I was zapped by how much he knew on the subject. And he brought all the knowledge on the sets without any strain. He had written reams of notes on how he wanted to interpret his character. And to him it was no big deal. He's ready to direct a film any time. He will be outstanding at it. His understanding of human nature and emotions can never be matched by me. I feel two hardworking talented people are bound to form a productive team. When these two people share a special familial camaraderie there's bound to be very valuable emotions between them and those emotions are bound to translate on screen. Shah Rukh and I work so well together because we care so deeply for each other in real life. Creativity compounded with brotherly love cannot go wrong. If you ask me, I'm happy piggybacking on his stardom. There can never be an ego between us. I know only too well that he's successful way beyond what I can ever be. Stars don't get any bigger than Shah Rukh Khan or Amitabh Bachchan. Once a filmmaker accepts that the ego never comes in the way. I'm happy with the success God has given me. And I'm happy God has given me Shah Rukh to attain that success. There are certain stars who glow much more brightly than others. That's why they're called superstars. Shah Rukh has been integral to my cinema from Kuch Kuch Hota Hai to My Name Is Khan On a personal level he is family, friend and that elder brother I never had. I need him more than he needs me. So where's the question of moving on?"
BOLLYWOOD NEWS
Catch us for latest Bollywood News, New Bollywood Movies update, Box office collection, New Movies Release , Bollywood News Hindi, Entertainment News, Bollywood News Today & upcoming movies 2020 and stay updated with latest hindi movies only on Bollywood Hungama.