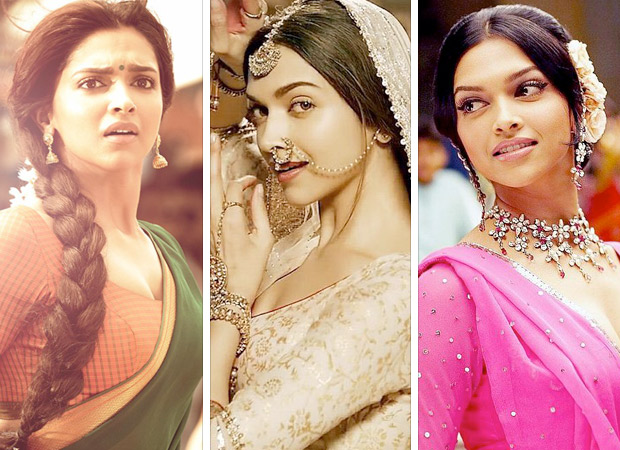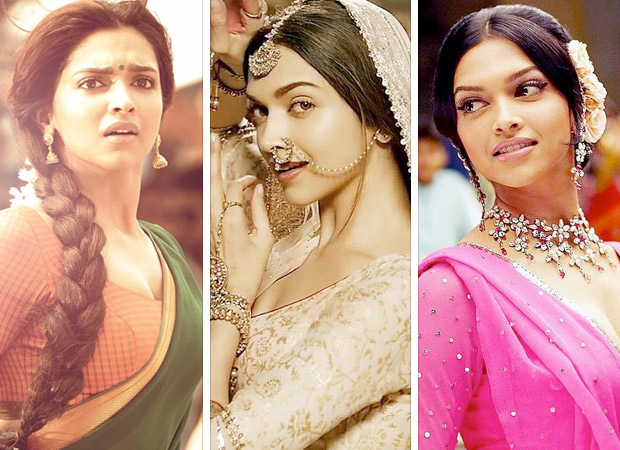 No Indian actress has built such a formidable body of work in such a short span of time. Deepika Padukone's rise to the top has hardly been slow and steady. Her meteoric rise to the top exemplifies the will to excel and the determination to disengage the audience from the belief that children belonging to Bollywood empires are specially blessed. Look at Deepika's oeuvre and you know who's the most blessed.
Om Shanti Om (2007): A picture-perfect poised debut in a double role, Deepika was the consummate filmy heroine. I remember Karan Johar oohing and aahing about how dangerously low she wore her cabaret outfit in a number dedicated to the dancing legend Helen. Deepika has since then never shied away from taking risks. Incidentally Deepika did another double role inChandni Chowk To China within one year. The less said about that the better.
 Bajirao Mastani (2015): Her most recent performance, though unfavourably comparable with Priyanka Chopra's uninhibited performance,  still managed to showcase Deepika's impressive journey from Farha's fluff to Bhansali's epic.
Love Aaj Kal (2009): After her debut in 2007 came this, the second turning-point in Deepika's career. In Imtiaz Ali's film she was the victim of a commitment-phobic indecisive Saif Ali Khan's whimsical attitude to love. Friends say Deepika went through a similar experience with her then-boyfriend Ranbir Kapoor. Be as it might, Deepika's growth as an actor was emphatically evidenced in just two years after her debut.
Lafangey Parinday: One of Deeepika's most neglected performances, as the blind roller-skating dreamer Pinky Palekar in this Pradeen Sarkar film she brought in an ethereal quality to her role of street smart winner whose vision was impaired but could see into her future. And it was bright! No heroine since Audrey Hepburn in Wait Until Dark looked so pretty and convincing playing blind.
Cocktail (2012): After an indifferent 2011 when she made no impact in Prakash Jha's Aarakshan and Rohit Dhawan's Desi Boyz, in 2012 Deepika shocked stunned and regaled with her sassy go-getter's role of the mellow vixen Veronica in Homi Adjania's Cocktail. Interestingly Deepika was slated to play the other female protagonist that Diana Penty eventually did. Deepika preferred the naughtier darker sexier role. Smart move. She never looked back after this.
Yeh Jawani Hai Deewani (2013): A muddled mess of a movie where Deepika stood out as the repressed Naina who comes into her own after meeting a self-obsessed stranger (Ranbir Kapoor, of course) during a holiday trip. It was all very hip and young calculated to make the Ranbir - Deepika pair look cool in their emotional confusions. Deepika was rocksteady in conveying her character's turmoil
Chennai Express (2013): Deepika's Tamil accent was the most lethal and potent part of this tacky tale, the kind that comes out regularly from mainstream entertainers who think laughter is a loud speaker. Deepika shone above the material provided to her.
Goliyon Ki Raas Leela Ram Leela (2013): Pinch me awake. Was that a dream? Or was that really Deeepika gliding across the garba as though to the Gujjus born? Doing a dhokla Juliet Deeepika pulled out all stops under Sanjay Leela Bhansali's stern direction.
Finding Fanny (2014): In an otherwise dull and pretentious film Deepika's swift switchover from a Tamil and Gujarati accent in 2013 to a Goan twang in 2014 was the USP.
Piku (2015): Playing Amitabh Bachchan's daughter for the second time Deepika nailed it as the harassed Bengali working girl coping with an over-demanding father's bowel obsession and her own workplace problems.
Tamasha (2015): A young woman obsessed with the idea of perfect love, this according to me is Deepika's most sorted performance to date.