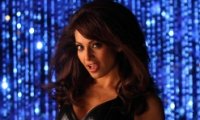 Promos of Players are on and while for many out there it would be quest for gold that would be a major reason to catch the film, for the rest a good dekko at Bipasha Basu and Sonam Kapoor would be a reason to feel content as well. Not just are the two looking smoking hot, they are also carrying forward the tradition followed by Abbas-Mustan when it comes to presenting their leading ladies.
>
"Yes, we are quite particular when it comes to giving audience something which is visually appealing. It could be the way film's narrative moves ahead or the leading ladies, they have to look special", says Abbas Burmawala (of Abbas-Mustan duo), "Whether it was Bipasha Basu (Race), Priyanka Chopra (Aitraaz) or Kareena Kapoor (36 China Town) - each of them had to be special. Same holds good for Sonam as well in Players. She has looked like never before."
For the makers, the first challenge was to go ahead with an absolute image transformation for Sonam.
"See, it's a fact that Sonam has never done a full on glamorous role before", he continues, "She started with Saawariya and then went on to do films like Delhi 6 and Mausam. In none of them she got a chance to get into a glamorous zone. Even in I Hate Luv Storys and Aisha, she wasn't being one of those quintessential Bollywood leading ladies who are presented stylishly on screen. We wanted to change that. Of course it was a challenge for her too but looking at the results, I am sure audience too would acknowledge that we managed to create something special for Players."
Well, one can indeed see that, what with Sonam being presented in a hot and stylish glamorous avtar, something that has been an unexplored territory for her so far. This wasn't the case though for Bipasha for whom it was pretty much a walk in the park to exude oomph all over again.
"Yes, Bipasha came in since we wanted to project the right age difference between two leading ladies", acknowledges the director, "So while Sonam plays someone who looks like a 20-22 year old girl, for the other character of a mature-n-sexy 28-30 year old woman, it was Bipasha who was our first choice. Since we have worked with her earlier, it was but natural that she fits the bill."
We agree to that as well!