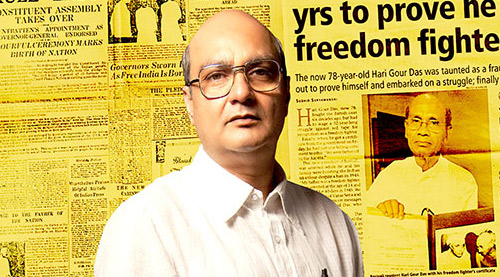 After Mary Kom and Bhaag Milkha Bhaag there hasn't been any significant bio-pics emerging from Bollywood. That's about to change. In August there are two important bio-pics being released.


First out on August 14 is Gour Hari Dastaan: The Freedom File. Prolific director Ananth Mahadevan who last created a bludgeoning impact with his Marathi visual life scape on the social crusader Sidhutai Sapkal is again on the bio-pic route. This time he shot the story of freedom fighter Gour Hari Das in Hindi, with the active participation of the actual character who's now 84.



Gour Hari Dastaan is based on Gour's memoirs and is a revealing account of a country squandering its advantages. While Vinay Pathak portrays Gour and Konkona Sen Sharma plays his wife, the real Gour is super-charged about the film getting facts about his interesting life in a proper perspective.



Says the director, "I first broached the subject with the London Film Festival audience when they told me that they would look forward to my next film after Mee Sindhutai Sapkal. The idea of a disillusioned freedom fighter struck a chord and they unanimously approved of it. It would also be a rare instance of the British not being lampooned in an Indian film."



Gaur who is now 84 was actively involved with the making of his bio-pic. The film is based on Gaur's diary recordings. Says Mahadevan, "His first reaction was, 'Why a film on me?' Now after he has seen my seriousness regarding the project he goes around excitedly telling everyone that a film is based on his life. He has his entire struggle with the government written in what he calls The Freedom File. These files are the basis for my screenplay."



Ranvir Shorey plays Gaur's closest friend. Ranvir's character is actually an amalgamation of two real-life characters. Divulges Mahadevan, "This friend is actually a neighbour of Gaur Hari. They still live in the same building. The friend was the guiding force who egged Gaur on to fight the government. I've taken the character and fused it with a journalist's character."



Ranvir is not the least insecure about his best friend and wife playing a couple. Says the director. "Not at all. Ranvir and Vinay share an immaculate partnership. They both sublimate their individual egos to be part of one another's films. If you remember Bheja Fry, Ranvir had done a small part in that film for Vinay's sake. In Gaur Hari Dastaan Ranvir gladly stepped into the friend's part."



Vinay Pathak was Mahadevan's first and final choice for the part. "I needed an actor who was rooted to the middleclass reality. And I needed someone who could portray Gaur's 30-year struggle for justice. Vinay has to age from 35 to 65."



The makeup is being done by Santosh Gayke, the same artiste who aged actress Jyoti Chandekar in the Marathi masterpiece Me Sinduhtai Sapkal.



Explains Mahadevan, "We're all supremely charged about this film. It captures the tumultuous years in a freedom fighter's life, ironically after attaining independence. Gour Hari Das still resides in Kandivli, Mumbai. He spent five years of his teens fighting the British and then thirty years to obtain a freedom fighter's certificate. The latter was tougher than the former, he admits. The film holds up a Kafkaesque mirror to a country gone wrong."



The other striking bio-pic in August is Manjhi Mountain Man, Ketan Mehta's saga of the Dashrath Manjhi , an impoverished peasant from Gaya in Bihar who spent 22 years from 1962 to 1982 cutting a road through the mountain with his hands and a chisel so that there would be easy access between his village and the nearest hospital .



The amazingly talented Nawazuddin Siddiqui who plays Manjhi not only lived in Manjhi's village but also cut the mountain with his own hands to get a feel of the struggle and hard work that Manjhi undertook.



Says Nawazuddin, "To play a real-life character like Dashrath Manjhi is not easy. Unlike Milkha or Mary Kom whose triumphs are well documented in print and in pictures, an unsung hero like Manjhi has not left any documented legacy behind. I had to use all my powers as an actor get it right."



Ketan Mehta who has earlier filmed bio-pics on Mangal Pandey, Sardar Patel and Raja Ravi Varma says, "It's an incredible story. What Manjhi has done is greater than anything anyone could've ever done for love. He made a monument of love, with his own hands by breaking the mountain and paving the way. And it goes beyond being just a thing of beauty like the Taj Mahal- it actually transformed the life of the entire region! I am completely fascinated by Manjhi and am glad that finally I can take this inspiring love story to the world."


Neither bio-pic is afraid of the competition from the blockbusters that have swamped the theatres since July.


Speaking on behalf of both the August biopics Ananth Mahdevan says, "Such films cannot be compared with Bahubali, Bajrangi Bhaijaan and Brothers. We're in a league of our own."
BOLLYWOOD NEWS
Catch us for latest Bollywood News, New Bollywood Movies update, Box office collection, New Movies Release , Bollywood News Hindi, Entertainment News, Bollywood News Today & upcoming movies 2020 and stay updated with latest hindi movies only on Bollywood Hungama.