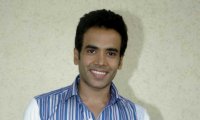 Stating that Tusshar Kapoor is one of the main pillars of Golmaal series would be repeating the obvious. After all along with Ajay Devgn and Arshad Warsi, he has stayed on to be a constant part of
this franchise which is now unveiled it's third instalment. While his 'goonga' act with a love for expletives is the choice of the masses, Tusshar in real life is much quieter and if one observes right, even
a tad shy. As he awaits the Diwali celebrations to kick start with the release of Golmaal 3, Tusshar gets talking to Joginder Tuteja about his film.


Golmaal is a known setting. Does that make it a far more comfortable outing for you?
Yes, it becomes
comfortable but then despite a known setting, we treated this like an altogether new movie. Yes, there are high expectations from the film but then they are good because they keep you on your toes. Also, now
because Golmaal 3 has become even bigger due to large number of actors, you have to work harder to make your presence felt.


But how did the team ensure that the confidence from the success of earlier two instalments didn't border on over confidence?
Yes, we were confident for
sure. However, as the captain of the ship, Rohit (Shetty) himself made sure that no one, including himself, turned overconfident at all. In fact he was always thinking that we should not be taking anything
for granted or get carried away. In fact he used to talk about Golmaal and Golmaal Returns and inspire us all to do something different.



Rohit (Shetty) himself made sure that no one, including himself, turned overconfident at all

Like?
If there was something that people didn't like in the first two parts, he would fine tune the
script to correct it this time around. Just like every other creative person, he too had his bouts of insecurity. But yes, overall we were quite confident while keeping enough space for improvement.


Improvement? So do we see Tusshar beginning to speak now as well?

[Laughs] I guess Rohit won't allow me to change that at all.


But don't you feel that with others getting the speaking part, you could pitch in as well?
I used to
have such apprehensions but mainly in the first part. I felt that amongst so many people, ek gooonga aadmi kya karega. However, after working in Golmaal Returns, I guess this exactly is the USP of
this character. I have realised that this trait of the character has been justified even before with Golmaal 3. I have got my due by getting ample scope to perform. After finishing the shooting, I am
feeling very secure and happy.
Audience will get enough of this character in Golmaal 3. [Smiles] And guess what, I also have a long emotional outburst scene this time around. Imagine going mute for that!



After finishing the shooting, I am feeling very secure and happy

Well, one couldn't imagine you pulling off your stunts as well. What made you go for that 'jeep over the cars' stunt?
Ask me
(Laughs). When the script was narrated, Rohit had told me that I would be driving a sand bike. It was later when he said that it would be a jeep. I thought that may be he would put it on a harness, so I
consented to it. When I reached the location, I went like 'Oh my God, this vehicle is going to wobble; after all there were three slopes that I had to go over'. I didn't know how I would manage that and just
kept telling myself that
'let me try; I may just about manage to pull it off'.


And then...?
I was scared and thought of going over one slope at a time. We started doing like that and
it was fine. Then we took another shot with the second slope and so on. It was lunch and I thought that I was done. This is when Rohit threw a bomb that now he wanted me to attempt all three slopes at the
same time. I somehow did that and thought that I was finally done. Guess what, I still wasn't. Now he asked me to do it again as he also wanted some close-up shots. Man, it was some experience for sure.
So we have a mute Tusshar, some good camaraderie, a familiar environment and some stunts. With all the fun and frolic around, do we actually see a concrete storyline as well in Golmaal 3?

The most special thing about Golmaal 3 is that it has a nice emotional base to it. There is a proper script and storyline and a treatment that
makes it a family entertainer. The narrative is such that the characters have emotions. Of course comedy is there throughout because that's an integral part of the film's flavour. We took the best of the
first and the
second part and added a lot more to it.


The million dollar question though is, will Golmaal 3 manage to emulate the success of earlier parts?
It
has an edge over other comedy films that we have seen in the past. Typically in case of out and out comedies, you see comedy, comedy and then some action before the film ends. That is not the case here as it
also comes with a certain depth due to an emotional aspect to it. It comes with a capability of crossing the success of both the films.
BOLLYWOOD NEWS
Catch us for latest Bollywood News, New Bollywood Movies update, Box office collection, New Movies Release , Bollywood News Hindi, Entertainment News, Bollywood News Today & upcoming movies 2020 and stay updated with latest hindi movies only on Bollywood Hungama.