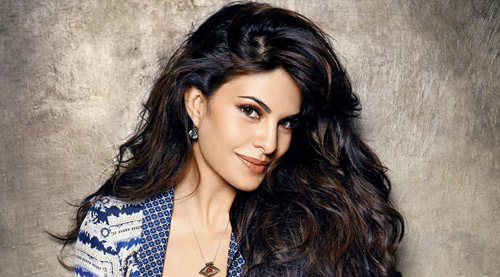 She was last seen playing a ruthless con-girl in Race 2 and after that she grooved to the desi beats of 'Jaadu Ki Jhappi' (Ramaiya Vastavaiya). But Jacqueline Fernandez hit bulls eye in Bollywood when she bagged the most awaited film of the year Kick. Being a Salman Khan venture and knowing his fan base, Jacqueline surely considers it to be a privilege to work with this Khan but the actress has a lot more to share about her rapport with producer turned director Sajid Nadiadwala, the effort behind her amazing moves in 'Jumme Ki Raat' and her first dubbing experience in Hindi cinema. In a candid chat with Bollywood Hungama, Jacqueline Fernandez talks about her five year journey in Bollywood and her memories attached with the recently released Kick.


What was your reaction when you bagged the role of a leading lady in Kick?

I always read about the film in the newspaper but I never bothered much because I knew that Kick will go to a complete A-list actress. In fact, when Sajid Nadiadwala decided to direct it, it became even bigger. I never considered myself to be A-lister because I hadn't done enough work to prove myself. I was pretty taken aback when I got this. The reason is that in Bollywood there is a trend; you either take a A-list actress for a huge film or a complete newcomer. So it is kind of difficult when you are stuck in the middle. I was doing multi-starrers, sequels, item songs. So when they signed me, I knew I had to work really hard because I wasn't going to get another opportunity like this.


In an interview for Race 2, you said that you are scared of dancing and now in 'Jumme Ki Raat' we see a complete different Jacqueline, how difficult was it for you to do those steps?
Ahmed Khan who also choreographed me in Race 2 ('Lat Lag Gayi') wanted to try something different with me in 'Jumme Ki Raat'. So he included a music piece in the song, which wasn't a part of it initially. He saw some potential in me to do that crazy choreography. We worked on that music piece for about 4-5 days and he told me that he wanted me to flip and do splits in that dance. So keeping that in mind, I had to wear a dress that will make me look hot and sexy yet comfortable enough for me to do those steps without looking vulgar. I also had to do it in heels because they look more graceful. In fact, we spent an entire day shooting that 30 second bit. It is the most difficult choreography I have ever done.


Tell us more about your character Shaina.

My character is a very serious, conservative kind of girl. Shaina is a psychology student and pretty studious too. Being a no nonsense girl, she believes that Salman (her love interest) needs a psychiatrist since he is a complete opposite of what she is. The Devil (Salman) wants to get a high out of everything. In fact, in the song 'Jumme Ki Raat', Salman Khan tries to woo her and it is where Shaina starts loosening up and getting out of her conventional character and becomes wild to prove a point.


In Race 2 you play the girl with a grey streak and in Kick you are the sweet innocent girl… which kind of roles do you prefer as an actor?

As an actor, you want to play every single character. Whether it is Race 2 or Aladin or Kick, to me, the characters in all these films were equally exciting. Before going ahead with the film, I like to suggest some changes and in fact, styling is also very important for me when it comes to playing a role. Every character brings enjoyment; it is just that some are more challenging. Some physically, some emotionally! You have to approach every single role differently and I have pretty much loved all of them.


How was the experience of being the Khan heroine?

Before shooting with him, it was nerve-wrecking. Every actress wants to work with a Khan and for me it was a huge privilege. He is someone I have idolized. Though I was never into Bollywood movies, I knew Salman Khan. Being this huge star and so good looking, I never thought I will get to work with a Khan so early in my career. Salman Khan as a person is this blend, someone who has the energy of a superstar and an aura of a normal guy. He doesn't like extravagant things, he is someone who loves simple stuff. From his sense of dressing to his home, everything is very simple. I haven't seen that in a celebrity. People who gain fame immediately change. But Salman Khan is just not bothered. He does want he wants to.


How was it working with Sajid Nadiadwala?

Nadiad (Sajid Nadiadwala) Sir should have started directing movies years ago. He is a natural director. Seeing him and Salman is magical since they have been friends for the longest time. He is got an amazing sense of humour and is also a very spontaneous director. He also knows where his actors are getting stuck and what to do. His eye for detail is amazing.


Are you doing anymore films with the filmmaker?

No. I have not signed any films with him. But I hope my next film with him is really cool. I know he has some amazing projects coming up but he has been so buried into Kick. Once all of this is over, we should be discussing some future projects.


What's the progress on your next film Roy? What is your role all about?

I will start shooting for the film (Roy) in August with Arjun (Rampal) and Ranbir (Kapoor) will join us in September. I am doing a full outdoor shoot. That's an interesting movie since I will be doing a double role for the first time.


Are both roles positive or negative?

There is nothing like that. Both roles are of very normal human beings, completely unrelated. The two roles have no connection with each other and that is the beauty of it.


What is the progress on your Sri Lankan debut According To Matthew?

I am waiting for it too. I am really hoping that I will get a glimpse of the movie soon. We finished shooting for the movie six months ago. It should release by early next year.


Are you doing a cameo in Bangistan or is it a full-fledged role?

I am doing a cameo and a song. Bangistan does not have a heroine. It is mainly about two boys played by Riteish and Pulkit and the script is unbelievably hilarious. And there is this character who comes and goes in their life, and it is very a essential character in the film. I am really excited to work with Karan Anshuman since I have always loved Karan's reviews in Mumbai Mirror.


It's been about five years of your journey in Bollywood and considering that there has been a lot of models trying their luck in the industry… what will be your advice to them?

If you are a foreigner, I think you need to work really hard towards making yourself very Indian. Many a times, we tend to forget that we are acting in a Hindi film. So it is very important for the actress to be aware of the culture, tradition and even movies. People will not find the need to invest their time, money or energy on you otherwise. I know it is difficult but you will have to focus on that the most.


How was your debut experience of dubbing in Hindi… Was it easy considering you have been here for a while or was it difficult?

Honestly, I was more exhausted dubbing than actually shooting. Just matching emotions, getting the words right! But I have to say that dubbing was the best diction class ever. I was so excited to do it. I know there is a lot of work to be done for the future and I have a long way to go, but at least now I believe that since I have started it, it will only get better for (my) future films.
BOLLYWOOD NEWS
Catch us for latest Bollywood News, New Bollywood Movies update, Box office collection, New Movies Release , Bollywood News Hindi, Entertainment News, Bollywood News Today & upcoming movies 2020 and stay updated with latest hindi movies only on Bollywood Hungama.