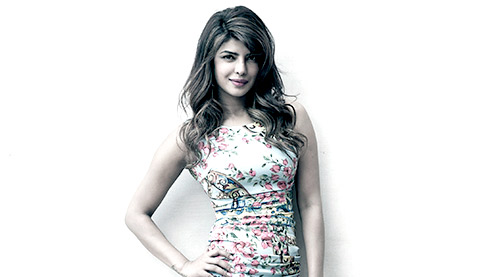 "I don't like doing intimate scenes. It's always uncomfortable," said Priyanka Chopra in a Bollywood Hungama exclusive Skype interview from Montreal, Canada with Faridoon Shahryar. "The police system is as strong as the government is. And the support that it gets from the government," said Chopra about the recent incidents of lawlessness witnessed at Patiala House court in Delhi where Police was a mute spectator as journalists and students were thrashed by goons. "People are more worried about it than me. I think I should start getting a little more worried," that's how Priyanka reacted on the speculation around what she shall be wearing at the Oscars ceremony on February 29 where she is one of the presenters. All this and much more in this must read interview.

Jai Gangaajal had some very powerful dialogues that talk about power of uniform. We have seen in the recent times how police proved to be ineffective at the recent brawl at Patiala House, New Delhi. Do you think there's a certain responsibility on the police as well that they should be following diligently?
Well, there always will be a responsibility on law enforcement agency of any kind. But the police system is as strong as the government is. And the support that it gets from the government. That's how strong you law enforcement on the field will be. I am a defense officer's daughter. The defense will be as strong as the government allows it to be. Eventually and inherently, everything boils down to the system.

You guys had a tough time with the Censor Board. What was your reaction?
I was very excited that I had Prakash Jha at the helm of things to fight it. I think that every story needs to give its particular ability. A filmmaker's voice should not be suffocated. You have a Censor Board for a reason and you shouldn't have double standards. So I am really happy that Prakash ji stood up for the film

What's your reaction to the entire speculation that what will you be wearing at the Oscars?
People are more worried about it than me. I think I should start getting a little more worried. A lot of dresses are coming up from around the world. My stylists are getting a lot of clothes from many designers. Today I'll do a fitting and another one in a few days. I'll have a few options on the day and then I'll see which one I'll wear. Main zyaada plan nahin karti. I am not one of those girls who is involved with clothes, make up etc. It's my job and so I do it. Lekin agar mera bas chale, toh main jeans aur T-shirt pehen ke ghoomu.

And it's primarily the million dollar smile that will do the magic ultimately...
Yeah I depend on my smile and my confidence.

You are producing a Marathi film, a Bhojpuri film and a Punjabi film. What made you concentrate on regional cinema?
Well, I am born in Bihar, I have lived for around 15 years in Maharashtra and I am a Punjabi! So, I decided to produce those 3 films. When I created Purple Pebble Pictures, my vision for me always to create a production house that supports talent and storytelling. When I joined the movies, I did it alone with no one telling me what to do. I don't think films and storytelling should be bound by geography and barriers. I want content to be the king at the Purple Pebble Pictures.

You are also coming up with a mobile series called 'It's My City'.
I like being the first to do something! But besides, I found the story very interesting. When I first came to Mumbai with my best friend Tamanna, we lived in PG accommodation. Tamanna and I are still best friends. How the lives of these 2 girls living in the city got shaped is something interesting. But 'It's My City' is a story of 4 girls living in a house owned by me as their landlord and how I am bit of a mentor for them. Bahut interesting kahaniyaan hai about things that happened in girls' lives. And I opted for mobile television series because nowadays content is in your cell phone.

You have managed to bag 'Baywatch' and Dwayne Johnson introduced you as 'the biggest star in the world'. A lot of debates are going around as to what bikini colour you would be sporting in the film! What is your reaction?
I am very excited about doing 'Baywatch'. I was a very big fan of the TV series when I was a kid. I was apprehensive at first but I read the script and I realized that it's such a funny, funny, funny film! I love the fact that I am playing an antagonist. I am the interruption in the Baywatch squad's slow motion run! So I am not playing a lifeguard and I love my heels. Mujhe nange pair chalna achcha nahin lagta!

Quantico has been received very well by audiences across the world. How does that feel?
Yes, I am very excited. 'Quantico' has been seen in almost 120 territories. We have dubbed in 44 languages around the world. Wherever I travel across the world, people ask me about the show. I remember I went to LA and the security officer at the immigration told me, "I won't stamp your passport until you tell me who is the terrorist in the show"! I started laughing and said, "Please don't ask me such questions at an airport in the US. I am a Brown girl." I was initially about leading a show as an Indian actress in a country where people don't know me. So I was excited that it was accepted so well.

What is about yourself that you can adjust yourself anywhere? Your body language in Quantico suggests that you are a natural part of that context. Also, you seemed very comfortable in the lovemaking scenes, including the one in the washroom?
But that's my job as an actor. Even if I am afraid, I don't let people see in my performance. Whether its action or drama, when I am crying, I make you cry with me and when I am laughing, I make you laugh with me. But it's awkward; I don't like doing intimate scenes. It's always uncomfortable. There are 400 people watching. And women always get reduced to those scenes. That's always what's talked about. The achievements don't get talked about.
BOLLYWOOD NEWS
Catch us for latest Bollywood News, New Bollywood Movies update, Box office collection, New Movies Release , Bollywood News Hindi, Entertainment News, Bollywood News Today & upcoming movies 2020 and stay updated with latest hindi movies only on Bollywood Hungama.