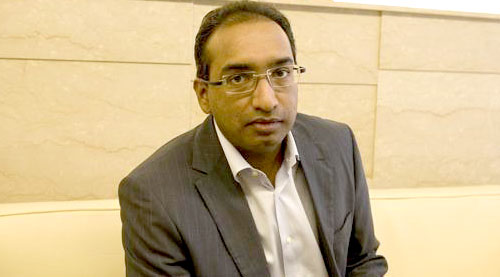 Sameer Nair is to Indian television what Rupert Murdoch is to the home medium worldwide. In the year 2000, when

satellite broadcast on India was struggling for an identity, Sameer Nair joined Star Plus as Head Of Programming and turned the tides of television

viewing by spearheading the ultimate game-show Kaun Banega Crorepati and the Mataji of all soaps Kyunki Saas Bhi Kabhi Bahu Thi.

14 years later, Sameer is back at the helm, this time as the Group CEO of Balaji. In a freewheeling interview with Subhash K Jha, Nair discusses his

long association with Ekta Kapoor and the entertainment industry.

You are the guy who brought us KBC and Kyunki... How does it feel to be working with Balaji?

Very comfortable. I am happy. I've known Ekta for 15 years. Whatever the stories about our

rapport we are very comfortable with one another. She still possesses the same zest and energy that she did when she did Kyunki and

Kasauti Zindagi Ki on Star. Not too many people remember that Kyunki Saas... and KBC began telecast on the same day.

Interestingly, I've joined Balaji when they're celebrating 20 years of their existence. I am also 20 years old in the business. I started at Star Plus 20

years ago. Both Balaji and I started in July 1994. So it's a homecoming for me.

How do you see the growth of the television industry?
It's been like a whole

generation coming up in front of me. But I haven't seen it all. There's much more to come in the television industry. If back in 2000 when you

interviewed me I had said that 14 years down the line there would be 800 channels and 200 news channels you'd have laughed and asked what

was I smoking.

What prompted you to join Balaji?
We were in discussion for six

months. I've been working with Balaji in an advisory capacity. After their wonderful success where does Balaji go from here? Balaji is ready to

move to the next level, to scale up the business and get more collaborative. The film business would be the prime area of growth.
What are
your specific plans for Balaji?
I am here to understand the system and to
streamline the organization wherever required. They are already a super-efficient organization. I am just here for standard house-keeping. I am
here to build the movie business. The future is collaboration with national and international companies.
Would you be directly involved with the film business?
Of course. My whole brief and
approach is, 'Don't fix anything that ain't broke'. A lot of things here at Balaji ain't broke, so there's nothing to fix. The growth of the film business
will be my primary focus, and I'll be looking at a lot of new content opportunities. The future is about multiple screens. All the big TV networks
and distribution platforms are looking for newer ways of reaching consumers. As one of India's leading content creators, we at Balaji should be
hands-on.
Do you feel television is too dependent on cinema for sustenance?
I don't think so. Movies on
television is a genre and they will remain so. In fact I'd think it's the other way around. Bollywood has begun to depend on television. All the new
films are promoted on the entertainment channels. And if you take away the channels it would be pretty difficult to market a film. Visiting Kapil
Sharma's show has become as mandatory for film teams before their release as visiting the Siddhi Vinayak temple. The profile of television
entertainment has changed. What used to be the GEC (General Entertainment Channel) and has become the NEC (Niche Entertainment Channel).
The niche is no longer a small section of the viewing experience. The niche channel is now the mainstream channel. You've comedy channels,
movie channels, reality shows etc.
Do you think the reality show has taken over from fiction television?
For 14 years KBC and Kyunki
Saas Bhi Kabhi Bahu Thi have remained the benchmark. Now we see some change in the soaps, like Balika Vadhu for example. Soaps
are always cost effective in spite of the sameness. But there is scope for a lot of change with a 12- million DTH homes in the next 3 years. Look at
House Of Cards. It's done by an online distributor. Something of that sort will happen on Indian television. Reliance Entertainment is
planning the next level. Even the telecast of the recent IPL matches… while BIG TV had the broadcast rights… Starsports.com promoted the
matches all through. So if you were not near a TV, you could still watch the matches on your phone or the iPad. That's really a sign of times to
come.
Do you think television is replaceable?
No. At the end of the day
television remains the most effective way of distributing video content, just like petrol is the most effective fuel. But customers' habits are
changing. That's why I am sold on niche channels. Like the Telemundo in the US which is actually a very successful Hispanic soap opera channels.
So niche rules.
Reality
shows seem to be ruling television. Are they going to remain in favour?
See, reality unscripted programming costs a lot
of money to produce. The bread and butter for the entertainment channel comes from daily soap operas. Every channel wants to push the
envelope in fiction programming. Colors did 24 and Sony is doing Yudh.
Every channel is in pursuit of the right formula. There're so many high-quality fiction programmes on American television. Look at 30s Rock. It
stars a big star Alec Baldwin… Kevin Spacey did House Of Cards.
Are you in search of the right formula for Balaji?
Ekta Kapoor is an incredibly
competent storyteller. Because she is so successful at fiction, audiences are not exposed to her insight into other genres.
You made Star Plus a huge success. Why could you not encore the same success with NDTV Imagine?
I don't know. But the way I see it now, after the success at Star, there were very high
expectations. Also while creating programmes for NDTV Imagine, we had a few successes. But nothing that took the ball out of the park. Our team
here worked as hard as it did in Star. I am happy to get an opportunity at Balaji to work on both television and cinema.
Which shows do you watch on TV?
Comedy Nights With Kapil.
Everyone watches that. And I watched all of 24.
Would you adapt an American serial like 24 for Balaji?
It's a good idea. But the
economics need to be right. There is no taking away from the fact that some Western shows can be adapted into the Indian context.
Finally what is the future of Indian television?
Niche programming. For me at
Balaji, the big priority area is movie production. Balaji is a content powerhouse. But I feel it can get better. And I'll work towards it. Unlike my stint
at Star and NDTV Imagine, here I already have a very successful organization to work within at Balaji. I need to build on it. And I am not going to
change what is already successful. Between Ekta and me, we have a lot of ideas for television and movie content. This is great opportunity for me.

BOLLYWOOD NEWS
Catch us for latest Bollywood News, New Bollywood Movies update, Box office collection, New Movies Release , Bollywood News Hindi, Entertainment News, Bollywood News Today & upcoming movies 2020 and stay updated with latest hindi movies only on Bollywood Hungama.