This Valentine's Day weekend,  from 14th to 16th February 2020, when we celebrate our loved ones, a group of artists and activists hailing from different cities in India have decided to join hands for an unique initiative, India My Valentine.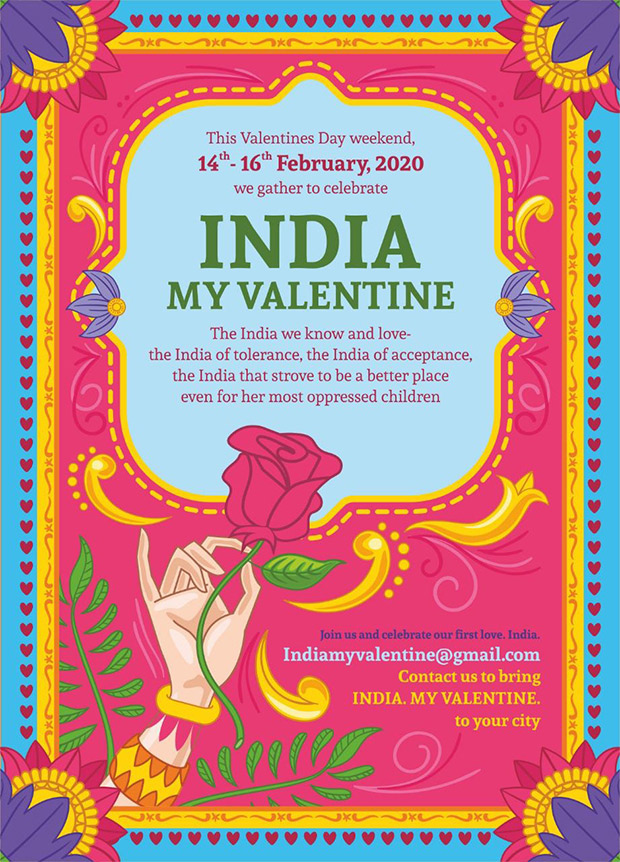 Keeping in mind the faith and ideals that our legendary forefathers such as  Rabindranath Tagore, Mahatma Gandhi, Jawaharlal Nehru, Maulana Abul Kalam Azad, Khan Abdul Ghaffar Khan as well as legendary women such as Savitribai Phule and Fatima left for us, the initiative aims to celebrate the values of tolerance and acceptance and to rise above political differences and put the nation above all.
Some of the people who are actively undertaking the programme are producer Aditi Anand, actor Swara Bhasker, and activist Fahad Ahmad and Mitali Bhasin, along with a bunch of volunteers.  Through the Valentine's Weekend, cultural performances will be held across 12-15 cities of India, including Delhi, Bombay, Kolkata, Punjab, Bangalore, Hyderabad . The group will be collaborating  with various artists, groups, venues and networks in the cities, for the same.