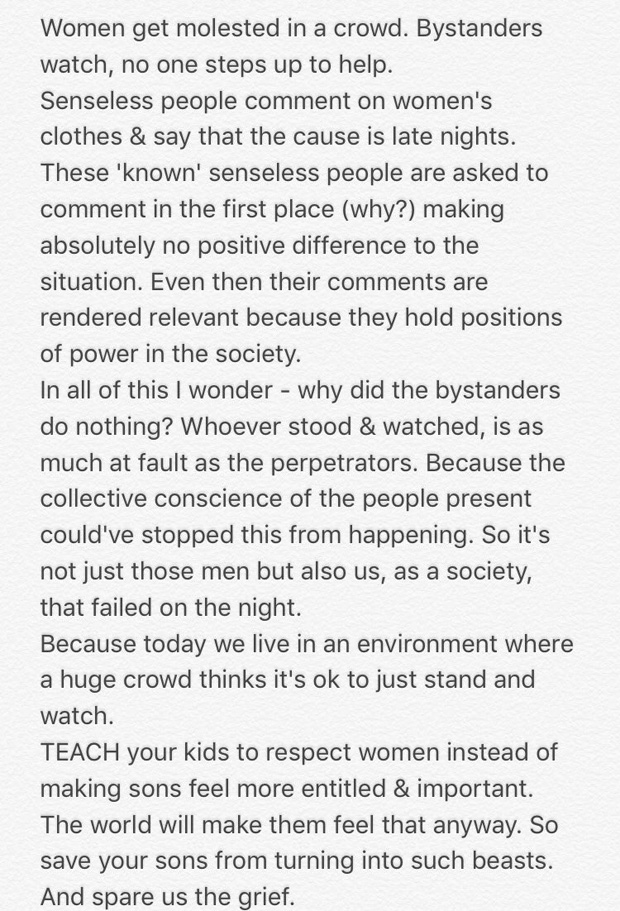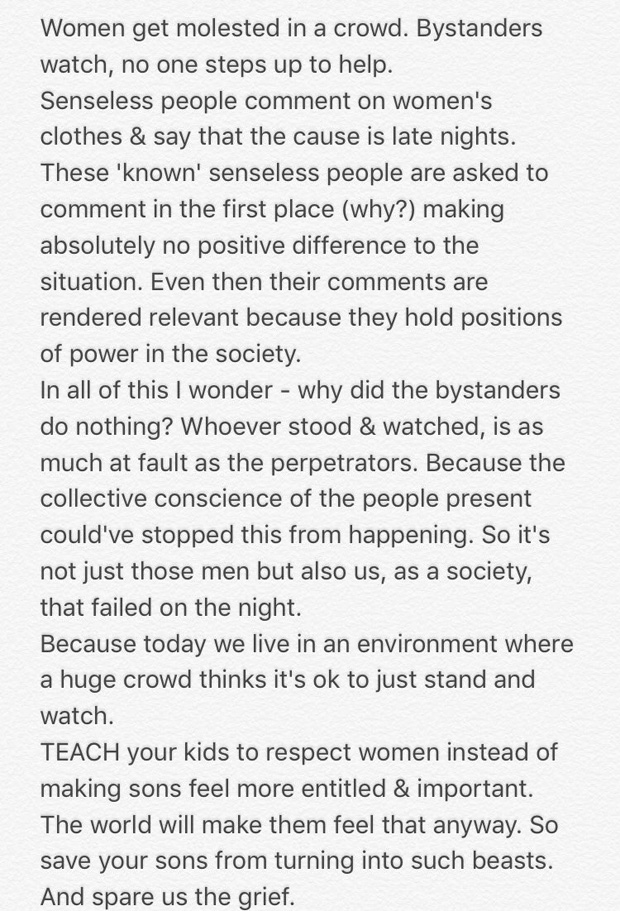 While the rest of the world was enjoying and was all set to welcome the New Year with grand celebrations, women in Bengaluru were trying to protect themselves from harassers. The celebrations turned into a nightmare when women were groped and molested in public.
Some of our honourable ministers have tried to justify this incident by blaming the western culture and dressing for the incident. While many Bollywood celebrities have openly called out their sexist remarks and been vocal about women protection in country, outspoken Anushka Sharma too has come forward to talk about it. In an emotional post, Anushka Sharma was enraged to see the bystanders who did not help the women when they were getting harassed. She said that people who just stood there and did nothing were equally at fault as the perpetrators.
Condemning the insensitive statements made by the politicians on women and victim blaming, Anushka Sharma further added that one should teach their kids to respect women, instead of making them feel more entitled and important. She concluded saying, "Save your sons from turning into such beasts. And spare us the grief."
— Anushka Sharma (@AnushkaSharma) January 5, 2017
While the post had a powerful message, one of them tried to troll Anushka Sharma by picking up the issue of casting couch in the film industry. But, as Anushka knows how to hit back, she had a perfect response to this twitter troll and the fans loved her response.

Tu na bhai , Kabhi kuch naa likh pic.twitter.com/4DnRuEvjoR

— Anushka Sharma (@AnushkaSharma) January 5, 2017
Since the incident, Akshay Kumar, Farhan Akhtar, Richa Chadha and many more have come forward to condemn the unfortunate incident and urged the officials to take strict actions.