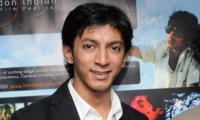 Ever thought what abbreviation could make the guys mortify? I'm talking about the Indian expression that's now become a global implication - K.L.P.D. There's one more thing - It's now a movie name, and the guy who is loving it all is Anshuman Jha. Not that he's playing the negative character but the sheer fact that the title is making heads stir. Anshuman's first thought of joining the film industry came when he was five-six year old, the time when Tridev released. He recalls the time when he wanted to dance his way into the movies, fight the baddies and become the hero. A couple of years passed and he wanted to throw people off the building too. Yes, Anshuman's first 'crazy' thoughts of being a bad man aka villain came when he saw Baazigar at the age of seven. Now in his mid twenties, Jha's dream has finally come true in his latest venture K.L.P.D., and to know whether he does throw some people off the roof, well, come 2012 we will soon find out. UK's Harrow Observer columnist and Bollywood Hungama's London correspondent gets into the 'bad mood' with Anshuman Jha.


With LSD giving you rave reviews; you'd think a negative role in KLPD at this stage in your career was much needed for you to give it a positive 'nod'?

LSD was the perfect debut. But the kind of films which were offered to me post that left a lot to be desired. I'm very clear on the kind of characters I wish to play. I never want to & never will play the Hero's best friend or a part which doesn't excite me. So I waited. Boys Toh Boys Hain is the only film I signed, which is ready & scheduled for a Feb 2012 release, because its a challenging role of the protagonist, that of a sardar,& it's a well written film. My Theatrical work (was representing India at the World Theatre Fest in UK) & the selective ad work (Pepsi, KBC, TataSky which am endorsing for a year) kept me busy. But I was itching to get the right films...


Luckily, this character in KLPD was offered and yes it had to get a positive nod. Let me clarify, he's not an out & out negative - he has a journey in the film & because of his circumstances, goes wild in the 2nd half. I'm a fan of Ek Challis Ki Last Local & though had my reservations at first about the length, etc, once I read the script & Sanjay Khanduri, the director assured me, I knew I had to do it.


What's that one thing about this negative character that attracted you the most?

Sanjay's brief began as "Anshuman, this character is the Angry Young Man of my film" & I was sold. I'm a very 'gut' person. If it's entertaining, I'm in. Be it my plays, ads, & most importantly films - Entertainment is paramount. And this guy entertains. Also, there's a lot of action in the film & not your conventional action. As a kid, I have always wanted to do a lot of action & I am trained in Taekwando, Parkour, etc, so I wish to use all those skills somewhere. This guy is surreal, crazy, cute, ugly yet sexy. Actually, that's what sometimes I think I am & therefore I related to my character in KLPD a lot.


Any kind of preparations you are doing to get sucked into the negative role and how physically challenging it is or not?

I had a few workshop sessions with Sanjay. And we agreed on a few things in terms of body language transition from the first half to the second half. He's a bit of loner. He also talks less & does more. It is physically very draining; internally & externally. He holds up his emotions inside him for a part of the film so that's emotionally draining & the second half has a lot of action so physically draining post intermission. This character is not as dark as the 'Joker' in The Dark Knight but I would love to do a character as dark as that. One of my fantasies as an actor is to enact Late Heath Ledger's role.


Your top three negative characters in Bollywood movies and why?

Amitabh Bachchan in Don - He was there as a negative character for a short while but wasn't he brilliant? - I'm not the biggest Bachchan fan that you'll meet but this film stands out for he was cold & cool but didn't try too hard to be bad.


Ashutosh Rana in Sangharsh - As a kid I saw his film and was a little scared of Ashutosh Rana after that. And I have to be a little biased here and say that I'm working with him in KLPD.


Naseeruddin Shah in Sarfarosh - He's a legend. This man can walk through fire or sleep on ice & yet remain calm. His character in Sarfarosh was calculated & wicked, again effortless. The scene with the goat's my favourite...


I'll take the liberty of adding one more to the list


SRK in Baazigar - I was 7 year when I saw the film & this is when the acting bug was starting to fully get into me. And I had told my mom, I wish to do films to sing, dance & throw people off the top of buildings. And she was worried. I didn't get to see that film for a while. But if there's ever a re-make of that - I'd give a hand & leg to do it, that's a role I think I'll do better than anyone else currently.


Your top three in Hollywood movies and why.

Oh, this is a tough one, you should ask for like 10 or at least 5. I'll take the liberty again & remember 4:


The Rope - I'm a huge Suspense genre fan & therefore a Hitchcock Fanatic. I loved everything about this film - the acting, camera, setting & above all, the thought of a dead body in the middle of a party. In fact, I did a play "Mr Kolpert" in 2005-08 which was a black comedy based on similar lines in which I got to play a really dark character.


Jurassic Park - Childhood memories. I was in awe when I saw it as it had the power to take you back into the time. I love Spielberg's films for the ability to create his world & above all entertain.


The Painted Veil - I'm a true romantic & love romantic films, even the commercial & soppy ones. And Edward Norton blew my head off in this film. The journey depicted between two people was fantastic.


The Dark Knight - I'm a huge Action film buff, especially commercial ones. This film was electric. The moment you make the villain stronger than the good guy, it will only result in fireworks. And Heath Ledger - I don't need to say anything. May his soul rest in peace. I can watch this again & again & again & not care about Batman.


The name KLPD makes you crack up. Did it make you crack up? and how crazy is the movie judging by its title?

Actually the earlier name of KLPD was Gyarah Challis Ki Last Metro but was changed recently to Kismet, Love, Paisa, Delhi. It is a funny title. But it's also a little ironical. My mom's reaction was the best - she asked me the name of the film & I said "KLPD". And there was a pause. A long pause. Then she responded - "What is this, LSD, now KLPD. Tell your director Gyarah Chaalis Ki Last Metro was a better title". It does get the attention immediately so I guess it works. The film will live up to its title. It has some fantastic characters & Sanjay Khanduri needs to be credited for writing them. I don't have the liberty to talk about it but its going to be one crazy ride, if not crazier than the title.


What's happening post KLPD?

Well, Boys Toh Boys Hain for which I've shot through the last year is ready for release. Other than the main boys it has a brilliant ensemble cast in Divya Dutta, Manu Rishi, Gulshan Grover, Sharad Saxena, etc. & is Satire/Comedy. Then I have shot for an Indie-Fest film in Hyderabad with Shweta Pandit which should be ready early next year- full film is inside a lift. Then I am going to begin shooting for National Award Winning Director Janaki Vishwanathan's debut Hindi Feature film from the 27th of this month in Latur. It's called Bakra & the shoot of KLPD & this will happen simultaneously till Feb end. And Then I begin Amit Singh Chauhan's commercial pot boiler Chor-Police in which I'll be playing a young cop. Plus, I'm endorsing TataSky so 3 more adverts for them in the coming year. Selective but good work is the mantra. I'm just lining up & I'm here for a while.


Do you want to get slotted into doing something unconventional always or you too look out for masala pot boilers with big stars you'd one day want to be a part of?

Slotted is something I never wish to get. That's the reason I've not done the films which I let go. And waited for LSD to happen. I really wish to do hardcore commercial film one day. I was 5 when I told my mother that I wish to dance & fight while watching Tridev. So that's what I want & wish to do. And I promise I'll be bloody good at that. Luckily, thanks to Prithvi Theatre & the various plays I've done along with Barry John's Diploma Acting Course, the craft is equally important & the urge to keep learning & getting better keeps me motivated.


The Dark Knight Rises, Don 2 and Snow White and The Huntsman are some of the latest trailers that showcase more of the antagonist. Why do you think there is a need for villains to be the centre of attraction all of a sudden? Explain.

Villains are more real than heroes, in most cases. I guess the filmmakers have realised it. Also, the credibility of the positive increases if he has an even more powerful negative to overcome or deal with. I as an audience enjoy the heroism more in that case & am sure so does everyone else. The attraction isn't new, just that the quality of writing, in terms of giving the villain a character of its own, has gone up & therefore people now have the option of seeing a battle between two equals. It's the antagonist that you admire; You love the hero because it's the right thing to do. Admiration passes by, love endures & I wish to be admired & loved. I'm as greedy as the villains.
BOLLYWOOD NEWS
Catch us for latest Bollywood News, New Bollywood Movies update, Box office collection, New Movies Release , Bollywood News Hindi, Entertainment News, Bollywood News Today & upcoming movies 2020 and stay updated with latest hindi movies only on Bollywood Hungama.