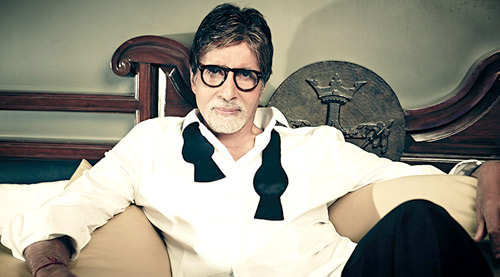 Digressing a bit from the usual birthday questions, let me ask you, what according to you, is the best gift that you received this year?

I have never longed for material gifts. The strength of the family and its emotions is everything that I would desire. That I get in abundance.


Aishwarya has just returned to acting after a 5-year gap. What do you think of Jazbaa?

I have yet to see it, but I hear and read good things about the film. I have been immensely pressured with my schedules and have not been able to find time. But I will soon and then perhaps comment
on it.


Jayaji gave up the arc lights in 1973 after marriage and never looked back. But Aishwarya feels, 'Once an artiste always an artiste'. Your comments?

True 'once an artist always an artist'! And so what makes you think that if Jaya never worked after 1973, which incidentally is not entirely correct, that she stops being an artist?


Piku this year has brought you further renown. What do you think made the film so endearing to the audience?

I feel it seemed to have touched a chord with every family in a way that it became a story most endearing and personal in a sense. Each reaction that came through during its release complemented
the film, but also attached a story that linked something personal to it ... That was the success factor. It made a home in every home.


What are you working on now?

I am working with STAR TV on a programme called 'Aaj ki raat hai Zindagi', which begins broadcast on October 18 every Sunday at 8 pm.


You'll be seen in a new TV show soon. What are your thoughts on it?

It's a project with a heart, an attempt to bring the happier moments of life in this somewhat overblown distressed daily scenario that we witness each day. That life is beautiful too. That those
that bring joy and happiness in other's lives need to be acknowledged and celebrated. I anchor that program.


Your earlier television project with Anurag Kashyap did not click. Did that experience make you wary of television?

Yes 'Yudh' did not find acceptance, but no I am not wary of TV at all. It is the future medium and I wish to be connected with it in any capacity.


You were recently appointed brand ambassador of Maharashtra when you're already the same in Gujarat. Do you foresee a clash of interests?

You are wrong and incorrect in your question. I am not the brand Ambassador of any State. I am the brand ambassador of Gujarat Tourism, Brand Ambassador for the Tiger preservation campaign of
Maharashtra. I am ambassador for the TB campaign in Maharashtra and now for the entire country, as also for Hepatitis and of course Polio and Diabetes. Soon I shall be working for the promotion of
Khadi and involve myself in campaigns that endorse the Swach Bharat project where NDTV is working on 'Banega Swach India' ... There is no clash of interest anywhere.


Sir, you recently tweeted about a tiger chasing you down the street of Mumbai. Could you explain?

It was not the streets of Mumbai, it was the SGNP in Mumbai where I had been invited to inaugurate the campaign for the Tiger preservation. The Park has a few Tigers and as we drove past them in
the two Safari Vans that I had inaugurated, one of them followed us for almost 4 kms.


When we see your life we see the kind of success that is inspiring and motivational. Do you feel it's a life well-lived so far?

That is an obvious question. Yes of course it is.


If you had to change one thing in your life what would it be?

I would change nothing.


You've achieved so much. What are the things that you still hope to achieve?

I have achieved nothing .. There is still so much to learn and accomplish.


Is learning how to play the piano still on your wish list?

Yes ... Most certainly ...


If you had one birthday wish, what would it be?

I do not make wishes .. I guess just being alive is enough ..


Finally, what are your birthday thoughts for your fans?

Thank you for your love affection and continued support.