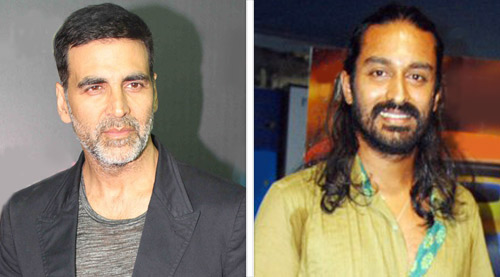 Finally, it is expected that Bollywood would have something to cheer about in 2016 when Airlift hits the screens this Friday. The film has been carrying tremendous hype, what with the promos getting a universal acceptance. Akshay Kumar has shown his mettle time and again, and with this particular genre pretty much getting patented against his name (case in point being Baby, and before that Holiday), audience expectations are pretty much set. All of this has been made possible by one man, Raja Menon, who was convinced for many years that as a subject, Airlift carried enough potential for a larger mass.


Over to Raja.


By the look of things, Airlift appears to be a classy flick with a good dose of entertainment quotient to it. A fair balance, I guess?

We made it from that very concept of striking a balance. That's the kind of film which we wrote; it is an incredibly big story that comes with an inherent dramatic quotient. We haven't gone out there and said that 'let's add entertainment quotient to it'. It is all there in the film. Perhaps the only added thing we have done is putting a song 'De Di' as it brings with it certain appeal. I don't think we have gone out of the way to change things that yeh kahaani hai, ab isme isse bhi ghusa do; we haven't taken that route. The treatment is inherently honest to what the story had to say. The entertainment just comes with it.


The film has Akshay Kumar as the leading man who is certainly having the time of his life by choosing varied genres. That is great, isn't it?

What he does is very interesting; he brings in certain honesty to the film. He was so involved in Airlift and carried a belief with great commitment. Everyone talks about Akshay's discipline and rightly so. Otherwise you can't really expect a star of his stature to give you the time to sit through, listen and understand the character and the film and then work on it. He would come on the sets as Ranjit Katyal. What he does is, bring in certain gravitas to the film. Airlift wouldn't have been Airlift without Akshay Kumar. There is something about the man and the star power. He holds the frame beautifully. Airlift is an important story and it would have been wasted, had it not been for a competent star-actor. Akshay has taken it to the next level.


On the other hand Nimrat has been the chosen lady, who is being considered as an actress of substance. That must have helped?

It is an interesting casting that we have managed to pull off. She understands what the character needs. She brings in good weight to the character and then adds on to it. She is not just the wife of Ranjit Katyal in the film; she is also Amrita Katyal and it is her journey as well throughout. Her presence in the film tells you about the kind of film that it is and the seriousness of the character.


You have earlier made a couple of films (Bas Yun Hi, Barah Aana) which have been much smaller in scale? Guess you could expand your canvas with Airlift?

I think more than anything else, the story decides the canvas. We knew that Airlift had to be a big film. (Smiles) Yes, the very realization that it has turned out to be a big Bollywood film has struck only now, and not while making it. I knew that a subject like this needed certain amount of money and star power. Akshay luckily liked it. That said, I made the film with as much as honesty and passion as Barah Aana or Bas Yun Hi. The journey up till now has been like this that we are making a giant film with not such a giant budget (laughs). That said, we knew that the size of the film could not be compromised. The film had to look huge and real, the war had to look big. So we said to ourselves that this is the money that we have and we have to still try to make the film look bigger. I take pride in saying that we have managed that.


Well, your producers (T-Series, Abundantia, Nikkhil Advani) are certainly pitching the film well as a big outing this January.

(Smiles) In last couple of months or so, I have realized that this is the whole Big Bollywood world that I had heard about. The kind of promotion which is being done is phenomenal. Vikram (Malhotra) and his team coming together and taking over the marketing is great. Now this kind of support we didn't have for Barah Aana. However for Airlift, we are trusting the experts to do the job, and do it brilliantly.


Of course a film of this genre means that euphoria will pretty much take the film to culmination, right?

When you are through with the film, you are going to feel an emotion that you may not have experienced for a little while. There is certain pride that you would feel, considering the fact that this is the biggest evacuation ever in the history. It is a humane story, and I hope that audience would leave the film with an introspection of being an Indian. You would feel the goose-bumps.
BOLLYWOOD NEWS
Catch us for latest Bollywood News, New Bollywood Movies update, Box office collection, New Movies Release , Bollywood News Hindi, Entertainment News, Bollywood News Today & upcoming movies 2020 and stay updated with latest hindi movies only on Bollywood Hungama.