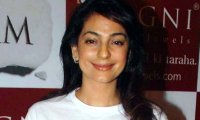 The year was 1989/1990. The place was Film City. The occasion was my first trip Mumbai's Film City. Thanks to my neighbour, Suresh Desai, he was the production in charge for Ramesh Sippy Films back then who got me and my family to visit the real world of the reel world. Suresh uncle was our guide for the day and I recall his small cameo in the Rishi Dimple starrer Saagar. Unfortunately, that day, he informed us that only Govinda was present in Film City along with two new comers Aamir Khan and Juhi Chawla. I was keen to meet Govinda and so was my family but to reach his sets, we had to pass through the sets of Tum Mere Ho. I recall my school days when everyone in my class, including myself, thought that they were the next 'Aamir Khan', and there he was filming a scene with his co-star who wasn't to be seen. I waited for a while and soon an angel figure walked down the lush green grass. Suresh uncle whispered in my ears saying, 'That's Juhi Chawla, the one who was in QSQT, remember?' I smiled. She was busy preparing for he take when I saw that million dollar smile of hers. Its two decades later and I receive a call on my mobile saying 'Juhi Chawla calling'. I've always believed that if you are precise in your thoughts, it's not the lines you say that are important - it's what exists between the lines. And just when you thought that the actress was only getting busier by the day with her IPL team KKR, you see a whiff of her latest I Am teaser trailer. But it's only when I got to see I AM last week (thanks to friends and colleagues Sanjay Suri and Onir), I again found out her two decade old precious possession: Juhi displaying her uncanny ability to hint at the hidden depths within a character who could, in other hands, be little more than a superficial adjunct to the plot. On screen, she possesses a rare combination of luminescence and a mastery of fine distinction, expressing internal conflict with a slight twist of the mouth; conveying a sense of deep emotion through the merest flicker of the eyes. By the end of our conversation, I AM made to feel special by Juhi Chawla when she laughs and quotes in same breath, 'Bus karo meri taarif karna'. It's 8pm and I AM still singing her praises.


"I AM has become a landmark in movie business"


Now when we look back, no one really knew how it all started. It has culminated into a massive movement of sorts. I'm quite amazed by the fact that a fully funded film by the audiences has today become a landmark in movie business. Full credit to Onir and Sanjay Suri to bring the best talents together under one film. We've taken I AM to festivals across the globe and the audiences have given very good and honest reactions to the film. It's not a film where you'll say, 'I had a great time'. It's not that kind of a film. It's more impactful and leaves you talking about it for hours after you've left the cinema halls.


"One thing that Kashmir hasn't lost is its natural beauty"


It's the first time in my life where I spent the entire one week in Srinagar. All this while I hadn't gone there. But I vaguely recall that we had shot a song there during my Sultanat days. But that time I was too young to remember how Kashmir was back then. To be honest, we didn't discuss about what the current situation of Kashmir as we were busy shooting the film and were on tight budgets not to lose any days. But one definitely felt it. There is tourism happening over there but very scarce. The infrastructure has taken the beating but one thing that Kashmir hasn't lost is its natural beauty. I remember taking loads of pictures from my camera while I was there. It's that beautiful.


"I like films that have stories to tell and stories that are engaging"


I have done more commercial films in my film career but I can't be unrealistic and at this stage and age say that I'll be a part of only independent cinema because that'll be too few and far between. I took this film because I had worked with Onir before and the moment I liked the first draft of the script, I decided to give it a thumbs up. I like films that have stories to tell and those stories need to be engaging more than entertaining. If something more commercial comes my way, I'm happy to do that too.


"Today if Udaan and I AM makes money, we will give birth to encouraging producers"


I do pose this question to many of the production people I meet that why they do not hesitate to produce a seventy to eighty crore film with a bigger star cast even when they are not sure how the script is or what the script is. But they will back off when it comes to two to three crore films. To market anything today, you need to add on at least two to three crores on top of your films shooting budget and to recover that money will still remain a question mark. Today if Udaan makes money and if I AM makes money, we will give birth to encouraging producers.


"All I knew of Manisha Koirala was what I had read in the magazines"


I was very happy when I came to know that I will be sharing screen space with Manisha Koirala because I felt that the casting had become wonderful. Manisha looks her part. When you cast the right actors, half your battle is won. Manisha doesn't just look like a Muslim Kashmiri girl but has acted with such flair that you tend to believe that she is one. Yes, we have been contemporaries in Bollywood but haven't got to know each other beyond that. All I knew of Manisha Koirala was what I had read in the magazines and here, after so many years, I was getting a chance to work with her. Earlier there was a bit of rivalry amongst heroines but now none of that matters. She is a very chilled out person.


"My heart starts to flutter seeing my team KKR each time I go to the stadium"


When I enter the stadium to watch my team KKR play, I am not at all chilled out. I get the shivers sometimes. My heart does start to flutter. It happens in all the matches I go to see. Yes, my husband and I invested in the KKR team but beyond that it had a lot to do with Jay - my husband and Shah Rukh who look after management. Now we have a professional set up looking after all of this. I am not that good a business woman (laughs).


I was afraid to ask Aamir the questions after he saw I AM


Aamir didn't discuss the film with me. Yes, he was impressed after watching it which one could make out. On the flip side, I was afraid to ask Aamir the questions after he saw I AM. My other friend SRK, well, I told him to spare some time out of his busy 38 hours work schedule to see my film I AM. Now, I am trying to get him to see the film (laughs) and receive some honest feedback.


"Whatever roles Sanjay plays, in a quiet kind of a way he really stretches his boundaries"


Sanjay Suri is a very nice person. I have worked with him before but whenever I meet him, he is a thorough gentleman. He is very brave and that's what I like about Suri. I was amazed when Sanjay took the film My Brother Nikhil when everyone else was busy into their commercially accepted cinema. Whatever roles he does, in a quiet kind of a way he really stretches his boundaries.
BOLLYWOOD NEWS
Catch us for latest Bollywood News, New Bollywood Movies update, Box office collection, New Movies Release , Bollywood News Hindi, Entertainment News, Bollywood News Today & upcoming movies 2020 and stay updated with latest hindi movies only on Bollywood Hungama.