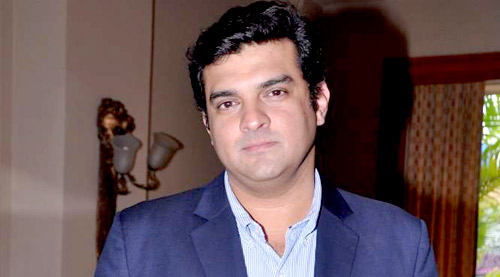 "If we had to judge people based on their last Friday, we'd end up making movies only with the tried and tested," said Sidharth Roy Kapur, Managing Director, Disney India, in a Bollywood Hungama exclusive video interview with Faridoon Shahryar. Sidharth spoke at length about the various films that he has been nurturing. He shared interesting insights on Dangal, Jagga Jasoos, Mohen Jodaro, Tamasha, Phantom, and Fitoor.



You are having Jagga Jasoos that would release under Brand Disney. Could you tell us something about this film?

Jagga Jasoos releases next June. It has Ranbir Kapoor and Anurag Basu coming together with us after Barfi. It's a very heartwarming, beautiful story. It's very entertaining and has lots of music in it. Pritam has gone crazy with the number of songs that he has come up with. The film is about the adventures of a young detective. I don't want to divulge too much but Ranbir and Katrina Kaif play a couple who are out on a quest.



How do you react to the reports that Katrina is having issues with Anurag? Ranbir has had a tough luck at the box office.

We take it with a pinch of salt. The more the speculation around the movie; the more excited the viewers want to know what's going on in it and are excited to watch it as well. Anurag and Katrina not getting along well is hilarious. I was with three of them the day before that story broke. We were sitting around, laughing and joking. And when such a story appears next day, one can't help but laugh at it. As for Ranbir, he's one of the most exciting actors in the film industry today. At the age that he is at and the choices that he has made, he should applaud for agreeing to do the sort of work that he has. All films that he has done for UTV - Wake Up Sid, Raajneeti, Barfi and Yeh Jawaan Hai Deewani are of diverse genres and different from each other. Some of the chances that he's taking will work and some won't. No one can take away from the actor he is and frankly, the star that he is.



Are you excited for Mohanjo Daro? It comprises the Jodhaa Akbar team of Hrithik Roshan and Ashutosh Gowariker…

Mohanjo Daro has a very great and exciting script. It showcases an era in our history that hasn't been really covered before. So viewers will be seeing a completely different world. The story is beautiful and uplifting. It's a story of redemption and hope.



How do you react to the possible doubts in the trade circles for Mohanjo Daro? Questions are raised that what exactly will be the film all about, will it be entertaining or commercial or will it have a documentary feel to it?

We had exactly the same doubts before Jodhaa Akbar. And that was a time when historical films had not worked. Many feared that it would be like a documentary and would be boring. But once the film was out, people fell in love with it. Ashutosh Gowariker has that sense of being able to handle movies at that scale that has a lot of history behind it. We have read about it in our history books. But to bring it to life in an entertaining way is what Mohanjo Daro would do. It has Hrithik Roshan playing the role of a lifetime. We are introducing a new actress named Pooja Hegde. There is a love story, obviously and there is also a large canvas.



Ashutosh Gowariker's films haven't worked in the recent past. Does that bother you?

If we had to judge people based on their last Friday, we'd end up making movies only with the tried and tested. We made Rang De Basanti with Rakeysh Omprakash Mehra after Aks. We reacted to the script, the passion with which he wanted to make the film. It was the 4th Bhagat Singh film in a row! The whole cast was going to die in the end. And it had Aamir Khan playing one amongst the group of boys! And we still went ahead and made that film! We made Dev D after No Smoking! So, if you don't take your chances on talented directors and actors and not judge them by their previous work, that's the only way of moving forward and take big bets. Otherwise, you'll only end up working with those whose last Friday was successful. And that doesn't mean that their next Friday also will be successful!



You guys have been associated with Dangal right from the scripting stage to Aamir Khan being approached for it. And now it is the most awaited Christmas release next year.

Dangal is an exciting journey for anyone wanting to make big movies with superstars but not knowing where to start. I think all starts with a core idea and a core story. Somebody from our creative idea came up with the idea after reading a newspaper article about the Phogats. As soon as I heard it, I immediately said that we should back it. We went ahead, we spoke to the Phogats and we acquired the life rights. Then we approached Nitesh Tiwari with whom we had previously worked on Chillar Party. He loved the idea as well and said that he'll love to write a script. We worked on various drafts and he got it just right. Then Aamir heard it and fell in love with it completely. And Aamir reacts very, very expressively in a narration. So you don't need to wait till the end of the narration to know what he is feeling as he'll laugh, cry and jump up and down. We have been working very hard on the pre-production of the film. We go on the floors next month and are obviously very excited. It releases next Christmas.



How do you react to Aamir's unusual style of working? He always loves to do something that no one will imagine him doing. He is gaining enormous amounts of weight for Dangal.

His dedication is legendary. He has had a good time putting on all this weight…


But Kiran Rao has been saying that she is concerned…

Well, he really has taken the look very seriously and he has done all he can to get to the weight that he has right now. But as the shoot progresses, he'll be losing weight. By the time we complete shooting the last sequences where he's supposed to be his youngest in the film; I dare say he's going to be back to how he looked in PK.


What is the latest on Fitoor? Rekha has opted out of it and Tabu has replaced her. Reportedly, it has got delayed as well…

Firstly, I'd like to clarify that it has not been delayed at all. This year is pretty crowded with lot of releases and hence we realized that we should release it next February. The change in the casting has not really upset the schedule at all. We have had a set standing at Mehboob Studio. That set was used throughout the schedule that it was intended for. So I am pretty confident that it would make it in February. Only a few days of shooting is left. Whatever I have seen so far is spectacular.


Considering that the lead actor in Fitoor Aditya Roy Kapur is your younger brother (who's a big star in his own right), does the film become even more special?

We keep things so separate that it's not funny. So, we don't interact on the film at all. There's a great creative team that's working on the movie. So, my interaction with Aditya on the film is really negligible. I am in touch with Gattu (Abhishek Kapoor) much more than him. And all our projects are pet projects for us. They are all your children and you treat them equally. Of course, Fitoor is very dear to our heart and so is Dangal and so is Mohenjo Daro and Jagga Jasoos.


You are having Phantom that releases this month. It has a very volatile subject and Hafiz Saeed has said that it should be banned in Pakistan. How do you look at it?

It's a very exciting subject and it's something that will resonate very deeply with Indians. I think it will also do very well overseas with South Asians also. I don't give too much about the film as it's deserves to be watched and then spoken about.


Tamasha has Ranbir Kapoor, Deepika Padukone, Imtiaz Ali and A R Rahman - it's as big as it gets. How do you look at it?

It's really a dream; number of creative energies are coming together. Also, Sajid & I have had a successful run together. We can put all the right ingredients together but the movie has to work. Whatever I have seen of the movie so far, the movie works big time. There's some beautiful music. You'll see Ranbir & Deepika like you've not seen them before. Needless to say, we are very excited.
BOLLYWOOD NEWS
Catch us for latest Bollywood News, New Bollywood Movies update, Box office collection, New Movies Release , Bollywood News Hindi, Entertainment News, Bollywood News Today & upcoming movies 2020 and stay updated with latest hindi movies only on Bollywood Hungama.