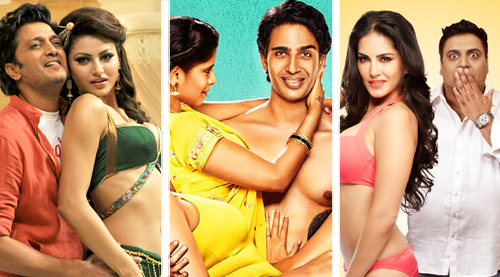 The disaster that is Great Grand Masti must have come as a rude shock even to the cocksure Indra Kumar. But it all boils down to taking the audiences for granted-a classic Hindi film phenomenon. There is a base to this: the mistaken belief that the lay Indian is so sexually deprived and thus so susceptible to titillation that he or she will gulp down anything sleazy or ribald!
The rise and fall of sex comedies
This perceived misconception has been the key to the rapid undoing of this genre over the last 12 years. A genre that began with Masti (as Hindi cinema's first-ever A-grade adult comedy, notwithstanding the experimental-for-Hindi-audiences Raaste Kaa Patthar in 1972 and Manoranjan in 1974 that were both disasters!).
Here's tracing the rise and fall of this tangy genre.
Masti (2004) / Director: Indra Kumar / Box-Office Status: Success
This is how the well-established-in-Hollywood genre of adult comedy took off in Hindi cinema. Comedies, in general, had become commercially hot since Hera Pheri in 2000, and Indra Kumar roped in top star Ajay Devgn to top-line this film. It also had three sexually-deprived husbands-played by Aftab, Vivek Oberoi and Riteish Deshmukh in order of seniority-seeking extramarital fun outside home with the same hottie (Lara Dutta, then a fast-rising star). The message in the end about staying faithful to spouses, some great performances by the entire cast, catchy music and above all, a tangy and fresh twist to comedy-Masti had it all.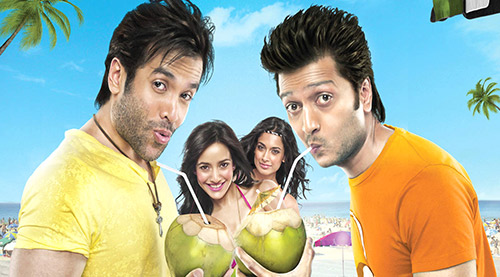 Kyaa Kool Hain Hum (2005) / Sangeeth Sivan / Super-Hit
The film went one step ahead: it combined brazen sexual humour within its naughty theme and stood tall among the biggest hits of that year despite being certified for adults only! Within the rather long film length and rather cheap innuendos was also a mega-dollop of great humour and a spicy script. Tusshar, Riteish Deshmukh, Neha Dhupia and especially Ishaa Koppikar were great assets.
No Entry (2005) / Anees Bazmee / Super-Hit
This remains the ultimate sex comedy blockbuster so far in a not-so-big list. Anees Bazmee stuck that Billy Wilder-like balance between sophisticated humour, a sizzling naughty quotient and a tightrope walk between naughtiness and family entertainment. He managed an A-list star-cast led by Anil Kapoor and Salman Khan, the sizzling Bipasha Basu as the woman the husbands lusted after, and an incredibly entertaining script. The result: the biggest blockbuster of that year!
Garam Masala (2005) / Priyadarshan / Hit
In the same year, Priyadarshan adapted a Hollywood comedy with two big names-Akshay Kumar and a Jism- and Dhoom-hot John Abraham. Three new girls came in and everyone fell in love with the resultant masquerade and boys-con-girls drama and all the garam masala in the narration.
Dostana (2008) / Tarun Manshukhani / Average
Tarun Mansukhani went bolder, by tackling homosexuality in a cleanly humorous way that was neither derogatory nor apologetic about the sexual orientation. The humour was born out of the situations that resulted when the heroes pretend to be gay to rent a home in Miami but fall in love with the same girl. This was the rom-com genre mixed with a sexual tweak. While John Abraham and Abhishek Bachchan were appreciated, the film did reasonably well.
Kyaa Super-Kool Hain Hum (2012) / Sachin Yardi / Break-Even
The four year gap proved fatal for this genre. The phase between 2008 and 2011 was one of confusion in the film industry about what was working and not working, so Balaji Telefilms decided to cash on their 2005 super-hit to make a theoretically 'safe' sequel that clearly emerged as a project rather than a film. Luckily, it broke even because of the slim budget, but if this movie had been a Facebook post, there would have been very few 'Likes'!
Grand Masti (2013) / Indra Kumar / Super-Hit
Indra Kumar decided to revisit Masti after his sequel to his other franchise Dhamaal worked. He made it more brazen, stuffed it with 'PJ's galore and promised nothing but titillation in the promos (including in the songs and their lyrics)! This time, he had to resort to six starlets to serenade the three heroes. The director delivered what he had promised, and couples of all ages, and buddy groups of all ages (and both genders) thronged the hall even as critics ripped the film apart. This film has the distinction of being the only adult comedy in the 100 crore club.
Hunter (2015) / Harshavardhan G. Kulkarni / Claimed as Break-Even
Snatches of wit made this somewhat realistically-treated film critically appreciated. The film's story and some decent performances prevented it from being dismissed as a non-starter and the producers even claimed that it made a profit!
Kuch Kuch Locha Hai (2015) / Devang Dholakia / Flop
Unabashedly B-grade, it finally heralded the downfall of this genre. Loosely inspired by a successful Gujarati erotic drama Lage Raho Gujjubhai, the film was Sunny Leone's first attempt in the comic zone. Technically a naughty comedy of errors, it was a non-starter from the word "go".
Guddu Ki Gun (2015) / Sheershak-Shantanu / Flop
A golden male organ thanks to a black magic spell with the social message that a man must be faithful-audiences did not get the confused and supposedly comic message. The poor casting and other cinematic (lack of) values did the rest.
Mastizaaade (2016) / Milap Zaveri / Flop
The year began with Sunny Leone's second naughty-but-comic enterprise. But though writer Milap Zaveri turned director, the script was nothing more than a chain of done-to-death corny jokes. Whatever little business it did was due to Sunny Leone fans who expected a doubly hot Sunny as she played twins in the film!
Kyaa Kool Hain Hum 3 (2016) / Umesh Ghadge / Flop
Balaji went overboard with a script that wasn't one! String of gags by the same writer Milap Zaveri again, and not even a Sunny around. The sex comedy genre was almost dead by now, all because every writer and director was taking the audience for granted.
Great Grand Masti (2016) / Indra Kumar / Disaster
Did we hear the sound of the last nail being hammered into the coffin of this genre? This 'project' was Indra Kumar's way of mixing Masti with Grand Masti and adding horror as a novelty in an Indian comedy. He also added melodrama and tried to make a cocktail that wasn't even a mocktail! The film was rejected outright. One of his key errors, however, was not his tacky script (that kind had worked in Grand Masti, remember?) but in not casting an A-list girl as the sexy, ghostly protagonist. Remember Bipasha Basu (No Entry) or Lara Dutta (Masti)?
No one was thus interested in the movie, see? And with this, the genre is likely to become extinct in Hindi cinema, which in terms of box office trends, is veering more and more towards clean, family entertainment (Airlift, Neerja, Kapoor & Sons, Sultan).
BOLLYWOOD NEWS - LIVE UPDATES
Catch us for latest Bollywood News, New Bollywood Movies update, Box office collection, New Movies Release , Bollywood News Hindi, Entertainment News, Bollywood Live News Today & upcoming movies 2022 and stay updated with latest hindi movies only on Bollywood Hungama.