It's common nowadays to celebrate anniversaries of past classics. But few films stand out in terms of their impact and legacy. Gupt (1997) is one such film and its 25th anniversary couldn't have been celebrated by simply posting tributes on social media. It needed a little extra. With this thought in mind, a special screening of the film was held on Saturday, July 9, at Mumbai's Metro INOX Cinemas, by Radio Nasha.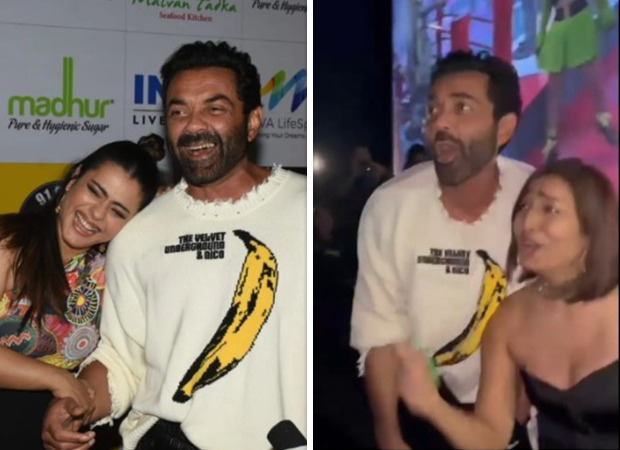 25 Years Of Gupt: Bobby Deol and Kajol create MADNESS at the premiere; Bobby dances to 'Duniya Haseeno Ka Mela' during the film; says "Rajiv Rai had his OWN cinematic universe!"
What made the screening truly special was that several members of the cast and crew graced the occasion. Lead actors Bobby Deol and Kajol, director-editor Rajiv Rai, production designer and co-writer Shabbir Boxwala, music director Viju Shah, art director Bijon Das Gupta, singers Udit Narayan, Sunita Rao and Sadhana Sargam, voiceover artist Chetan Shashital and actors Harish Patel, Mukesh Rishi, Tej Sapru and Dalip Tahil were in attendance. Manisha Koirala sadly couldn't make it and sent her profuse apology.
A green carpet was laid out where Gupt's cast and crew members posed and spoke to the media. They also chatted with Radio Nasha RJ Divya Solgama who made them pose with the 'khanjar' and encouraged them to sing songs and mouth dialogues from the film. Then, they were taken inside the screen, where the screening was supposed to take place. Several fans were present here and were excited to see their favourite film and actors on screen.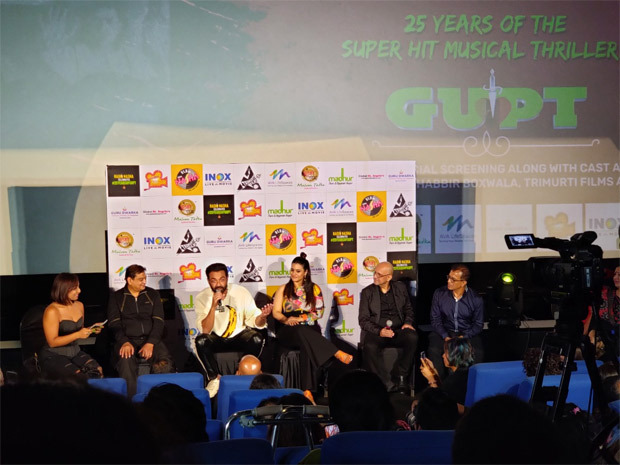 The cast and crew had a lovely chat with RJ Rohini, who also kept the spirits high with her jokes and trivia. She revealed that during the film's release, some mischief-mongers would get a kick in revealing the spoiler to those who had not seen the film. It was also common for people to call up strangers and simply tell them, 'Kajol is the killer' and hang up! She quipped, "Yeh jo shabd hai 'Spoiler'. Yeh Gupt ke baad hi invent kiya gaya tha."
Bobby Deol was the first one to take the mic and he said, "I was always a big fan of Rajiv Rai. He has made some awesome movies. The way he casts his magic on the big screen; I mean, his films are always a pleasure to watch on the big screen. We talk about Marvel and all these universes. But Rajiv Rai had his own cinematic universe!" As expected, his last sentence led to huge applause!
Bobby Deol continued, "I still remember I was in college and the song 'Oye Oye' from Rajiv's film Tridev (1989) had become a rage. When I was approached by Rajiv, I was so excited. His style, his sense of dressing, the way he takes pleasure in making a movie and the way takes the pain in getting every frame of his movie right, it was very different from what I had seen in the early stage of my career. I enjoyed shooting for Gupt more than I enjoyed working on Barsaat (1995), my first film. Rajiv took care of all the actors. Every time, we finished a schedule, we would have parties together with the whole unit, including the camera assistants, spot boys, etc. So, we have had lovely times together."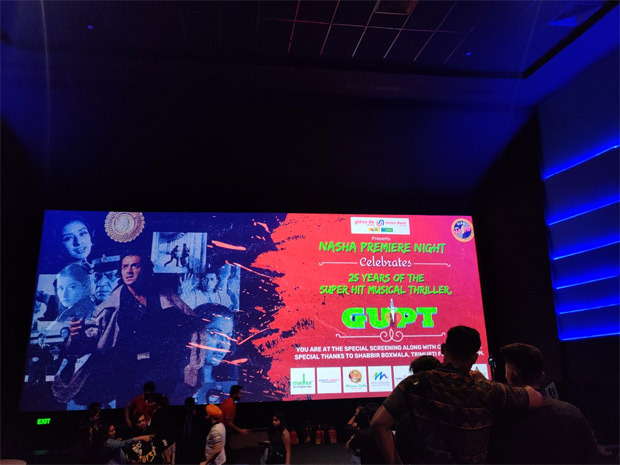 Bobby also praised RJ Rohini and her team for putting up the premiere, "It's amazing you thought about this. And we have Shabbir here. He's like a doctor when it comes to getting things done. He takes care of everything."
He then talked about his 'deadly' co-star, "I did only one film with Kajol and it became such a huge, cult film." At this point, Kajol took out a prop knife, prompting Bobby to say, "Ok, she's got a khanjar. She loves me and so, she's not going to kill me. She might kill someone who tries to come close to me!"
View this post on Instagram
Kajol revealed in her bubbly style, "When Rajiv narrated the script to me, I read it and said, 'I'll do it'. Unko bahut bada shock laga. He was like, 'You'll really do it? I can't believe it'. I replied, 'Yes, I want to do it. It's going to be so cool. Everyone is going to be shocked when they find out that I am the killer'."
Shabbir Boxwala, at this point, narrated, "I'd like to correct Kajol. Tanishaa Mukerji, Kajol's sister, was also sitting with us in the narration. When Rajiv finished narrating the story, she told Kajol, 'You have to do this film. How can you not do it?'. So, Tanishaa was a big influence."
Rajiv Rai explained why he felt that he wouldn't have made the film without Kajol, "It was very difficult role to cast. Bobby I knew would be on. Woh toh dost hai toh pata tha ki kar lega. But heroine ko villain ka role dena, I think at that time, people would not accept it. So that was (a challenge)."
Viju Shah surprised everyone with his sense of humour, "Rajiv asked me to compose songs in Vishwatma (1992). Usme mazaa nahi aaya unko. Unhone mujhe Mohra (1994) diya (hoping I'll give better songs). After Mohra, he offered me Gupt with the hope ki ab toh accha music dega hi dega!"
When asked which is his favourite song from the unforgettable soundtrack of Gupt, he answered, "'Mere Sanam' and 'Mushkil Bada Yeh Pyaar Hai'."
The microphone was then passed on to voiceover artist Chetan Shashital. He is the one who sang the male portions in the title track. He entertained taudiences by talking in a goofy voice at first. Suddenly, he switched to a scarier one, stunning every person in the audi. When he was asked what he mutters after saying 'Gupt' in the title track, he replied, "Wohi toh gupt baat hai na!"
Bobby Deol jumped in here with a trivia, "No one would title their film 'Gupt', because 'Gupt' was always attached with a sentence. So, when Rajiv finalized this title, it was a big thing. I felt the title was really cool though I never knew about the other movies made with the word 'Gupt'. And after this movie, everybody forgot about (everything else associated with 'Gupt'). They only remember (our film)."
The supporting actors of the film were given a chance to speak. Dalip Tahil raised the excitement as he remarked, "Kajol, you look so much better than you did while working on Gupt." Kajol, obviously, was on cloud nine. Dalip praised greeted present from Gupt team and also remembered, producer Gulshan Rai, who was also Rajiv Rai's father.
Tej Sapru meanwhile uttered his famous 'Danda kar dunga' dialogue, which induced claps. When RJ Rohini went to talk to Mukesh Rishi, she told him 'You were the last person who Kajol kills in the film'. To which the veteran actor said, "Kajol ne mujhe aisa maara ki main aaj bhi zinda hoon!" He also revealed, "For the pre-climax, I had to ride this huge bus in the parking lot of Centaur Hotel, Juhu. It was a challenge. Sirf mujhe pata hai ki kitni buri haalat thi meri. But an actor is like a soldier. Aur soldier ka kaam yehi hai ki kabhi 'naa' nahi bolna. Kaam jo diya hai, woh karna hai." Rajiv gave a salute to him, at this point.
View this post on Instagram
Harish Patel, who has made waves in the West and was seen in Marvel's Eternals (2021), told Rajiv Rai, "Gupt ka sequel banao. Hum sab hai yahaan act karne ke liye." Rajiv Rai smiled but said that it's not possible as "I won't be able to make it better than the first part."
Finally, late Om Puri's wife, Nandita Puri, was present along with their son, Ishaan. Nandita said, "While we were on our way, my son was asking me, 'Baba hardly went for premieres. If he was alive, do you think he would have come for this one?'. I replied, 'For sure'! This is because he didn't really like all the commercial films that he did but Gupt was one of his top favourites!"
She added, "Rajiv told me this and I didn't know that the role was originally offered to Naseer before Om was signed on. This happened a lot. If Om was offered a film and he didn't have dates, he'll call up Naseer and say, "When you are offered this film, charge so and so amount as they offered me so and so. Naseer would do the same to Om. My husband got recognition worldwide with international films like East Is East (1999) and Brothers In Trouble (1995). But these films were initially offered to Naseer! And Naseer didn't do it."
Art director Bijon Das Gupta expressed how he enjoyed working for the film, A female Bobby Deol fan, who came all the way from Bangladesh, got a chance to say "I love you, Bobby Deol".
Kajol and Bobby were then asked to share their final thoughts. Kajol said, "It's so nice to meet everybody. It's humbling that people are still enjoying this film, though you have so many films in this space now. Yet, people love Gupt. Thank you everyone for keeping it alive." She said in lighter vein, "Everyone moved on from this film with happy memories. I didn't fight with anybody from the unit, which says a lot!"
Bobby mentioned, "It feels like I am at the first premiere of Gupt. Logon ki aankhon mein itna pyaar dekhne ko mil raha hai. I am glad to meet everyone, including Kajol, though we are neighbours! I am sitting here and wondering, is this really happening and am I actually celebrating 25 years of Gupt? And so many people have come here. It's one of the most beautiful moments of my life and I'll always cherish it."
He took this opportunity to remember those who were not present at the screening, "The combination of Sada ji (Sadashiv Amrapurkar) and Om Puri was great. Even Ashok Saraf. One of the best things about the film was also the cast. Every actor performed so well."
In between the conversation, RJ Rohini, asked the audiences how many of them have not seen Gupt? Shockingly, one-fifth of the viewers raised their hands! Kajol couldn't stop saying, "Everyone is going to watch the film with the spoiler." RJ Rohini, joked, "Your life has no meaning right now for the next 3 hours".
The chat wouldn't have been complete without talking to the singers. Udit Narayan sang 'Duniya Haseeno Ka Mela' with Bobby lip-syncing to it, a truly memorable moment. Sunita Rao sang the female portions. Udit was then joined by Sadhana Sargam and both sang 'Mere Sanam' while Bobby and Kajol lip-synced.
It was then time to start the film. As expected, viewers whistled and hooted when the title song was played on screen. Bobby Deol's entry, too, got a superb response and the same went for the scene when Kajol was revealed as the killer!
However, the best part of the event was when Bobby Deol got so overwhelmed with the response generated by his entry song 'Duniya Haseeno Ka Mela' that he stood up from his seat and danced to it! How viewers went into a frenzy at this point was seen to be believed!
The event was truly memorable as there was a lot of positivity, laughter and Gupt-style entertainment. For those, like me, who had never seen Gupt on the big screen ever, it was an evening we'll remember for the rest of our lives!
View this post on Instagram
Also Read: 25 Years of Gupt: The genius behind the tracks of Gupt, Viju Shah opens up on composing and recreating tracks
BOLLYWOOD NEWS - LIVE UPDATES
Catch us for latest Bollywood News, New Bollywood Movies update, Box office collection, New Movies Release , Bollywood News Hindi, Entertainment News, Bollywood Live News Today & Upcoming Movies 2023 and stay updated with latest hindi movies only on Bollywood Hungama.